A "Ciuski" of happiness from Extraomnes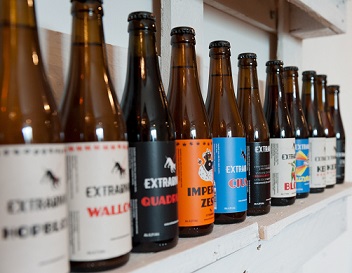 Luigi "Schigi" D'Amelio's brewery Birrificio Extraomnes produces precise, pleasing and complex beers like this Ciuski, a Belgian Ale aromatized with ginger.
Luigi D'Amelio, known as "Schigi" in the beer world, is one of the most important figures in the Italian craft beer movement. He is as radical and intransigent as he is rigorous and precise in producing his brews and his brewery Extraomnes in Marnate, in the province of Varese, is in regard to both approach as well as technical precision a bulwark against the indiscriminate proliferation of trendy and often mediocre craft beers.
Extraomnes brews are an example of concision and love for the gift of Ceres. They are precise, pleasing and complex but also never complicated or seeking to appeal to fads and thus representative of the purity of craft beer movement and every beer Schigi create incarnates this. Among these we have decided to focus on Ciuski which is perhaps the most unusual even for its name. "Ciuski" is the gadget that the cat Doraemon, a manga invented by Fujikp Fujio (Hirosh Fujimoto and Motoo Abiko) in 1969, offers the boy Nobita and which makes life happier.
D'Amelio is a big fan of Japanese manga comics and his Ciuski is a pleasing escape from day-to-day problems. This Belgian Ale aromatized with ginger offers light and fresh sensations with distinct and precise flavor and aromas.
Related Products