Pescolanciano ComunAle from the La Fucina brewery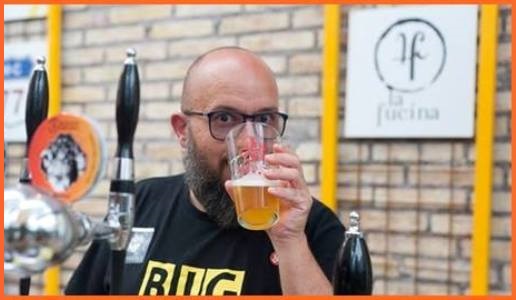 Angelo Scacco is a Bocconi graduate and passionate self-styled brewer who founded the La Fucina brewery in the town of Pescolanciano in the Molise region.
Molise is a small region full of forests, mountains and enchanting silences. It is also home to an inspired and unique brewer in Pescolanciano, a tiny village that with its castle is set in a fairy tale-like landscape. After winning a scholarship to the Bocconi business school and earning a degree with top honors, Angelo Scacco began as a consult before giving up everything to return "home" and open a brewery.
The story of the La Fucina Birrificio Artigianale (Craft Brewery) is similar to many others and began with three friends – longtime homebrewers – who after setting up a beer firm in 2012 and, given the success of their first brews, created their own brewery in September 2014 and went into fulltime production. The three partners today are Angelo Scacco, a self-styled and fiercely skilled brewer who relentlessly seeks out all the possibilities offered by this beverage; Giovanni Di Salvo, his childhood friend who is responsible for management and logistics; and Simone Del Matto, the assistant and future brewer at La Fucina. He is a young Pescolanciano native who was irreversibly bitten by the brewing bug.
"At present we produce 23 different types of beers," Angelo explained, "in order to offer all the styles we like. We are very pleased with the results we have achieved in terms of goodness and quality: From C Side, a fresh Session IPA with a 4.8% alcohol content and aromas of coconut obtained using Sorachi Ace hops; to Bevi e nun rumpe er c…, a Pale Ale made using only one type of hops (Galaxy); to Liberi Tutti, an IPA with a 6% alcohol content that is very bitter (as I like it) but has grassy scents from the mix of hops".
Pescolanciano ComunAle is a story unto itself being created by a desire allow the residents of this small town, low-income pensioners and part-time workers used to drinking industrial brews, to discover the world of craft brewing. In other words, Angelo wanted to create a beer that could meet the expectations and budgets of his fellow townspeople.
Questionnaires were handed out in the four bars and three restaurants of this town of 500 asking "How do you want your beer to be?". A total of 400 questionnaires were filled out and returned indicating that Pescolanciano natives preferred a beer with a clear, yellow color, not much head, not to carbonated and with an alcohol content of no more than 5%. The consensus among barmen and restauranteurs, who were asked suggest bottle size and price, was that the beer should come in a 50cc bottle that costs no more than 3.50 euros retail. The success the beer has had has proved the approach was the right one.
Related Products