Top 10 Trentodoc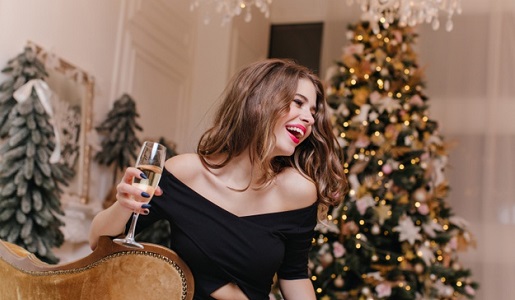 The area of Trento is historically regarded as one of the most suited for sparkling wine. Here are our 10 favorites from 10 different wineries.
The name is taking hold also because it is catchy, sounds good and is easy to remember. It refers to a series of Traditional Method sparkling wines from splendid, hillside vineyards and that overall offer a significantly high level of quality.
The grapes used are for the most part Chardonnay with a lesser amount of Pinot Noir. There are some large cooperative wineries along with prestigious independent wineries and small producers and all help compose an area that is evermore central and rich in diversity for the production of Italian sparkling wine.
We have singled out some that particularly impressed us, while at the same time underscoring how the growth of this wine is constant and consistent to the extent that the name Trentodoc is truly a guarantee of high quality for almost all the wines.
Most of the reviews were carried out by Chiara Giovoni, our own "Madame Perlage".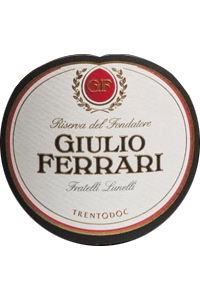 Trentodoc Giulio Ferrari Riserva del Fondatore 2009 Cantine Ferrari
98 € 95,00
100% Chardonnay grapes from Maso Pianizza. Classic method, 10 years on the yeasts. Extra Brut. Bright golden color with very elegant bubbles. Very delicate and balanced aromas of elderflowers, peonies and jasmine with a minty puff, grilled apple and yellow orange. Near and clear taste, iodine hints, agile and long. Dynamic notes of bergamot and nuts. Chalky puffs in the finish.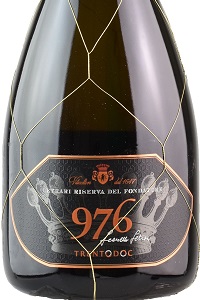 Trentodoc Letrari 976 Riserva del Fondatore 2009 Letrari
98 € 65,00
Equal blend of Chardonnay and Pinot Nero grapes. Classic method, 96 months on the yeasts. Bright golden yellow color. Complex and elegant aromas of quince and white currant, tropical hints of citrus and linden, verbena and oystergrass, nuts in the background. Enveloping and neat taste, sumptuous and creamy foam, vibrant savory progression. Intriguing finish.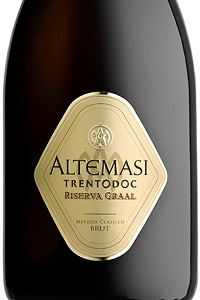 Trentodoc Altemasi Graal Brut Riserva 2013 Cavit
96/100 - € 42,00
Blend of 70% Chardonnay, 30% Pinot Nero grapes. A small part ferments in barriques, the rest in stainless steel. Classic method, 72 months. Lively golden yellow color. Lively, thick and abundant, very persistent bubbles. Complex and articulated aromas of flint, apricot, fresh almond, yellow plums and wildflowers. Enveloping taste, savory, tense, creamy foam and deep body. Great version.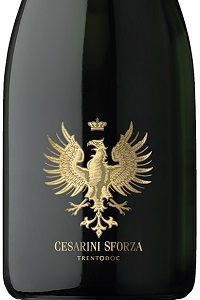 Trentodoc Aquila Reale Riserva 2010 Cesarini Sforza
95 € 42,00
100% Chardonnay from Maso Sette Fontane. Vinified in wood. Classic method, 90 months on the yeasts. Brut. Golden yellow color with greenish hues and elegant bubbles. Rich and varied aromas of citrus, golden apple, white peach and yellow plums jam, delicate hints of spices. Balanced progression on the palate, fresh notes of verbena and bergamot. Rich and long finish.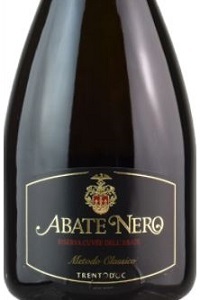 Trentodoc Cuvée dell'Abate Riserva 2009 Abate Nero
95 € 45,00
100% Chardonnay grapes. Classic method, 120 months on the yeasts. Bright golden yellow color, very elegant bubbles. Complex and intense aromas of golden apple, medlar, lemon curd and orange zests with hints of tropical fruits and yellow peach. Creamy and fruity taste, savory iodine notes and pepper in the enveloping finish. Dynamic hints of flowers, toasted barley and candied orange zests.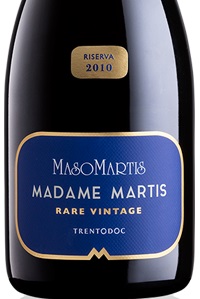 Trentodoc Madame Martis Rare Vintage Riserva 2010 Maso Martis
95 € 98,00
Blend of 70% Pinot Nero, 25% Chardonnay and 5% Meunier grapes. Classic method, 108 months on the yeasts. Brut. Lively and bright golden color, very elegant and creamy bubbles. Aromas of cedar and apricot pie, hints of candied ginger. Enveloping taste, notes of peaches in syrup and Chinese tangerine. Dynamic and savory progression. Balanced body and fresh finish.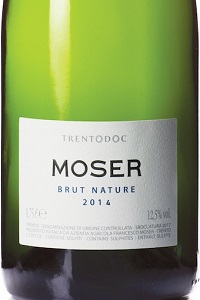 Trentodoc Brut Nature 2014 Moser
94 € 40,00
100% Chardonnay from the clayish soil of Val di Cembra and the calcareous soil of Maso Warth. Classic method, 60 months in yeasts. Light straw yellow color with greenish hues, elegant bubbles. Fresh aromas of flowers, fresh ginger and grapefruit, mountain herbs and green tea. Tense and savory taste, dynamic progression. Almost minty, vibrant finish.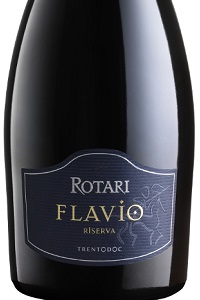 Trentodoc Flavio Extra Brut Riserva 2012 Rotari - Mezzacorona
93 € 38,00
100% Chardonnay grapes. Classic method, at least 60 months on the yeasts. Almost shiny, bright intense golden color. Very elegant bubbles. Fragrant and attractive aromas of honey, candied fruits, Autumn fruits, juicy medlar. Very complex taste, pleasant aromatic tension, convincing and very powerful finish.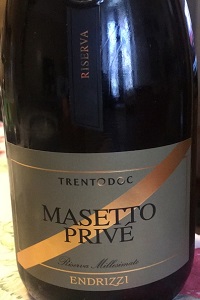 Trentodoc Masetto Privé Riserva 2010 Endrizzi
93 € 30,00
100% Chardonnay grapes. Classic method, 84 months on the yeasts. Zero dosage. Intense golden yellow color, very elegant bubbles. Aromas of peach, apricot jelly and yellow plums jam, rich notes of walnuts and honey, roasting puffs to complete the bouquet. Creamy taste with notes of pastries and neat freshness of citrus zests. Dynamic yet powerful body that makes forgive the slight imperfection in the progression.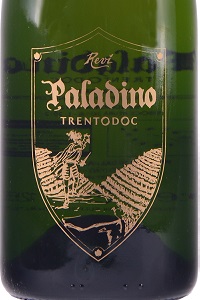 Trentodoc Paladino Riserva 2014 Revì
93 € 48,00
100% organic Chardonnay grapes cultivated at 700 mt above sea level. Extra Brut. Golden yellow color with very elegant bubbles. Tropical aromatic profile with notes of mango and passionfruit, candied ginger, ripe yellow plums and hints of cedar. Convincing taste, savory notes of fruits and spices. Green apple and hay in the finish.
Related Products