Terraelectae, Chianti Rufina presents its own top selection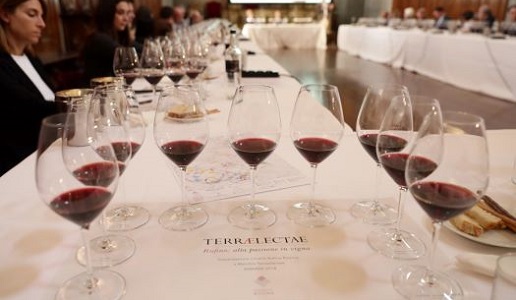 The Consorzio del Chianti Rufina has adopted a collective and voluntary brand to guarantee, year after year, the best examples of its own Sangiovese.
Only the best Sangiovese, from the best estate vineyards, selected year by year. A flexible project, one that can be adapted to different harvests and the unpredictability of the changing climate, yet one that has a single, unquestionable goal: to offer the consumer the best Chianti Rufina Riserva possible for that vintage. This guarantee will be symbolized by a trademark: Terraelectae. This is a collective voluntary brand launched by the Consorzio del Chianti Rufina producers' association and was presented on May 4 in Milan, at the splendid Sala Cenacolo hall at the Museo della Scienza e della Tecnologia Leonardo da Vinci.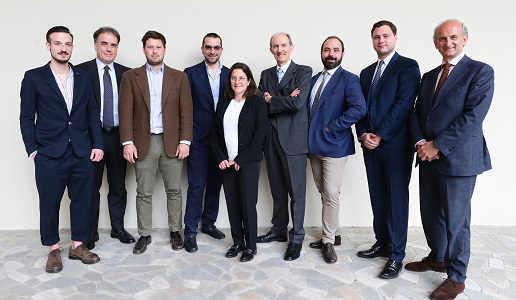 Already 13 estates (out of the 20 tied to the Consorzio) have joined the initiative that demands that all produce a Riserva di Chianti Rufina made only from Sangiovese and that ages long (30 months of which at least 18 in wood and six in the bottle). Each producer will decide their own prime vineyard, the cru that has produced the best Sangiovese for that year, and the wine made from it be distinguished by the Terraelectae trademark. Thus producers will have the utmost freedom to select the fruit of their labors with the aim guaranteeing, year after year, a quality wine that best represents its terroir. In other words, they have adopted a shared quality style, applied to a single vineyard of each producer.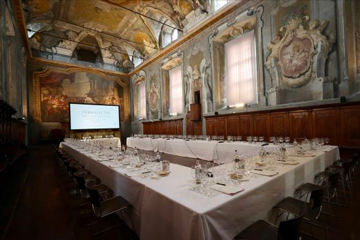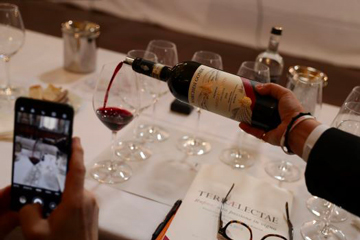 "A collective brand will allow us to operate without having to modify production norms", explained Consorzio President Cesare Coda Nunziante, who added: "The Consorzio has demonstrated that it is strongly united in regard to a single varietal Sangiovese wine. This niche accounts for 55,000 bottles out of the over three million produced in the appellation. The market position of this brand will certainly be high given that the producers are concentrating on their vineyard that has the most unique position and grapes, with the utmost attention paid to the territory".
"We are moving as a team," observed Lamberto Frescobaldi, who was recently elected to be the new president of the Unione Italiana Vini (UIV), "and we are ranking up one success after another. The Terraelectae project comes at an ideal time for the appellation because we are finally giving recognition to freshness, rather than opulence, which has always distinguished Chianti Rufina wines".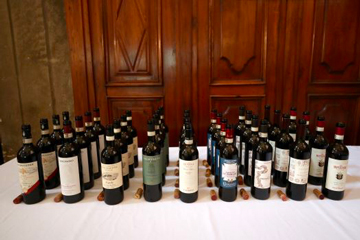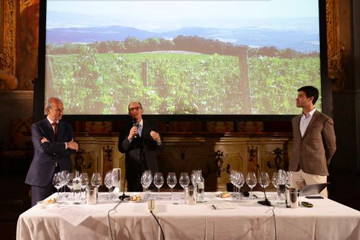 Situated between the Arno Valley and Mugello, crossed by the Sieve River and influenced by the Tuscan-Romagnolo stretch of the Apennines Mountain chain, the Chianti Rufina district has always been one of the coolest and characteristic of the Chianti region. The vineyards sit on the lower hills and rise to as high as 700m above sea level, the highest for the Chianti appellation. This is a unique area within the vast Chianti DOCG denomination and during the presentation event many were asking why Rufina did not just leave the Chianti appellation and form its own one. The fairly obvious reply to this was that the brand Chianti was a strong draw on foreign markets, even if it is generalized. And here comes into play purpose of the new Terraelectae brand: to be a trademark that will allow the district to "be recognizable" within the mare magnum of Chianti and ensure the potential of the Apennine zone of Rufina, which has always produced elegant wines with a propensity to age long.
Of the 13 estates that have joined the project, we were able to sample nine 2018 wines during a tasting conducted by Italy's first Master of Wine, Gabriele Gorelli. We present them here in the order they were served. Some can already be found on the market, while others will be available in the coming months. You will find them in the next edition of our Essential Guide to Italian Wine, the 2023 edition.
Marchesi Gondi
Chianti Rufina Riserva Poggio Diamante 2018
€ 40
100% Sangiovese. Matured for 18 months in 20hl barrels, six in barriques and aged six months in the bottle. A lovely, dark and compact ruby color. The bouquet is of ripe and syrupy red fruit, amid slightly iodine notes of underbrush, followed by scents of wilted flowers and spice. The mouthfeel combines delicateness and generosity, finesse and concentration, with an excellent and almost citrusy freshness and a fruity and saline finish.
Fattoria di Grignano
Chianti Rufina Riserva Poggio Gualtieri 2018
€ 35
100% Sangiovese. Matured for 30 months between stainless steel vats and barriques. A limpid ruby color. The initial scents of rose, violet and blackberry evolve into more austere balsamic, mineral and roasted coffee notes. The mouthfeel has an excellent freshness, with a distinct salinity and "crispy" tannins, while the finish has a pleasingly bitter fruitiness.
Frascole
Chianti Rufina Riserva Vigna alla stele 2018
€ 42
100% Sangiovese. Matured for 18 months in barriques and then in cement vats. A dark, purplish ruby color that is consistent with the aromas of cinchona, ink, cacao, blackberry syrup and balsamic scents of sandalwood and a potpourri. The mouthfeel is equally rich and pulpy, with abundant tannins and a deep finish with bitter notes of cacao.

Villa Travignoli
Chianti Rufina Riserva Vigna Colonneto 2018
€ 45
100% Sangiovese. Matured for 24 months in 25hl barrels. Dark ruby. The bouquet opens with brackish notes and those of Mediterranean underbrush, myrtle, strawflower and mastic, followed by scents of tuff stone and wilted flowers. The mouthfeel is light, composed and immediate yet with copious tannins that usher in a dry and somewhat contracted finish.
I Veroni
Chianti Rufina Riserva Quona 2018
€ 25
100% Sangiovese. Matured for 18 months in barriques and larger barrels. A bright ruby color that fades on the edge. A lovely bouquet of juicy, red fruit, brackish and balsamic notes, cacao and almond. A taut and austere mouthfeel that is bold and has thick, almost chewy tannins. The finish has intense and bitter notes of coffee and carob.

Colognole
Chianti Rufina Riserva Le Rogaie 2018
€ 40
100% Sangiovese. Matured for 20 months in 25hl barrels and another 18 in the bottle. A dazzling ruby color. The bouquet is floral and fruity with notes of blackberry, wild strawberry, rose and myrtle followed by balsamic and spicy scents. The mouthfeel is lithe thanks to a freshness that tones down the extracts and alcohol content. The ethereal finish has sensations of rosolio and cherries preserved in spirits.
Fattoria Lavacchio
Chianti Rufina Riserva Vigna Casanova 2018
€ 58
100% Sangiovese. Matured in 15hl barrels and then aged 18 months in the bottle. A dark and compact ruby. Scents of black cherry syrup, almond and wilted rose give way to more complex notes of coffee, Boero pralines, chestnut honey and camphor. The mouthfeel is rich, full-bodied, dense, warm and spicy to the nose but never restrained. It flows free and windingly thanks to its long-lasting acidity and polished tannins. The finish is long and refined.
Castello del Trebbio
Chianti Rufina Riserva Lastricato 2018
€ 20
100% Sangiovese. Fermented in amphorae and matured for 30 months in 20hl barrels and aged 15 months in the bottle. A full, ruby color. The aroma is a tad compact but with revealing notes of wilted flowers, red fruit preserved in alcohol, humus, orange and Sichuan pepper. The light mouthfeel has a lively acidity and is saline yet almost thirst quenching. Unusually ready for this type of wine.
Marchesi Frescobaldi
Chianti Rufina Riserva Vigna Montesodi 2018
€ 40
100% Sangiovese. Matured in 30hl barrels. A bright, ruby color. An elegant bouquet with scents of toasted almond, floral notes and those of a dogwood and cacao jam, with veins of nicely harmonious spice. The linear mouthfeel is full yet progressive and dynamic at the same time, with a vivacious acidic-saline streak and the right tannic tension. A lovely toasted and almond finish.