'Diversi Vignaioli Irpini'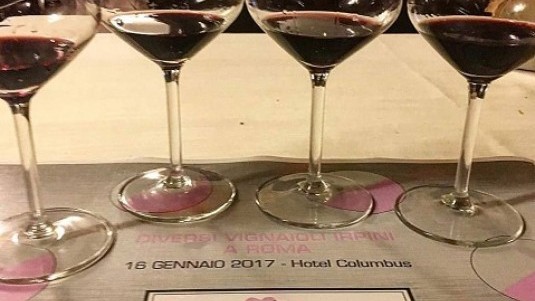 On Monday, January 16, the Diversi Vignaioli Irpini (Different Irpini winemakers) consortium presented to the press and sector operators the association they created some six years ago. Its members, all small and certified top quality wineries, are: Tenuta Sarno 1860, Villa Diamante, Le Ormere, Cantine Bambinuto, Antico Castello, Luigi Tecce, Cantine Lonardo, Guastaferro, Joaquin, Cantina Giardino and Contrade di Taurasi. The aim of the association, as explained at the presentation by its president Francesco Romano from Antico Castello, is to promote their generous land through extraordinary wines.
The presentation included a seminar and tasting – with wines from a number of the estates – conducted by the sommelier and journalist Monica Collucci, an expert and passionate champion of the area or Irpinia. Between tastings of Taurasi, Greco di Tufo and Fiano di Avellino, she explained the zone's different realities and the relative wines they produced.
Related Products
Product
Producer
Date of publication
Author
Read
Fiano di Avellino 2015
Fiano di Avellino
Montevergine Maccario
11/21/17
Antonella Amodio
Made only in stainless steel with Fiano grapes that ferment using select yeasts from the grapes themselves (pied de cuve). The wine has a delicate and fine floral aroma with notes of green apple and...
Leggi tutto
Vigna della Congregazione 2015
Fiano di Avellino
Villa Diamante
02/07/17
Antonella Amodio
A luminous, golden-yellow color and a sulfurous nose with notes of fresh almond, medicinal herbs, plums and humus. The mouthfeel is taut and structured and has a pleasing acidity, while there is a...
Leggi tutto
Greco di Tufo 2015
Greco di Tufo
Sertura
05/16/17
Antonella Amodio
Made from Greco grapes and aged in stainless steel. A bold, yellow color and an aroma with notes of citronella, ginger, apricot and white flowers. The mouthfeel is quite bold, full, sharp and salty...
Leggi tutto
Greco di Tufo 2014
Greco di Tufo
Sertura
05/16/17
Antonella Amodio
Made from Greco grapes and aged in stainless steel. An intense yellow color and a bouquet of anise, oregano, citron, iodine notes and a slightly smoky sensation. The mouthfeel is bracing, taut and...
Leggi tutto
Taurasi 2012
Taurasi
Azienda Agricola Adelina Molettieri
01/03/18
Antonella Amodio
Made from Aglianico grapes and matured for 20 months in large oak barrels and then for six months in new-wood barriques. The wine has a ruby color and aromas of spice and fruit with distinct notes of...
Leggi tutto
Poliphemo 2012
Taurasi
Luigi Tecce
02/07/17
Antonella Amodio
Made with Aglianico grapes grown on 80-year-old vines, the wine has a ruby color with a garnet edge. The aroma has scents of blackcurrant, blueberry, juniper, incense and a touch of licorice. The...
Leggi tutto
Coste 2011
Taurasi
Contrade di Taurasi - Cantine Lonardo
02/07/17
Antonella Amodio
The grapes for this wine are from espaliered, 40-year-old vines. The color is an intense garnet and the nose is very fruity with distinct scents of black cherry, blackcurrant, red currant, underbrush...
Leggi tutto
Primum 2007
Taurasi Riserva
Guastaferro
02/07/17
Antonella Amodio
Aged in oak barrels for 24 months, the wine's bouquet opens with aromas of prune, red orange and sweet tobacco. The warm and wrapping mouthfeel has well-integrated tannins and an excellent acidity...
Leggi tutto