Barbera Revolution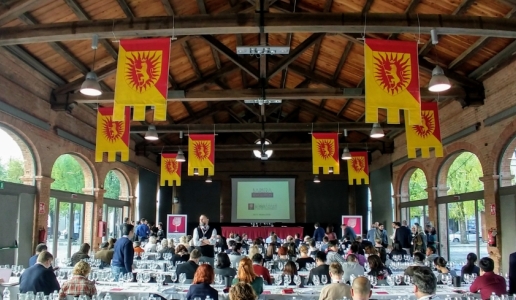 Let's celebrate the 10 years of the Barbera d'Asti DOCG by telling about a great tasting organized some time ago in Nizza Monferrato, starring the 2016 vintage.
Barbera is a traditional Piedmont varietal evidence of which dates back to 1512 in a zoning document in the town of Chieri, near Turin. The grape has a high acidity level that ensures the wine has a long life and is pleasing to the mouth with a low tannic component.
Barbera is above all cultivated in the provinces of Asti and Alessandria but can also be found in the southern hills of Piedmont, thus making it the most important red wine varietal in the region, occupying some 35% of vineyard land. The varietal is the basis for a number of wines, from the regional Piemonte Barbera DOC denomination to, towards the west, Barbera d'Alba DOC (which has 15% Nebbiolo in the bend), Barbera d'Asti DOCG (almost 100% Barbera) – which until a few years ago included the subzone of Nizza that now has its own DOCG appellation, Barbera del Monferrato DOC (the Superiore has a DOCG classification) which in the blend has Freisa, Dolcetto or Grignolino up to 15%, and, finally, Colli Tortonesi Barbera DOC, which allows up to 15% of other varieties in the blend.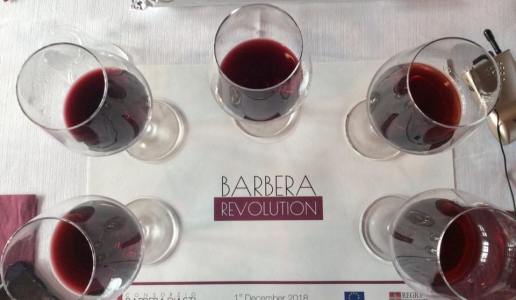 The area of production of Barbera d'Asti is quite vast: 116 towns in the province of Asti and 51 in that of Alessandria for a total of 4,129 hectares of vineyards, with two recognized subzones Tinella and Colli Astiani. Annual production is around 20 million bottles.
There are two basic wine styles: one fresh and immediate, which excludes the use of wood; and one more complex and capable of aging, which uses barriques or other sized barrels and is generally classified as a Superiore.
The Consorzio producers' associate is currently involved in a new project in collaboration with the University of Turin's Department of Agrarian, Forestry and Food Sciences to draw up a sensorial map of Barbera d'Asti DOCG appellation. The aim is to connect the characteristics of the wines to the different geological realities and microclimates in the area of production. "The world great wines, the more famous and known ones, "explained Consorzio Barbera d'Asti and Vini del Monferrato President Filppo Mobrici, "come from particularly suited areas, the so-called 'cru'. Through this study we intend to identify the different productive typicities in a very vast area, the unique and distinctive characteristics that are Barbera d'Asti's strong points".
The results of this scientific research project will not be known for some years, so in the meantime here are some 100% Barbera wines, all matured in wood.
Barbera d'Asti Superiore Alfiera 2016 Marchesi Alfieri
96/100 - € 28
Made from Barbera grapes and matured for 15 months in barriques, 1/3 new wood. An almost dense, ruby-purple color and a slightly woody attack that does not overshadow the intense and distinct aroma of red fruit that is refreshed by a very pleasing note of blood orange. The mouthfeel is rich, flavorful and wrapping with an excellent progression and a long and saline finish. Truly excellent.
Bottles produced: 19,200.
Barbera d'Asti Vecchie Vigne 50° 2016 Viticoltori Associati di Vinchio & Vaglio Serra
92/100 - € 16
Made from Barbera grapes and matured in barriques and stainless steel for 18 months. The full ruby color has almost purple reflections while floral hints exalt the nice note of red fruit and wrapping spice sensations. The mouthfeel is fresh, rounded, agile and elegant. A lovely wine.
Bottles produced: 25,000.
Barbera d'Asti Superiore Sichei 2016 Franco Roero
92/100 - € 23
Barbera grapes matured in barriques for 18 months. A dark, purple-ruby color and warm and wrapping aromas of cherry, red apple and cocoa. The mouthfeel has a convincing freshness, richness and elegance unaffected by the warm finish.
Bottles produced: 10,000.
Barbera d'Asti Camp du Rouss 2016 Coppo
91/100 - € 15
Made from Barbera grapes and matured for 12 months in barriques, 20% new wood. The color is an intense, ruby with bold purple reflections while the bouquet has intense fruity notes of plum and cherry on a background of light spice with a floral hint. The flavorful mouthfeel is full and fresh and the wine very drinkable thanks to a lovely acidity.
Bottles produced: 70,000.
Barbera d'Asti Superiore Epico 2016 Pico Maccario
91/100 - € 30
Barbera grapes and matured in barriques for 12-14 months. The dark ruby color has a lighter edge while the aroma is very particular, between ripe red fruit and an unexpected balsamic streak that shifts towards After Eight mints with a distant whiff of tea in the background. The mouthfeel is rich and flavorful.
Bottles produced: 5,000.
Barbera d'Asti Superiore Bricco Paradiso 2016 Tenuta Il Falchetto
90/100 - € 18
Barbera grapes and matured 14 months in barriques. A dark, intense ruby color and fruity notes of cherry and blackberry with mentholated sensations. The sweetness of the fruit makes the mouthfeel rounded, long and well-made.
Bottled produced: 13,000.
Related Products
Product
Producer
Date of publication
Author
Read
Alfiera 2016
Barbera d'Asti Superiore
Marchesi Alfieri
03/07/19
Stefania Vinciguerra
Made from Barbera grapes and matured for 15 months in barriques, 1/3 new wood. An almost dense, ruby-purple color and a slightly woody attack that does not overshadow the intense and distinct aroma...
Leggi tutto
Vecchie Vigne 50° 2016
Barbera d'Asti
Vinchio - Vaglio Serra
03/07/19
Stefania Vinciguerra
Made from Barbera grapes and matured in barriques and stainless steel for 18 months. The full ruby color has almost purple reflections while floral hints exalt the nice note of red fruit and wrapping...
Leggi tutto
Sichei 2016
Barbera d'Asti Superiore
Franco Roero
03/07/19
Stefania Vinciguerra
Barbera grapes matured in barriques for 18 months. A dark, purple-ruby color and warm and wrapping aromas of cherry, red apple and cocoa. The mouthfeel has a convincing freshness, richness and...
Leggi tutto
Camp du Rouss 2016
Barbera d'Asti
Coppo
03/07/19
Stefania Vinciguerra
Made from Barbera grapes and matured for 12 months in barriques, 20% new wood. The color is an intense, ruby with bold purple reflections while the bouquet has intense fruity notes of plum and cherry...
Leggi tutto
Epico 2016
Barbera d'Asti Superiore
Pico Maccario
03/07/19
Stefania Vinciguerra
Barbera grapes and matured in barriques for 12-14 months. The dark ruby color has a lighter edge while the aroma is very particular, between ripe red fruit and an unexpected balsamic streak that...
Leggi tutto
Bricco Paradiso 2016
Barbera d'Asti Superiore
Tenuta Il Falchetto
03/07/19
Stefania Vinciguerra
Barbera grapes and matured 14 months in barriques. A dark, intense ruby color and fruity notes of cherry and blackberry with mentholated sensations. The sweetness of the fruit makes the mouthfeel...
Leggi tutto
Marchesi Alfieri

02/22/12
Redazione
Perhaps because it is because the estate is owned by women, but the fact is that here Barbera, a female name, reaches its peak. The estate is in San Martino Alfieri, the last town in Asti before you...
Leggi tutto
Vinchio - Vaglio Serra

05/20/11
Redazione
Some call this "the mother of all Barberas" because many wine merchants who bottle private lines of wine use the bulk wine from this wine cooperative. The cooperative also bottles its own...
Leggi tutto
Franco Roero

03/07/19
Redazione

Coppo

03/28/12
Redazione

Pico Maccario

11/27/14
Redazione

Tenuta Il Falchetto

03/07/19
Redazione
Related Articles