A close look at Trebbiano Spoletino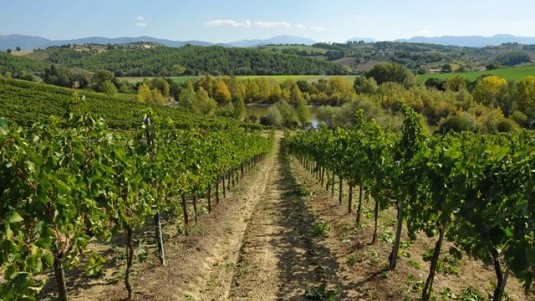 This Umbrian varietal is still not that widely used and while Trebbiano Spoletino is distinctly different from both the Tuscan and Abruzzo varieties, it still has to find its way. 
Trebbiano Spoletino is a white wine grape that is increasing being used in Umbria thanks to some of its decidedly interesting organoleptic characteristics. The varietal's exact origin is still unclear and until it is proven by DNA testing I will not venture to hypothesize what it is, unlike some of my colleagues. From an organoleptic point of view, however, it has little in common with Trebbiano Toscano, which is generically somewhat neutral, and it is very different from Trebbiano Abruzzesi, which achieved success thanks to Valentini and Masciarelli.
At the beginning of June, Spoleto hosted the first showcase event dedicated to Trebbiano Spoletino and it included a couple of seminars aimed at shedding light on this interesting varietal and the wine it produces, given the increasing number of winemakers using it to produce a single-grape wine.
The principle characteristics of this grape, according to the participating producers, are that: it ripens late (some said in October and after); it has an average low yield; it has an impressive resistance to disease; the acidity is a very high even when ripe; and the aromatic profile is fairly intense. Not everyone agreed on this latter aspect but I think that was because of the different growing and winemaking methods used by producers more than on studies on the grape's aromatic properties, studies that have yet to be completed.
The tasting involved 23 producers spread out over a fairly vast area, more or less from Spoleto to beyond Montefalco to the north. The amount of land dedicated to cultivating this variety is expanding but at present amounts to only 60 hectares total. This limited production means that the wine is more of a novelty and not one with a critical mass necessary to be marketed large scale. For this reason it is used by many producers to complete their line. However, there is a lot of movement around it and the grape has a rosy future.
We tasted around 50 wines from the 2015 and 2016 vintages and drew two basic conclusions: the wines held up well after a year aging in the bottle and, in fact, often became more complex developing very particular aromas and flavors with smoky and complex tones including notes of anise and a bold balsamic sensation. The second observation was a little less positive and had to do with the producers. We could find no common denominator that could offer the consumer a clear indication of what to expect from a wine made from Spoletino. It is almost as if it is everyone for themselves without any shared goal or vision of which direction to take.
In short, there seems to be a lot of confusion with a slew of producers who have "seen the light" of orange wine and are making wines with out-of-control volatile acidity and macerations that are too oxidative and degrading for this varietal and deprive it of its identity. Unfortunately, this path has been championed by certain local trendsetters who are very popular and so producers are confused. I would like to thank Antonio Boco, a great expert on Umbrian wines, for recognizing this problem that could kill Spoletino wine before it is even fully born.
The following reviews are of the wines we found to be truly interesting and that did not bend to peer pressure.
Related Products