Vernaccia di San Gimignano, a odd mystery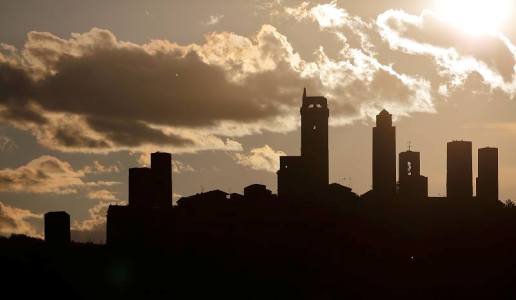 This could and should make a leap in quality but has yet to do so, except for a few exceptions.
Again this year the great mystery over Vernaccia repeated itself. Every year the wine's February preview is full of expectations and hopes that this will be the vintage that launches this white wine from the heart of Tuscany. However, this never happens and there is no boost to take it over the high bar.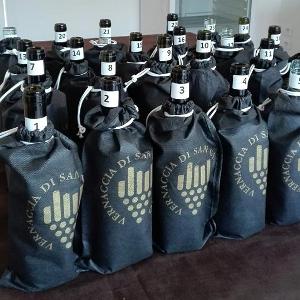 It is an odd mystery because the producers' Consortium is very good, with its bright president Letizia Cesani and skilled director Stefan Campatelli offering good ideas that are welcomed by the mass media thanks to the promotional efforts of Elisabetta Borgonovi. And then there is the wonderful book on Vernaccia and the land it comes from published by the producers' association that should create a virtuous cycle aided by a marketing campaign throughout Italy. These are all very well organized initiatives full of content and so the problem is not here.
The price for bulk wine rose slightly again this year after the jump in 2017 caused by an over 25% drop in production, which was a positive fact when you compare it to wines made from other native varietals that do not command such prices. Money is being made. Foreign and domestic sales are sable with most of the wine sold in Italy done so on site thanks to the over three million tourists who flock to this city to see is many medieval towers.
Thus everything should be going well but there is a "but" due to the vast difference in quality standards between producers. This because some estates will produce a top quality wine one year and one would expect this to be repeated with consistency in the following years. Were this the case, then a positive message would be sent, one of a stylistic maturity. However, this often does not happen with disastrous effects not only for the estate but the appellation in general. This is what makes it an "odd" mystery, one that only happens here. Despite over ten years of comparative tastings at the preview in Sala Dante with foreign producers, local winemakers do not appear to have gotten the message. And this despite the data available and suggestions from foreign producers and critics alike that they should learn from and follow up on these wonderful comparative tastings.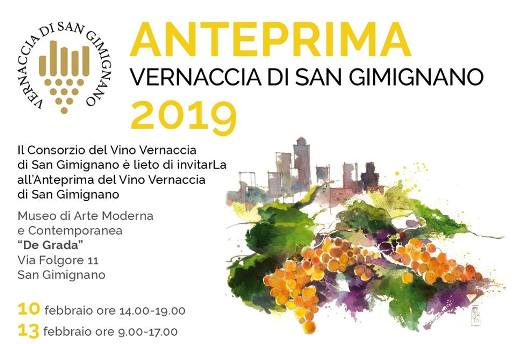 There is a well-defined hierarchy among producers with some wineries producing wines of great class and which are consistently the best. If would be nice to see more of them.
There is then another small problem regarding the Reserve wines. The latest vintage is 2017 and again it suffers from the "wood syndrome". While I am not against the use of wood, it is important that it be used wisely otherwise the attack of the mouthfeel is too sweet-vanilla and the finish is flat due to a lack of acidity and too much alcohol that creates a boomerang of boredom.
The following are reviews of wines that give us hope for a better future. The good news for our readers and consumers is that Vernaccia di San Gimignano on an average costs less than many other Italian white wines. This means that if one chooses well they can drink very well without spending a fortune.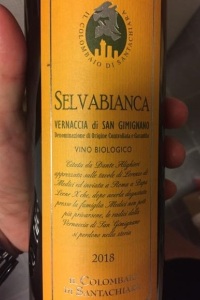 Vernaccia di San Gimignano Selvabianca 2018 Colombaio di S. Chiara
93/100 - € 9
An established estate and for us the leading producer. We selected this 2018 Vernaccia Selvabianca also for its amazing quality/price ratio.
Made from Vernaccia grapes and matured on the less for several months in stainless steel. The wine has a straw color with green reflections and an aroma that has a light, balsamic sensation of eucalyptus along with fruity notes of peach and medlar. The flavor is excellent with a progression of great class thanks to a distinct salinity and a balanced alcohol level with the tannins from the grape skins ushering in a very pleasing finish.
Vernaccia di San Gimignano I Macchioni 2018 Casa alle Vacche
92/100 - € 10
Made from Vernaccia grapes and matured on the less for some four months in stainless steel. The intense bouquet is one of winter underbrush with an intense and clear note of peach. The mouthfeel has a medium texture and excellent progression with slightly salty tannins that balance the flavor and leads to a refined and persistent finish.
Vernaccia di San Gimignano Riserva 2015 Panizzi
92/100 - € 19
Made from Vernaccia grapes and matured in barriques for 12 months. The wine has a golden, straw color and an aroma that still clearly indicates how the wine matured in wood with its wood notes that standing out among floral ones of jasmine and hints of ripe medlar. The mouthfeel has a nice progression and is fresh and balanced with a long and flavorful finish. A great classic.
Vernaccia di San Gimignano Tropìe 2018 Il Lebbio
91/100 € 10
Made from Vernaccia grapes and matured in stainless steel. A classic and bright straw color with a complex aroma that initially is a bit shy but then has intense notes of ripe medlar, eucalyptus and yellow flowers. The youthful mouthfeel is slightly nervous but has an alluring saline note and a persistent and flavorful finish.
Vernaccia di San Gimignano Lyra 2016 Il Palagione
90/100 - € 13
An expanding estate with a balanced line of production that has been on the rise for some years now.
Made from Vernaccia from the Montagnana vineyards. The wine sits on the lees for at least 10 months with 10% maturing in barriques. A bold but not bright straw color and a complex aroma with a light almond note and a little spice that does not interfere with those of yellow fruit, medlar, peach and lychees. The mouthfeel is thick but not sweet thanks to a nice salinity and light and captivating tannins that uphold the flavor without compromising it. The finish has a nice persistence.
Vernaccia di San Gimignano Vigne in Fiore 2018 Massimo Daldin Ca' del Vispo
90/100 - € 12
A novelty this year, a Trentino native working with Vernaccia who has finally taken over the family estate with a very positive start.
Made from Vernaccia with 70% matured in stainless steel and 30% in barriques sitting five months on the lees. The wine has a slightly pale straw color and a shy yet clean aroma with citrus notes of lime and Valencia orange along with a fresh balsamic hint. The convincing mouthfeel is progressive and juicy and not at all boring thanks to a nice salty and acidic touch that ushers in a flavorful finish.
Related Products
Product
Producer
Date of publication
Author
Read
Selvabianca 2018
Vernaccia di San Gimignano
Colombaio di Santa Chiara
03/14/19
Riccardo Viscardi
An established estate and for us the leading producer. We selected this 2018 Vernaccia Selvabianca also for its amazing quality/price ratio. Made from Vernaccia grapes and matured on the less...
Leggi tutto
I Macchioni 2018
Vernaccia di San Gimignano
Casa alle Vacche
03/14/19
Riccardo Viscardi
Made from Vernaccia grapes and matured on the less for some four months in stainless steel. The intense bouquet is one of winter underbrush with an intense and clear note of peach. The mouthfeel has...
Leggi tutto
Vernaccia di San Gimignano Riserva 2015
Vernaccia di San Gimignano
Panizzi
03/14/19
Stefania Vinciguerra
Made from Vernaccia grapes and matured in barriques for 12 months. The wine has a golden, straw color and an aroma that still clearly indicates how the wine matured in wood with its wood notes that...
Leggi tutto
Tropìe 2018
Vernaccia di San Gimignano
Il Lebbio
03/14/19
Riccardo Viscardi
Made from Vernaccia grapes and matured in stainless steel. A classic and bright straw color with a complex aroma that initially is a bit shy but then has intense notes of ripe medlar, eucalyptus and...
Leggi tutto
Lyra 2016
Vernaccia di San Gimignano
Il Palagione
03/14/19
Riccardo Viscardi
An expanding estate with a balanced line of production that has been on the rise for some years now. Made from Vernaccia from the Montagnana vineyards. The wine sits on the lees for at least 10...
Leggi tutto
Vigna in Fiore 2018
Vernaccia di San Gimignano
Ca' del Vispo
03/14/19
Riccardo Viscardi
A novelty this year, a Trentino native working with Vernaccia who has finally taken over the family estate with a very positive start. Made from Vernaccia with 70% matured in stainless steel and 30%...
Leggi tutto
Colombaio di Santa Chiara

09/06/13
Redazione
This young estate has a solid winemaking foundation with vineyards that have excellent exposures and are cultivated with great care. The Logi brothers produce modern Vernaccia. The fermentation...
Leggi tutto
Casa alle Vacche

04/05/13
Redazione
As is clear by its name, this estate began in the 19th century as one to raise livestock, as well as cultivate olives and grapes that were then sold to the locals. In 1980, they began to produce wine...
Leggi tutto
Panizzi

04/21/12
Redazione
The death of Gianni Panizzi in October 2010 is beginning to be felt. This is no fault of the management of Walter Sovran, an excellent technician and great Vernaccia expert, but more the apparent...
Leggi tutto
Il Lebbio

03/13/19
Redazione

Il Palagione

03/13/19
Redazione

Ca' del Vispo

03/13/19
Redazione