The history and success of Alto Adige wines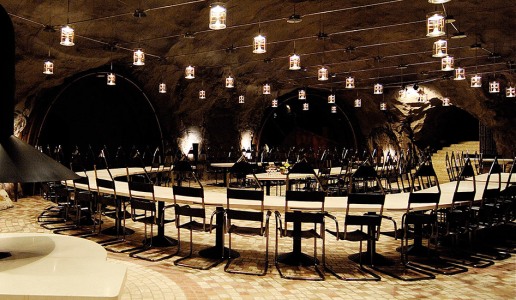 It is always a privilege to taste vintage Alto Adige wines and to learn about them from those responsible for their success.
When you arrive in Laimburg there is no doubt that you are in Alto Adige thanks to the distinct mountain air and the steep mountain wall that greet you. It is only a few kilomters from Bolzano and carved into the mountain is a cellar, the heart of Laimburg. Passing through a tunnel you get to a huge tasting room which is almost surreal with pointed chairs and rock walls making it feel like a refectory.
We were inside the mountain for the first Alto Adige Wine Summit and the opening night was dedicated to the last 40 years of Alto Adige wines. "We were the midwives of Alto Adige wine," Hans Terzer told us in reference to himself and the others present who were responsible for the evolution of wine here over the last half century: Luis Raifer, Josephus Mayr, Alois Lageder and the three-star chef Heinz Winkler. These men, each in their own way, were the leaders of the wine revolution in Alto Adige, a shift from the quantity production of the past to the quality wines of today made possible thanks to their virtuous exercise of working together as a cooperative.
Looking back, Hans Winkler recalled how in 1984 a young producer knocked at his door seeking to sell him his white Alto Adige wine. Not a red made from Schiava grapes, which at the time represented 80% of the area's production, but a full-bodied and structured white. The producer's name was Alois and today he is considered by many to have been the driving force behind the Alto Adige wine revolution. Winkler politely told Lageder that he could not add his wine to his wine list because there was no demand for it. But then he tasted his Löwengang and was so surprised and impressed that he immediately ordered 600 bottles. "In a painting it is the energy of the artist that is important, not the subject, I thought. It is the energy of the producer that has to enter the heart and that wine incarnated all the creative energy of that producer".
Today the wines from this area have changed even further and the quest for freshness and verticality has resulted in new wine expressions that are related to yet differ from the tastes of the last century. Aside from style, the challenge today has to do with climate change, the need to find the right rapport between winegrowing and winemaking.
Related Products
Product
Producer
Date of publication
Author
Read
Sauvignon Sanct Valentin 2002
Alto Adige
Cantina San Michele Appiano
03/23/18
Livia Belardelli
A 100% Sauvignon that matures in stainless steel and has a light, golden-yellow color. The intense aroma has notes of fruit and aromatic herbs, bitter-sweet lemon and elder flower while the mouthfeel...
Leggi tutto
Chardonnay Löwengang 1994
Alto Adige
Alois Lageder
03/23/18
Livia Belardelli
Made only with Chardonnay and matured in wood, this has a full, golden color. The bouquet is sweet and smoky with notes of hazelnut and quince apple. The opulent mouthfeel is sweet and buttery, with...
Leggi tutto
Lagrein Dunkel Riserva 1998
Alto Adige
Erbhof Unterganzner
03/23/18
Livia Belardelli
A single-grape Lagrein wine that matures in barriques and has a luminous, ruby color with garnet hues. The aroma has notes of small, red fruit, blackberry and raspberry. The mouthfeel is velvety and...
Leggi tutto
Cabernet Sauvignon Lafóa 1997
Alto Adige
Cantina Colterenzio / Schreckbichl
03/23/18
Livia Belardelli

A garnet-colored Cabernet Sauvignon that matures in barriques. Peppery and floral aroma with sensations of graphite and balsamic whiffs and a long, warm mouthfeel.

Cantina San Michele Appiano

11/11/11
Redazione
If Alto Adige wines are now known and respected throughout the world much of the credit goes to this estate and its historic kellermeister Hans Terzer. This is where the revolution began to uproot...
Leggi tutto
Alois Lageder

11/11/11
Redazione

Erbhof Unterganzner

03/23/18
Redazione
Josephus Mayr is the epitome of an Alto Adige winemaker: passionate, tenacious and always striving to outdo himself with every harvest, firmly convinced of his skill and experience. His winemaking...
Leggi tutto
Cantina Colterenzio / Schreckbichl

06/25/13
Redazione
Schreckbichl has become a monument in the winemaking history of Alto Adige and Italy, as demonstrated by the Sauvignon and Cabernet Sauvignon of the Lafoa line, which are universally recognized as...
Leggi tutto