The charge of the Orvieto 5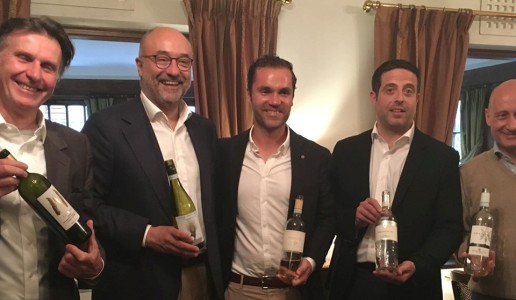 Palazzone, Sergio Mottura, Madonna del Latte, Tenuta di Salviano and Cantina Neri have joined forces to promote their vision of Orvieto, a modern wine that does not ignore its history.
Winemakers throughout Italy have always complained about their governing consortiums but in recent years this phenomenon has reached disturbing levels. While remaining within the consortium, many estates are joining forces in producer associations because they have visions and needs that have little in common with the communication and promotion strategies that consortiums are obliged to adopt in order to appease too many people. Many association members also feel that they are not properly represented within their consortium and that the decisions it makes are made by a restricted group leading producers.
As case in point is the recently presented project of five estates that produce Orvieto: Palazzone, Sergio Mottura, Madonna del Latte, Tenuta di Salviano and Cantina Neri, the latter the only one not a member of the Consorzio dell'Orvieto. Together they are trying to relaunch Orvieto in regard to image and profitability. Despite its important history, Orvieto has lost its appeal, especially in Italy, because for years its production was dictated by leading distributers, especially those from Tuscany. The wine's image abroad is a different story: it is very well-known but considered a cheap wine.
The five estates in this new project may have different pasts and sizes but they share common views on how to relaunch the wine. Their ideas have not received the backing or even a response from the Consorzio dell'Orvieto that, to be fair, is doing a lot in regard to promotional and technical initiatives.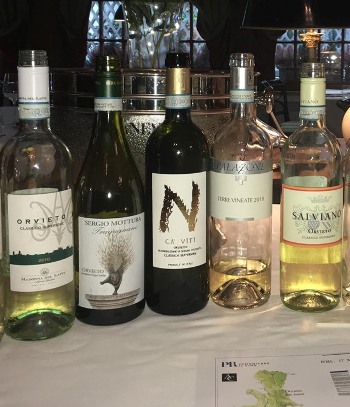 The ideas that brought the Orvieto 5 together were: sustainable winegrowing with a low impact on the environment; the rigorous use of only native varietals from estate-owned vineyards; and a lower yield per hectare. This vision is totally acceptable and not even very revolutionary but for some strange reason has not been shared by the consortium. For me, it is a good thing that the estates have chosen to remain within the consortium to continue to promote their ideas.
Regulations governing the production of Orvieto state that is it is a blend of 60% Procanico (Trebbiano) and Grechetto with other authorized white wine grapes including, historically, Verdello and Malvasia. The consortium regulations also allow the possibility of using the international varietals like Chardonnay, Sauvignon or Viognier. The Orvieto 5, however, refuse to use these because they believe it distorts the nature of Orvieto. What differentiates the wines of the five is the blend they opt to use. At the tasting that accompanied the presentation of the project, each estate offered the latest vintage to reach the market, 2018, plus and an older vintage to refute the misconception that an Orvieto has to be consumed young, in its first year. Orvieto, in fact, can age with some very interesting results.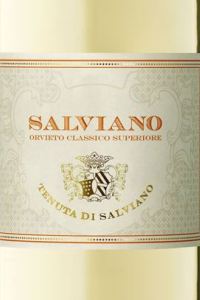 Orvieto Classico Superiore Salviano 2018 Tenuta di Salviano
87/100 - € 7,50
Procanico blended with Grechetto and Verdello (which replaced Chardonnay and Sauvignon) and matured in stainless steel on the lees for 5-6 months. The wine has a clear, straw color and a smoky bouquet of wild flowers with refreshing hints of lime and whiffs of anise. The mouthfeel is fresh and saline, quite rounded and pleasing with a nice persistence.
Tenuta di Salviano is an historic estate on the banks of Lake Corbara and owned by the Incisa-Corsini. Of the estate's 2,000 hectares, some 50 are vineyards. Along with the 2018, they offered a 2015 that was clean, with fruity scents and light hydrocarbon notes. The mouthfeel was fresh and full-bodied with a slightly caramelized flavor.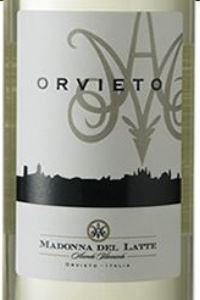 Orvieto Classico Superiore 2018 Madonna del Latte
91/100 - € 12
A blend of 50% Procanico, 20% Verdello, 20% Drupeggio and 10% Grechetto from a vineyard with vines that are over 30 years old. The wine matures on the lees in stainless steel vats for five months. The clear, straw color has green reflections and the delicate aroma has floral and citrusy notes, chalky sensations and a clear one of white almond. The elegant and saline mouthfeel is quite full-bodied with smoky hints and a flavor consistent with the aroma while the aftertaste is of aromatic herbs.
A small, family-run estate, Madonna del Latte is owned by Leon Zwecker and situated between Orvieto and Lake Bolsena. They have only five hectares of vineyards, with a sandy soil of volcanic origin, and produce 20,000 bottles a year. With their 2018 they brought a 2014 that had intriguing notes of saffron and orange peel, aromatic herbs and a distinct flavor that did not hide the nice body.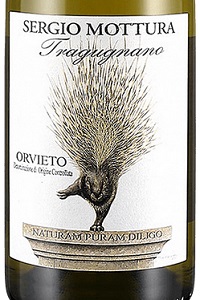 Orvieto Tragugnano 2018 Sergio Mottura
91/100 - € 12
60% Grechetto and 40% Procanico matured in stainless steel. The wine has a golden-straw color and an intense aroma of renetta apple, yellow peach and ripe Williams pear. The mouthfeel is full and fat with a pleasing tannic sensation from the Grechetto and an almond finish.
Sergio Mottura, the only estate in the Lazio region (at the southern end of the appellation), is above all known for its two wines made from Grechetto, the grape that dominates the blend of its Orvieto. Together with the 2018 we tasted a 2010 that had a golden color, a bouquet of yellow flowers and exotic fruit and a rounded, rich and almost buttery mouthfeel.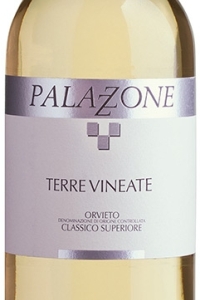 Orvieto Classico Superiore Terre Vineate 2018 Palazzone
90/100 - € 13
A blend of 50% Procanico and 30% Grechetto with the remaining 20% Verdello, Drupeggio and Malvasia matured in stainless steel with no malolactic fermentation. A golden color and very traditional aroma and oxidative (not oxidized!) style with notes of ripe, yellow fruit, hay and fresh sensations of anise. The mouthfeel is full, dry from the tannins, fat and saline.
Palazzone is an estate located a stone's throw from Orvieto where the Dubini family works in full respect of local traditions. The soil here is volcanic with tuff, chalk and sand. With the 2018 was a 2007 that had the same style with notes of rosemary and anise and a meaty, structured and tannic mouthfeel.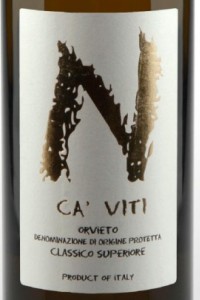 Orvieto Classico Superiore Ca' Viti 2018 Cantina Neri
89/100 - € 9
A blend of 50% Procanico and 40% Grechetto with the remaining 10% Malvasia, Verdello and Drupeggio matured in stainless steel. The wine has a golden, straw color and a delicate aroma with floral scents of acacia, notes of aromatic herbs and smoky sensations. The full and flavorful mouthfeel has a nice freshness, fruity flavor and is very saline with a nice persistence.
The family estate of Enrico Neri has 50 hectares of vineyards and is in Bardano, not far from Orvieto. The vineyards that produce the Orvieto DOC have a clay soil. The older vintage presented was a 2008that had a golden color and a complex aroma with notes of saffron and hydrocarbons, while the mouthfeel in intense, full and flavorful.
Related Products
Product
Producer
Date of publication
Author
Read
Salviano 2018
Orvieto Classico Superiore
Tenuta di Salviano
06/18/19
Stefania Vinciguerra
Procanico blended with Grechetto and Verdello (which replaced Chardonnay and Sauvignon) and matured in stainless steel on the lees for 5-6 months. The wine has a clear, straw color and a smoky...
Leggi tutto
Orvieto Classico Superiore 2018
Orvieto Classico Superiore
Madonna del Latte
06/18/19
Stefania Vinciguerra
A blend of 50% Procanico, 20% Verdello, 20% Drupeggio and 10% Grechetto from a vineyard with vines that are over 30 years old. The wine matures on the lees in stainless steel vats for five months....
Leggi tutto
Tragugnano 2018
Umbria
Sergio Mottura
06/18/19
Stefania Vinciguerra
60% Grechetto and 40% Procanico matured in stainless steel. The wine has a golden-straw color and an intense aroma of renetta apple, yellow peach and ripe Williams pear. The mouthfeel is full...
Leggi tutto
Terre Vineate 2018
Orvieto Classico Superiore
Palazzone
06/18/19
Stefania Vinciguerra
A blend of 50% Procanico and 30% Grechetto with the remaining 20% Verdello, Drupeggio and Malvasia matured in stainless steel with no malolactic fermentation. A golden color and very traditional...
Leggi tutto
Ca' Viti 2018
Orvieto Classico Superiore
Cantine Neri
06/18/19
Stefania Vinciguerra
A blend of 50% Procanico and 40% Grechetto with the remaining 10% Malvasia, Verdello and Drupeggio matured in stainless steel. The wine has a golden, straw color and a delicate aroma with floral...
Leggi tutto
Tenuta di Salviano

06/18/19
Redazione

Madonna del Latte

11/03/17
Redazione
The small estate of Manuela Zardo and Leon Zwecker is a recent reality in the area of Orvieto. Here they produce only top quality wines the grapes for which grow in a sandy, volcanic soil with the...
Leggi tutto
Sergio Mottura

12/13/13
Redazione
The historic Mottura estate is situated near the border between Lazio and Umbria, in an area where wine has been made for ages. It is an organic estate and the consistent and consolidated quality of...
Leggi tutto
Palazzone

10/23/14
Redazione
At the end of the 1960, the Dubini family bought the Palazzone estate in Rocca Ripesena, near Orvieto. Today, Palazzone not only hosts a winery but also is an historic residence and it all sits on...
Leggi tutto
Cantine Neri

06/18/19
Redazione