The best Vin Santo from Chianti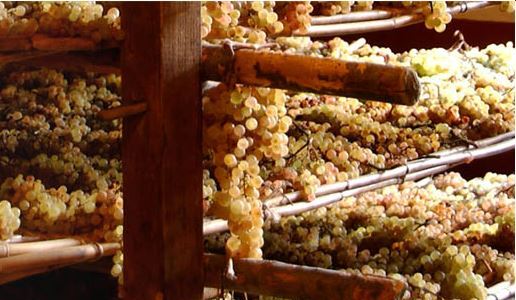 Sometimes sweet, sometimes sweetish, sometimes dry, Vin Santo is a typical holiday wine from Tuscany. Here we propose our best choise from Vin Santo del Chianti DOC.
Vin Santo is a wine to itself. It is not always sweet (each producer has his own style) and the image of dipping a cantuccio cookie into a glass of Vin Santo is a bit simplistic. There is nothing wrong in doing this but it is not exactly elegant. But the worst practice is serving it in a small glass, which compresses its aroma and mortifies the wine.
Vin Santo is a typical Tuscan wine and each area in the region has its own version. Here we look at the DOC Vin Santo del Chianti appellation, which like the DOCG Chianti one has different subzones, like Rufina. Vin Santo has other DOC appellations: there is Chianti Classico (its historic area); Carmignano (the Capezzana is excellent), Montepulciano (with the famous Avignonesi); and Colli dell'Etruria Centrale and Valdinievole (but these DOC indicate are not used much).
In regard to production, the basic varieties used to make Vin Santo are Trebbiano Toscano and Malvasia Bianca Lunga, with the addition of other traditional white varietals and even Sangiovese, used for Vin Santo Occhio di Pernice that has a more reddish color. After being picked the grapes dry or raisinate on mats or are hung in specials places, traditionally in attics. Once the grapes have dried (the time it takes varies estate to estate but usually ends by Christmas) they are pressed and the must is put into caratelli, small kegs of between 50 and 200l, where fermentation takes place and the wine matures. Traditionally, the dregs (called madre, mother) are left in the kegs from the previous production to allow their yeasts to initiate the fermentation of the concentrated must obtained from raisins. Not all producers follow this ancient method and some prefer to use inoculated cultured yeasts apt to initiate fermentation when there is a high sugar level. However, one method does not exclude using the other and the madre dregs are sometimes left in the caratelli kegs to recreate an estate's traditional and inimitable style. The caratelli kegs are then sealed and left untouched for at least three years but more often than not for a much longer period.
This method of production results in the loss of at least 2/3 of the initial production (regulations indicate a yield of 35%) and this means that the cost of Vin Santo is not economical and so watch out for imitations. In fact, in shops you can find wines marketed as Vin Santo but have nothing to do with the authentic one, the wine that can be summed up as true joy for the palate.
Related Products
Product
Producer
Date of publication
Author
Read
Vin Santo del Chianti Rufina 2009
Vin Santo del Chianti Rufina
Selvapiana
09/07/18
Stefania Vinciguerra
100% Trebbiano Toscano grapes. Aged for 6 years in different sized chestnut and oak caratelli (small barrels). Golden yellow color. Intense nose of cedar, apricot, candied fruit, arbutus and a smoky...
Leggi tutto
Vin Santo del Chianti Rufina 2002
Vin Santo del Chianti Rufina
Frascole
09/07/18
Stefania Vinciguerra
Blend of Malvasia and Trebbiano grapes in organic farming. Aged in chestnut caratelli (small barrels) for 9 years. Amber color. Elegantly volatile nose, walnut hull, spices, apricot scent, raisin....
Leggi tutto
Merlaia 2010
Vin Santo del Chianti
Torre a Cona
09/07/18
Andrea Gori
Blend of Trebbiano and Malvasia del Chianti dried for 4 months. Aged in 50-100 lt chestnut and oak caratelli (small barrels) for 6 years. Amber color. Intense and sweet nose, meaty and sublime,...
Leggi tutto
Baciamano 2011
Vin Santo del Chianti
Conte Aldobrando
09/07/18
Daniele Cernilli
100% Trebbiano grapes dried for 4 months. Aged in caratelli (small barrels) for 5 years. Bright pale amber. Very typical, hint of dried and under spirit fruit, walnut liqueur, developed and slightly...
Leggi tutto
Vin Santo del Chianti 2011
Vin Santo del Chianti
Castello del Trebbio
09/07/18
Stefania Vinciguerra
Blend of 60% Trebbiano, 30% Malvasia and 10% Colombana grapes dried for 4 months on straw mats. Aged in 50 lt and 100 lt caratelli (small barrels) for 5 years. Deep amber color. Intense aromas of...
Leggi tutto
Selvapiana

04/15/10
Redazione
Few know where Rufina exactly is in Tuscany. Even fewer know that this zone northeast of Florence produces some of the absolutely best Chianti and that it is a product of ancient tradition. A...
Leggi tutto
Frascole

04/06/12
Redazione
Enrico and Elisa Lippi have for years been making good, territorial wines and unfortunately space limitations kept us from including them in our guide up until now. Their estate is above Dicomano,...
Leggi tutto
Torre a Cona

09/07/18
Redazione
The 18th century villa Torre a Cona was built on the ruins of the Castello di Quona, which dated back to 1066, by the Rinuccini marquises. After changing hands several times, in 1935 it was acquired...
Leggi tutto
Conte Aldobrando

09/07/18
Redazione
This is the largest and oldest wine estate belonging to the Conti degli Azzoni, a noble family that originated in Veneto but have chosen Tuscany has their home. The estate is in Pontedera, not far...
Leggi tutto
Castello del Trebbio

04/06/12
Redazione
From the producer's website: Just a few kilometers from Florence, located between the Chianti Colli Fiorentini and Chianti Rufina wine zones, stands the Castello del Trebbio, a historic...
Leggi tutto