Romagna, uneven responses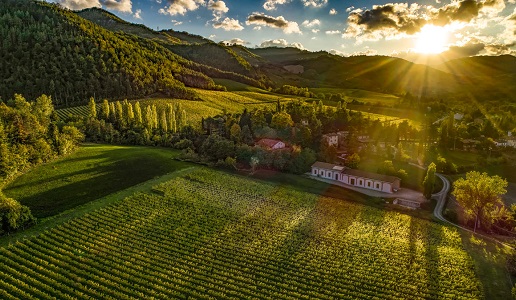 The MGA (Additional Geographic Mention) classification in Romagna is beginning to take hold with some areas adapting to it better than others. These cases should be examined rather than dismissed.
My last wine "excursion" before the outbreak of the Coronavirus emergency was to Romagna, a region I like a lot for the winemaking direction they have taken in recent years. The Vini ad Arte (Tailor-made Wines) event included excellent tastings of wines from many producers who represented an important cross-section of the region. There were also some entertaining and quality side events for the public. The adoption of municipal MGAs has met with success among critics and markets and resulted in a rise in quality as well as establishing styles among towns producing Sangiovese. Prices are stable and convenient for consumers, with excellent quality/price ratios for both Sangiovese and Albana wines. Added to this, new winemaking approaches are producing positive results. The market is establishing a new direction rewarding the work town by certain towns, which pay more for Sangiovese than others.
All this is absolutely normal, it happens all the time, but what struck me as strange was he attitude of many other producers towards this natural market evolution. They appear to reject this trend a priori, see it as some kind of plot, behind-the-scenes manipulations to exalt the wines of another municipality. This as opposed to examining why there has been greater attention to MGA wines by the media and sector operators. The reason could be more simple than one would expect: they are envious that others acted better and more efficiently than they did. What does this tell us in regard to the MGA practice to be expanded elsewhere in Italy? That to admit that someone else us better is almost a mission impossible considering that some see what has occurred in Romagna is a winemaking crime.
In other words, many seem to be against producers in Modigliana. And this because they joined together in an association to promote their area based on certain characteristics that distinguish it. Through annual conferences open to journalists, tasters and the public, they focus on interpreting their territory and its wines. And while there may differences on how to do this within the association, to the outside world they are a united and compact front. The message they project is consistent and the results of their efforts have been rewarded. The association's latest novelty is a Modigliana Bianco that is based on the area's traditions in producing white wines as exemplified by Castellucio's Ronco del Re Sauvignon and Le Campore from Le Pratello, among others. The production guidelines are elastic and place the focus on territory and the way varietals interpret it. This is a very modern approach with roots in the concept that the territory transcends the varietal with man as the means to express it.
And yet there are those who criticize and dismiss this without offering any alternative on how they can could do better. This is not the case in Oriolo with its fantastic and unique red Centesimino, which qualifies as an MGA, and its development of a white that should be composed of the local varietal Famoso (little of which is found elsewhere) but at present is made with the omnipresent Albana grape.
The following reviews are of two very promising Sangiovese wines that are constantly improving and come from wo very different areas and are made by people with different personalities that are well-reflected in their wines.
Romagna Sangiovese Le Armi Riserva 2016 Palazzona di Maggio
92/100 - € 35
The Palazzone di Maggio estate is in the Ozzano Emilia hills, mid-way between Bologna and Imola.
This Riserva is made with Sangiovese grapes from a vineyard with a yield of 4.5 metric tons per hectare and matures in barrels for at least 24 months. It has an intense, ruby color and a full and broad aroma with notes of cherry and spice and a very convincing, slightly smoky floral hint. The compact mouthfeel has a lovely freshness and balanced tannins, a flavorful and lithe progression and a juicy and very persistent finish.
Bottles produced: 2,350.
Romagna Sangiovese Predappio Cesco 1938 2018 Piccolo Brunelli
90/100 - € 16
The organic Piccolo Brunelli estate is located outside the town of Predappio on the San Zeno road towards the Apennine Mountains.
Made from Sangiovese, fermented in cement and matured in wood for some 12 months. A classic ruby color and a fresh bouquet of autumnal underbrush, floral scents and a hint of spice. With its elegant and nervous mouthfeel, this is a fresh and very drinkable wine with austere tannins and with a winning progression and a gelid and flavorful finish.
Related Products
Product
Producer
Date of publication
Author
Read
Le Armi Riserva 2016
Romagna Sangiovese
Palazzona di Maggio
05/06/20
Riccardo Viscardi
The Palazzone di Maggio estate is in the Ozzano Emilia hills, mid-way between Bologna and Imola. This Riserva is made with Sangiovese grapes from a vineyard with a yield of 4.5 metric tons per...
Leggi tutto
Predappio Cesco 1938 2018
Romagna Sangiovese
Piccolo Brunelli
05/06/20
Riccardo Viscardi
The organic Piccolo Brunelli estate is located outside the town of Predappio on the San Zeno road towards the Apennine Mountains. Made from Sangiovese, fermented in cement and matured in wood for...
Leggi tutto
Palazzona di Maggio

05/06/20
Redazione

Piccolo Brunelli

05/06/20
Redazione