Cortona: a winning intuition for a territory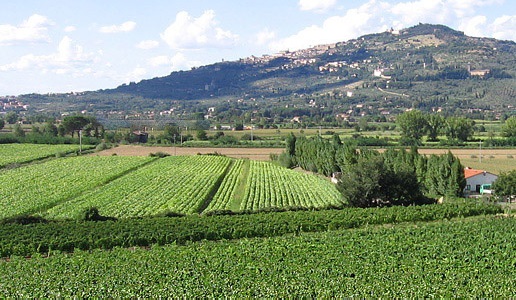 Thanks to research done by Professor Attilio Scienza, commissioned by the d'Alessandro family, some 30 years ago the area of Cortona discovered and embraced Syrah.
It was in the mid-1990s when a wine appeared that would create a new Italian terroir. The wine was a Syrah, Il Bosco dei Tenimenti d'Alessandro, and it came from a Roman family that had a passion for wine. They had previously expanded the vineyards of an estate they acquired at the end of the 1960s to make it a winemaking enterprise.
An ampelographic study by Professor Attilio Scienza found that the area around Cortona –given the composition of the soil and climate, which has since changed – was almost identical to that in the Rhone Valley. This gave birth to the idea of planting Syrah, rather than the omnipresent (in Tuscany) Sangiovese or Merlot, which had come to the zone in significant quantity. An innovative idea was also adopted for their white wine with the planting of the varietal Viognier in place of the various Trebbiano and Malvasia varieties, but this is another story.
The Syrah Il Bosco enjoyed great commercial success both in Italy and abroad and it won prizes from both Italian and foreign wine critics and experts. But its greatest achievement was that many other producers embraced this new varietal and thus created a new identity for the territory. So much so, in fact, that now the equivalence Cortona = Syrah is so strong that it seems age-old, almost traditional, whereas it is actually the result of a modern and revolutionary intuition. Even the greatest critics of non-Italian varietals, those who look at Bolgheri with suspicion, welcomed what occurred in Cortona. Another mystery of the wine world.
Over the years, various estates have been able to create a Cortona style that is no longer one that mimicked the one in the Rhone Valley. This thanks to seeking and finding a way to interpret the varietal which increasingly reflects the traits of the territory.
Currently, there are only 180 hectares of Syrah vineyards but the number is constantly increasing and they now represent half of those in the Cortona DOC appellation. Annual production is in the neighborhood of 450,000 bottles and the average retail price is around 20 euros. Tastings this year confirmed the validity of this path and below are some reviews of wines that did not make it into our Essential Guide to Italian Wine 2021, given the limited space dictated by the need to be essential, but which recount a territory.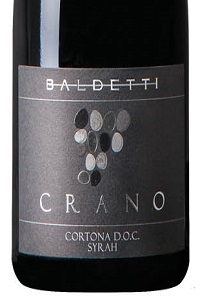 Cortona Syrah Crano 2015 Baldetti
93/100 - € 21
Made from Syrah grapes and matured in barriques for 12 months. An intense, ruby color and a complex aroma with notes of spice, raspberry and marasca cherry with an elegant smoky hint. The compact mouthfeel is very balanced with a relaxed and austere progression which allows for a complex and persistent finish.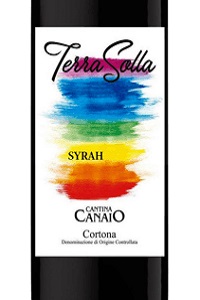 Cortona Syrah Terrasolla 2017 Canaio
93/100 - € 22
Made from Syrah grapes and matured for 18-24 months in barrels of various ages. A dark, ruby color with an intensely fruity aroma of blackberry, raspberry and currant with an intriguing touch of spice. A thick, juicy mouthfeel that us balanced and progressive thanks to the salinity and nice tannins. The finish is broad and persistent.
Bottles produced: 2,500
Syrah Apice 2016 Amerighi
92/100 - € 29
Made from bio-dynamically cultivated Syrah grapes and matured in wood and cement for 14 months. A classic, slightly faded, ruby color. The bouquet has spice and floral notes with a touch of yellow orange; very characteristic and a tad vintage. The mouthfeel is lithe, elegant, very flavorful and has lots of class. A wine that successfully strives for elegance and has a very persistent finish.
This wine was at the center of a ridiculous polemic caused by its rejection by the DOC appellation technical commission which, in my opinion, was wrong. Perhaps what is needed is a review of the regulation parameters, also because there are wines with definite shortcoming that get commission approval.
Cortona Syrah Laudario 2015 I Vicini
92/100 - € 30
Made from Syrah grapes and matured first for 12 months in stainless steel vats and then for 12-18 months in French-oak barrels. The austere and full aroma has notes of raspberry, ash and spice and the juicy and relaxed mouthfeel has a nice progression, lovely tannins and a very intense and consistent finish.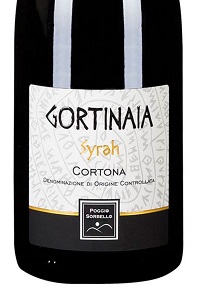 Cortona Syrah Gortinaia 2016 Poggio Sorbello
92/100 - € 16
Made from Syrah grapes and matured for 12 months in barriques. A dark, ruby color and an intriguing aroma of raspberry, cherry and currant with a fresh and broad sensation of woodland. The juicy and thick mouthfeel has classy tannins and an elegant salinity which make this a pleasing drop with the right progression and an excellent finish.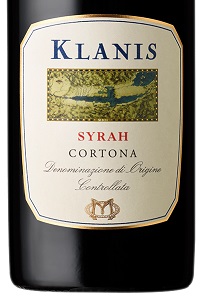 Cortona Syrah Klanis 2015 Montecchiesi
91/100 - € 28
Made from Syrah grapes and matured for 16 months in barriques and other size barrels. An intense and dark ruby color and a slightly warm aroma with scents of sour cherry, raspberry and blackberry. The mouthfeel is tight, with youthful tannins and a progression that tends to be strong. There is a return of slightly warm notes and the progression is bold even if a tad rigid. The finish is intense and juicy.
Related Products
Product
Producer
Date of publication
Author
Read
Syrah Crano 2015
Cortona
Baldetti
10/07/20
Riccardo Viscardi
Made from Syrah grapes and matured in barriques for 12 months. An intense, ruby color and a complex aroma with notes of spice, raspberry and marasca cherry with an elegant smoky hint. The compact...
Leggi tutto
Syrah Terrasolla 2017
Cortona
Cantina Canaio
10/07/20
Riccardo Viscardi
Made from Syrah grapes and matured for 18-24 months in barrels of various ages. A dark, ruby color with an intensely fruity aroma of blackberry, raspberry and currant with an intriguing touch of...
Leggi tutto
Syrah Apice 2016

Stefano Amerighi
10/07/20
Riccardo Viscardi
Made from bio-dynamically cultivated Syrah grapes and matured in wood and cement for 14 months. A classic, slightly faded, ruby color. The bouquet has spice and floral notes with a touch of yellow...
Leggi tutto
Syrah Laudario 2015
Cortona
I vicini winery
10/07/20
Riccardo Viscardi
Made from Syrah grapes and matured first for 12 months in stainless steel vats and then for 12-18 months in French-oak barrels. The austere and full aroma has notes of raspberry, ash and spice and...
Leggi tutto
Syrah Gortinaia 2016
Cortona
Poggio Sorbello
10/07/20
Riccardo Viscardi
Made from Syrah grapes and matured for 12 months in barriques. A dark, ruby color and an intriguing aroma of raspberry, cherry and currant with a fresh and broad sensation of woodland. The juicy and...
Leggi tutto
Syrah Klanis 2015
Cortona
Tenuta Montecchiesi
10/07/20
Riccardo Viscardi
Made from Syrah grapes and matured for 16 months in barriques and other size barrels. An intense and dark ruby color and a slightly warm aroma with scents of sour cherry, raspberry and blackberry....
Leggi tutto
Baldetti

10/07/20
Redazione

Cantina Canaio

10/07/20
Redazione

Stefano Amerighi

07/22/14
Redazione

I vicini winery

10/07/20
Redazione

Poggio Sorbello

10/07/20
Redazione

Tenuta Montecchiesi

10/22/19
Redazione
Related Articles