Barolo at a reasonable price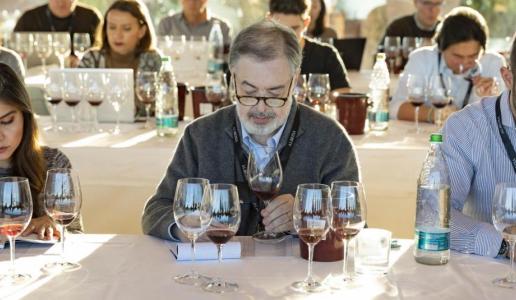 There still exists some Barolo, perhaps lesser known ones, which cost around 40 euros retail. While this is not cheap, it is decidedly reasonable for this wine.
After some tastings by Vinogodi, aka Marco Manzoli, who allowed us to comprehend, at least theoretically, the organoleptic properties of some expensive and extraordinary Langhe wines – Monfortino, Crichet Pajé Ca' d' Morissio – I would like to come down back to Earth and look at a few Barolo at reasonable prices.
This also in consideration that, after having tasted at least 200 wines during the Nebbiolo Prima and Grandi Langhe events, certain things have become clear to me, above all in regard to vintage 2015. This includes the fact that, fortunately, there still exist some Barolo that, while still somewhat expensive, between 40 and 45 euros retail in Italy, are truly interesting and valid and, all things considered, affordable even for those who are not millionaires.
The 2015 growing season was one of the hottest and, in my view, produced the best results in the areas of Serralunga and Monforte, more than the westenr zone, but there are nevertheless some exceptions, above all from vineyards at higher altitudes.
While not part of this small selection, I would like to draw your attention to a masterful version of Bricco delle Viole Vajra that truly impressed me with its class and elegance. The five Barolo below come from different areas even if there is a prevalence of those from the southeastern part of the appellation.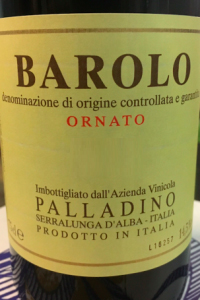 Barolo Ornato 2015 Palladino
Made from Nebbiolo grapes. Matured in large barrels for two years. An intense and luminous garnet color. The bouquet is classic and "Serralungh-esque" with notes of spice and hints of violet, blackcurrant and wild strawberry on a background of rhubarb and damp earth. The mouthfeel is austere and tight with thick, young yet not drying tannins, while the body is agile and taut with a surprising persistence.
96/100
€ 40,00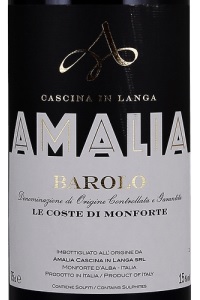 Barolo Le Coste di Monforte 2015 Cascina Amalia
Made from Nebbiolo grapes. Matured for the most part in large barrels and some in smaller barrels, for two years. A lively and bright ruby-garnet color. The aroma is clear and fine with distinct scents of wild berries, blood orange peel and violet. The taut and agile mouthfeel has thick, very young and promising tannins, an elegant body, excellent salinity and a subtle yet very long persistence. Delicious.
95/100
€ 42,00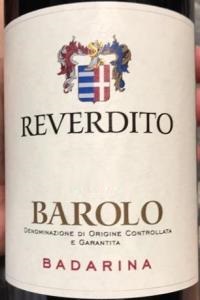 Barolo Badarina 2015 Michele Reverdito
Made from Nebbiolo grapes. Matured in large barrels for 2 ½ years. Lively ruby-garnet color. The bouquet is assorted and floral, complex, with smoky notes, accents of incense as well as wild strawberry and currant with an almost "Burgundy-esque" sensation. The mouthfeel is agile and pleasing, saline, with just a hint of elegant and youthful tannins that accentuate a refined and great personality. Truly surprising.
95/100
€ 38,00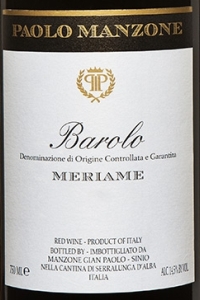 Barolo Meriame 2015 Paolo Manzone
Made from Nebbiolo grapes. Matured in large barrels and smaller barrels for two years. An intense, ruby-garnet color and the balsamic and floral aroma has notes of licorice, blackcurrant and violet with some hints of spice. The intense and tight mouthfeel is bold and rigorous with thick "Serralungh-esque" tannins that are young and promising in an imposing body. Classic and excellent. This will improve with age.
94/100
€ 42,00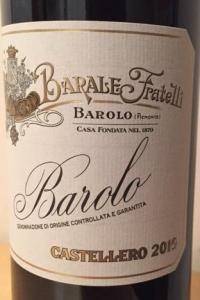 Barolo Castellero 2015 Fratelli Barale
Made from Nebbiolo grapes. Matured in large barrels for three years. A great, classic Barolo with its intense and luminous, ruby-garnet color. The austere aroma has notes of cinchona, licorice, violet and smoky sensations that lean towards tar. The mouthfeel has thick tannins that are nicely upheld and not drying and a nice agile, taut and saline body. Very young and promising.
94/100
€ 45,00
Related Products