Amarone and Brunello, from A to B
An evening of comparative tastings between 13 Amarone della Valpolicella and 13 Brunello di Montalcino at the historic Bottega del Vino in Verona, a full-circle cult location.
Famiglie Storiche (Historic Families) is an association of 13 producers in Valpolicella created with the common intent of enhancing the value and spreading the reputation of this area's wines throughout the world. They just celebrated the 10th anniversary of their acquisition, in 2010, of Verona's Bottega del Vino, located at via Scudo di Francia 3, an authentic institution and temple for Verona cuisine and wines.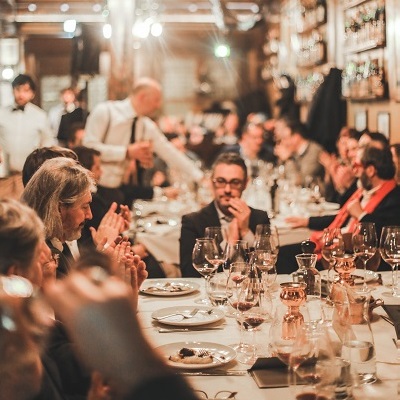 On February 6, they staged "From A to B": 13 Amarone della Valpolicella and 13 Brunello di Montalcino. It was a non-competitive comparative tasting between two Italian wines that have contributed and continue to contribute to making Italian wines famous the world over.
The wines are completely different from each other yet each is great in their own way and the tasting was focused on vintage 2010 (although three Amarone were 2011 and one Brunello was a 2008). Brunello 2010 received ample praise from wine critics while the year was more complicated to manage for Amarone producers, although some important wines came out.
The paladins for A and B were, respectively, Marco Aldegheri, president of AIS Veneto, and Alessandro Regoli, the editor-in-chief of Wine News. The hosts of the event were Bottega President Tiziano Castagnedi, of Tenuta Sant'Antonio, and Alberto Zenato, the president of Famiglie Storiche.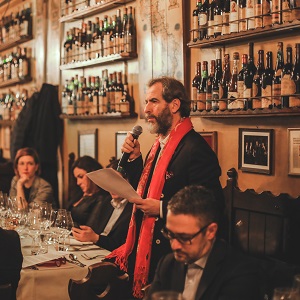 From the kitchen, Bottega Chef Luca Dalla Vita and his Tuscan collegue Alberto Sabatini offered guests traditional dishes from the two regions. Special mention goes to the floor and kitchen staff who skillfully managed the service with a speed and efficiency that certainly could not have been easy.
The message that came out of the evening was clear. Bottega del Vino is a full-circle, cult wine cult venue for meetings, exchanges and confrontations. Its historic importance is equal to its openness to innovation, opening its doors to different cultures, be they from other Italian regions or abroad. It is a unique reality of which Verona and its residents can be proud.
Amarone and Brunello are two standard bearers with reputations that have nothing to fear, despite possible threat from the current situation. Their established quality is such to ensure they can meet the demand for quality and excellence. Working together they are even stronger, as this event underscored.
The 26 wines were all excellent and I was able to appreciate them both on their own and paired with the food.
Among the Brunello I particularly liked those of Biondi Santi, Casanova di Neri, with Tenuta Nuova, and Le Potazzine and Caprili with the Riserva AdAlberto, which was at the same time floral and balsamic, with a taut and clean mouthfeel that was very persistent. The Brunello di Montalcino Riserva 2008 Poggio di Sotto was bold.
Among the Amarone I will only mention a few: in splendid form were the Amarone Classico 2011 from Guerrieri Rizzardi, Amarone Lilium Est 2010 Tenuta Sant'Antonio, while Amarone Riserva Capitel Monte 201 Tedeschi was still lively and creamy and Amarone Allegrini was surprisingly still so fresh and assorted. Overall quality was very high, which was interesting for me because the autumn/winter had been so wet and demanded producers to pay particular attention during the drying phase of the grapes. The lifespan of an Amarone, it should be noted, begins not when the grapes were harvested but after they have raisinated.
In a cool and complex year, freshness and acidity make their mark over time.
The evening was unique, one in which curiosity held court from beginning to end and there was not even an iota of competition between the wines. And rightfully so.
My compliments and gratitude goes out to all participating producers. For the Amarone: Famiglie Storiche Allegrini, Begali, Brigaldara, Guerrieri Rizzardi, Masi, Musella, Speri, Tedeschi, Tenuta Sant'Antonio, Tommasi, Torre D'Orti, Venturini and Zenato.
For the Brunello: Argiano, Biondi Santi, Casanova di Neri, Caprili, Castello Banfi, Col d'Orcia, Le Potazzine, Le Ragnaie, Mastrojanni, Podere Casisano, Podere San Polo, Poggio di Sotto and Val di Cava.
Amarone della Valpolicella Classico Villa Rizzardi 2011 Guerrieri Rizzardi
93/100 - € 70,00
A blend of 43% Corvina, 31% Corvinone, 16% Rondinella and 10% Barbera matured for 12 months in barriques and 24 months in 24hl barrels. An intense ruby color and aromas of honey and wilted flowers. The mouthfeel recalls violet and blackberry and has a taut and fresh finish with an excellent persistence.
Bottles produced: 29,000.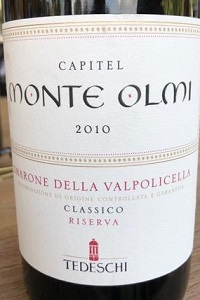 Amarone della Valpolicella Classico Riserva Capitel Monte Olmi 2010 Tedeschi
93/100 - € 70,00
A blend of 30% Corvina, 30% Corvinone, 30% Rondinella and the remaining 10% minor varietals matured for four years in oak barrels. An intense, ruby color and intense, ripe and concentrated scents of red and dark fruits with some hints of dried, red fruits. The mouthfeel is also fruity, recalling blackberry preserves, as wells as balanced with a pleasing persistence.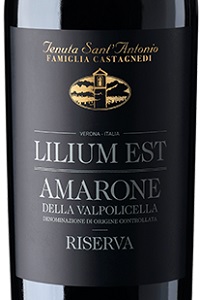 Amarone della Valpolicella Riserva Lilium Est 2010 Tenuta Sant'Antonio
92/100 - € 100,00
A blend of 70% Corvina and Corvinone, 20% Rondinella and 10% Croatina and Oseleta matured in barriques for three years. An intense, ruby color with an impenetrable center and a bouquet with toasted scents and those of resin followed by some hints of underbrush. The mouthfeel gives all its best and is balsamic and creamy. A concentrated and complex riserva for special occasions.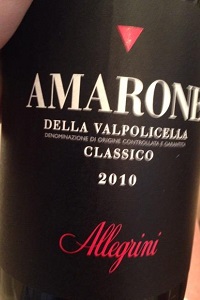 Amarone della Valpolicella Classico 2010 Allegrini
91/100 - € 65,00
A blend of 45% Corvina, 45% Corvinone, 5% Oseleta and 5% Rondinella matured in new barriques for 18 months. A ruby color with aromas that recall cherries preserved in alcohol and occasional notes of chocolate. The mouthfeel is fresh and vertical with a nice acidity and sensations of crispy cherry. Unexpectedly fragrant, elegant and clean.
Related Products
Product
Producer
Date of publication
Author
Read
Villa Rizzardi 2011
Amarone della Valpolicella Classico
Guerrieri Rizzardi
03/17/20
Sissi Baratella
A blend of 43% Corvina, 31% Corvinone, 16% Rondinella and 10% Barbera matured for 12 months in barriques and 24 months in 24hl barrels. An intense ruby color and aromas of honey and wilted flowers....
Leggi tutto
Capitel Monte Olmi Riserva 2010
Amarone della Valpolicella Classico Riserva
Tedeschi
03/17/20
Sissi Baratella
A blend of 30% Corvina, 30% Corvinone, 30% Rondinella and the remaining 10% minor varietals matured for four years in oak barrels. An intense, ruby color and intense, ripe and concentrated scents of...
Leggi tutto
Lilium Est Riserva 2010
Amarone della Valpolicella Riserva
Tenuta Sant'Antonio
03/17/20
Sissi Baratella
A blend of 70% Corvina and Corvinone, 20% Rondinella and 10% Croatina and Oseleta matured in barriques for three years. An intense, ruby color with an impenetrable center and a bouquet with toasted...
Leggi tutto
Amarone della Valpolicella Classico 2010
Amarone della Valpolicella Classico
Allegrini
03/17/20
Sissi Baratella
A blend of 45% Corvina, 45% Corvinone, 5% Oseleta and 5% Rondinella matured in new barriques for 18 months. A ruby color with aromas that recall cherries preserved in alcohol and occasional notes of...
Leggi tutto
Guerrieri Rizzardi

03/16/12
Redazione
This historic Veneto producer was created by the union of two aristocratic families (and their wine estates): the Guerrieri, who for over a century had a wine estate in Bardolino; and the Rizzardi,...
Leggi tutto
Tedeschi

06/01/11
Redazione
The Tedeschi family has owned vineyards in Valpolicella since 1630 and have been making wine for Corvina, Rondinella and Molinara grapes. Today they organically cultivate their vineyards and some...
Leggi tutto
Tenuta Sant'Antonio

12/27/19
Redazione
This is an up-and-coming winery thanks to the experience the four brothers gained working as consultants at other estates. Their top wines are Amarone Campi dei Gigli, a great wine not always...
Leggi tutto
Allegrini

01/14/16
Redazione
This is a great brand for Verona wines and offers a vast selection of wines. At the beginning Fieramonte was a cru that represented the feather in the estate's cap but its production was...
Leggi tutto