Amaro Amara, more than just a play on words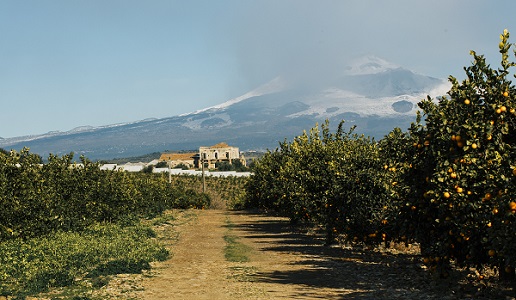 This Sicilian amaro is based on IGP orange peels and made by Edoardo Strano.
Amaro Amara (a bitter bitter) is more than just a clever play in words. It is the product of the brilliant intuition to convert and enhance the value of Sicilian IGP oranges cultivated without the use of chemicals. Its ingredients are orange peel, herbs and water from an Etna spring. Pleasing and easy to drink, the aromas and flavors are intense and wrapping, dominated by citrus notes, peeled orange, and in the background those of herbs, especially orange blossom. The oranges are picked by hand, selected and washed one-by-one, with the pulp used to make marmalade while the peel and herbs are immersed separately in alcohol. The two infusions are then blended together with the addition of sugar and water. Amara is then ready after six months.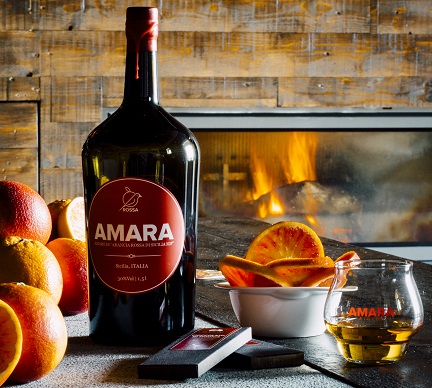 The creation of this amaro inaugurated a new path to reduce waste for sector that has been in crisis for years and the mastermind behind it was Edoardo Strano. "Every morning I wake up and head out to the country to take care of my family's orange groves," Arnaldo tell us, "and this has been my full-time job since I finished university. We have 100 hectares of citrus groves and cultivate different varieties of red orange, including tarocco nocellara, tarocco gallo and tarocco meli. Behind this new product is a careful marketing and design study. I wanted to send a clear message concerning my vision of Sicily. The black-lava colored bottle recalls Etna, the red label the lava itself and the sealing wax-covered top is a promise to be kept, one which we see every time we close a bottle of Amara. On the label, the bird that sits on a branch was inspired by the goldfinch in the story The Golden Oranges by Luigi Campana, which reminds us that we are all born farmers and that those who respect the land respect others. Amara is a amaro and a liqueur. It can be served as a digestive, an aperitif, as something to meditate on. It can accompany a dessert, be used as an ingredient in a cocktail and is often used to create dishes that need a sensation of citrus.
The company has become a leading amaro producer with exports to Europe, the United States, Canada, Australia and Japan up 30%. Production takes place inside the family Masseria farm complex that has a fully restored palmento and the area that hosted the press, where wine was once made, has become a tasting room to enjoy the Amara experience, while another structure on the farm will soon be ready to serve as a boutique hotel.
Related Products