Gaudenzi presents Seven, EVO oil from Trasimeno lake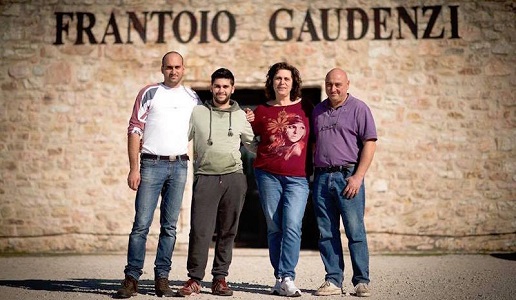 With the 2019 harvest, Seven - the extra virgin olive oil Colli del Trasimeno DOP from Frantoio Gaudenzi - is released on the market.
The new extra virgin olive oil of Frantoio Gaudenzi comes from olives from 35 hectares of olive grove rented last spring on Lake Trasimeno, in the municipality of Panicale. There are about 3,000 century-old trees located in an altitude range that goes from 450 to 550 meters
The Gaudenzi family had been looking for olive groves on the Lake Trasimeno for several years now, even though they knew that this new project entailed major challenges, starting from the distance of 70 kilometres between the lake and the oil mill. But all those who know Francesco, Rossana, Stefano and Andrea know that for them the challenges are a sort of daily bread, which they face with professionalism and passion.
The new extra virgin is called Seven, because it is the seventh selection produced by Gaudenzi oil mill and also becomes their third Umbrian DOP, after Casalontana (Colli Assisi Spoleto) and 89/93 (Colli Martani). Seven is in fact part of the Colli del Trasimeno DOP, and is a blend of the olive varieties dolce agogia, leccino and frantoio. A real oil from the lake, it is lightly fruity, with barely perceptible notes of spice and bitterness. An oil that therefore goes well with fish, both raw and cooked, on shellfish and seafood in general. (About € 15 per 0.500 l. bottle)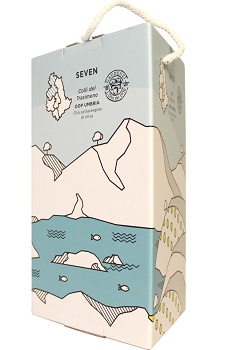 "Finally we have closed the circle - say the Gaudenzi - because we were able to produce all three sub-areas of DOP Umbria related to our territory. At the same time, from now on the oil mill is also able to offer seven selections of extra virgin olive oil that can satisfy all palates and - above all - match any type of cuisine, from meat to fish, from traditional recipes to creative ones.
Seven represents the last stage of the project related to the DOP Umbria, and for this reason the Gaudenzi family decided to reserve a box for the 3 labels, which graphically reproduces the three different subzones and places them geographically within the Umbrian territory. The box is called "Umbria in a box" and inside there are 3 bottles of 500 ml: Casalontana Colli Assisi-Spoleto DOP, 89/93 Colli Martani DOP and Seven Colli del Trasimeno DOP (about € 42 per box).