Talea, Marina's oil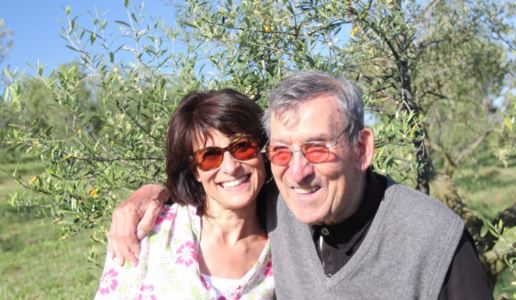 Following her father Mario's passion, Marina Gioacchini produces quality extra virgin olive oil in Northern Latium.
There wasn't any indication that Marina Gioacchini could devote herself to olive growing, as she was an expert on French literature in Paris, where she had been living for over 20 years. Instead, in 2010 she decided to carry on her father Mario's passion (as well as her grandfather Sante's) and produce quality extra virgin olive oil in the family farm Le Amantine. And we have to say she is doing it well.
Today she runs almost 9 hectares of surface with 2,000 trees, the typical olive varieties of Northern Latium. In the last harvest 400 quintals of olives were produced and 15 purchased, equal to 34 hectolitres of oil. There are three Extra Virgin selections, Franci Bio from Organic Farming, Unico and the very good Talea.
Talea
60% Frantoio and 40% Leccino olive variety. Continuous cycle production system. Medium fruity. It has a beautiful intense limpid golden yellow color with light green hues. Its aroma is ample and rotund, rich in vegetal hints of artichoke and wild chicory, together with aromatic notes of mint and rosemary. Its taste is complex and strong, with a flavor of lettuce, almond and a spicy note of cinnamon and black pepper. Bitterness is distinct and pungency is definite. Excellent.
€ 18 lt. 0,500 bottle.
Related Products