L'Olivaio, a great oil producer in the Marche region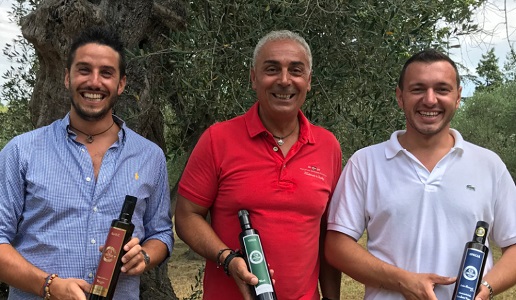 Always of great value is the extra virgin Spalià, monocultivar of Ascolana tenera olive variety.
L'Olivaio was founded in 1962. Since then three generations of olive growers have enlarged their possessions and renewed the structure. Recently two young partners, Davide Morganti supporting the "master" Valter Cestini.
Currently the estate consists of 37 hectares of surface with 10,200 trees. In the last harvest 1,500 quintals of olives were produced, with a yield of about 218 hectoliters of oil. The hills where the olive trees are located are those around Castelleone di Suasa, where the farm is located, and then in Ostra Vetere, Ostra and Offida.
Two extra-virgin olive oils were presented to our panel of tasters, both monocultivars: Suasae (Raggia variety) and the excellent Spalià (Ascolana tenera variety), which are part of the production together with two IGP Marche blends, Kryà (organic) and Verde, and the "basic" Olivaio blend.
Spalià
Monovarietal Ascolana tenera. Medium fruity. Continuous cycle production system. It is a beautiful intense limpid golden yellow color with light green hues. Its aroma is ample and rotund, rich in fruity hints of medium ripe tomato, white apple and banana, together with vegetal notes of broad beans and celery. Its taste is fine and strong, with a flavor of country lettuce and final fragrant notes of basil, mint and parsley. Bitterness is definite and pungency is distinct.
Around € 17 the 0.500 lt. bottle.
Related Products