The wine railway: Antica Hirpinia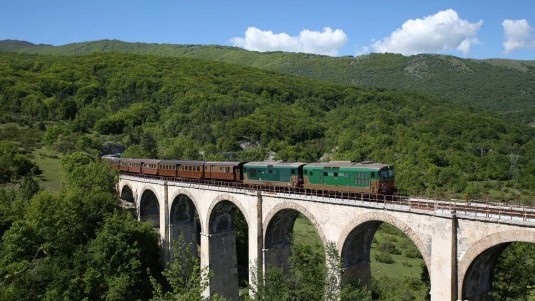 Located outside the town of Taurasi, the Antica Hirpinia winery is going through a period of revamping and is offering typical Irpinia wines at interesting prices. 
The history of the Antica Hirpinia winery is tightly bound to that of the history of winemaking in the town of Taurasi. On October 27, 1895, the Avellino-Roccheta S. Antonio rail line was inaugurated. It was built to facilitate the wine trade in the Calore Valley and Taurasi benefitted from it by becoming a bustling center for the wine trade.
The town's long winemaking tradition made it the natural home to the first experiment in the Campania Region of a public winegrowers' cooperative. The Enopolio di Taurasi later became a cooperative of winegrowers and winemakers and in the 1990s the Antica Hirpinia winery was established as the headquarters of the cooperative with its 165 member-suppliers.
On March 11, 1993, a ministerial decree was issued giving Taurasi a DOCG wine classification. The first state seal with the number AAA 000 0001 was placed on the first bottle of Taurasi produced by the Antica Hirpinia winery.
In 2016, the cooperative was transformed into a limited company with five partners and the winery's relaunching began. Many innovations were introduced with new technologies applied to produce wines that best identified the territory, while Riccardo Cotarella was brought on as the head enologist.
The winery, surrounded vineyards, is some 6,000 square meters in size and sits just outside the town of Taurasi. It is well worth a visit not only to breathe the history of winemaking in the Campania region but also to explore the vast area dedicated to the maturation of the wines, which takes place in large oak barrels that creates an ambiance of rare charm.
The vineyards of the winery's suppliers, spread out in different areas, are cultivated according to the practices of sustainable agriculture and monitored at every stage by winery staff.
The Fiano grapes come from Lapio, the Greco from Montefusco, the Coda di Volpe and the Falanghina from Venticano and Pietradefusi. There are also historic vineyards in Taurasi, Fontanarosa, Montemarano and Castelfranci. The line of production includes a full range of typical Irpinia wines.
Antica Hirpinia 
Owner:  Vari Soci
Contrada Lenze
83030 Taurasi (AV)
Tel. +39 0827 74730
Fax +39 0827 74038
info@anticahirpinia.it
www.anticahirpinia.it
Facebook:  anticahirpinia
Year of foundation:  1972
Total bottles produced : 300.000
Hectares of vineyard : 30
Related Products
Product
Producer
Date of publication
Author
Read
Irpnia Coda di Volpe 2016
_
Antica Hirpinia
01/10/18
Antonella Amodio
A 100% Coda di Volpe wine made from grapes grown in Venticano that matures in stainless steel. It has a bright, straw-yellow color and a bouquet dominated by pear and apricot and accompanied by a...
Leggi tutto
Greco di Tufo 2016
Greco di Tufo
Antica Hirpinia
01/10/18
Antonella Amodio

100% Greco grapes. Stainless steel only. Bright straw yellow color. Intense and typical notes of medlar and fresh almond. Savory, rich, good body and intriguing drinkability.

Taurasi 2010
Taurasi
Antica Hirpinia
01/10/18
Antonella Amodio
100% Aglianico grapes. Cement for 1 year then 1 year in big barrels and 6 months in barrique. Garnet ruby red. Complex notes of spices and smoky hints, then notes of black cherry and kirsch. Nice...
Leggi tutto
Aglianico 2013
Irpiania Aglianico
Antica Hirpinia
01/10/18
Antonella Amodio
An Aglianico varietal wine that matures in stainless steel for around six months. Its ruby color has light, garnet nuances and the nose has notes of violet, rose, blackberry and prune. The mouthfeel...
Leggi tutto