The Bourbon vineyards at the Royal Palace of Caserta come back to life with Tenuta Fontana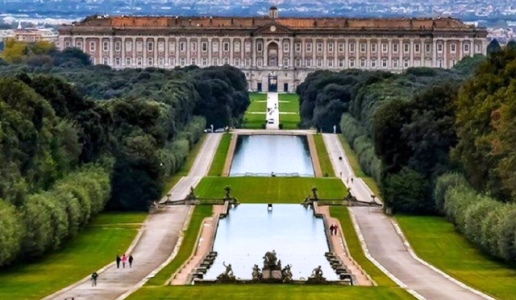 The ancient Bosco di San Silvestro vineyard has come back to life thanks to an agreement between the administration of the Royal Palace of Caserta (Reggia di Caserta) and the Tenuta Fontana estate of Pietrelcina.
The Tenuta Fontana estate of Pietrelcina, in the province of Benevento, and the Royal Palace of Caserta have joined together in a lovely project to bring back the ancient Bourbon-era vineyard situated in the Oasi di San Silvestro, behind the waterfall in the royal gardens.
The vineyard will be cultivated using organic methods, in order to protect the environment, and replanted with the ancient varietals Pallagrello Bianco and Pallagrello Nero, which were historically grown in the "Vigna del Ventaglio" (Vineyard of the Fan).
Tenuta Fontana was founded in 2009 by Raffaele and Teresa Fontana and today is run by their children Mariapina and Antonio. It has an over-100-year history of winegrowing handed down generation to generation, who cultivated the land and made wine beginning in the 19th century in the farming areas of Aversa and Benevento.
From its total of ten hectares of vineyards, Tenuta Fontana produces wines that represent both zones, like Asprino di Aversa, Falanghina, Sciascinoso and Aglianico for a total of 50,000 bottles. While waiting to try the wines of the royal Palace of Caserta, we have selected two very interesting Tenuta Fontana wines.
Related Products
Product
Producer
Date of publication
Author
Read
Civico 28 2015
Sannio
Tenuta Fontana
06/14/18
Antonella Amodio
Made from only Aglianico grapes grown at the estate in Pietrelcina, fermented in stainless steel and matured in barrels for three months. The wine has a red-garnet color and an aroma of red fruit...
Leggi tutto
Alberata 2016
Asprinio di Aversa
Tenuta Fontana
06/14/18
Antonella Amodio
A wine made using only Asprino grapes grown using the ancient Aversa alberate system of "married vines" and fermented in beeswax-lined amphorae. It has a golden, straw-yellow color and a...
Leggi tutto
Tenuta Fontana

06/14/18
Redazione