Giovanna Tantini: the recipe for a great Bardolino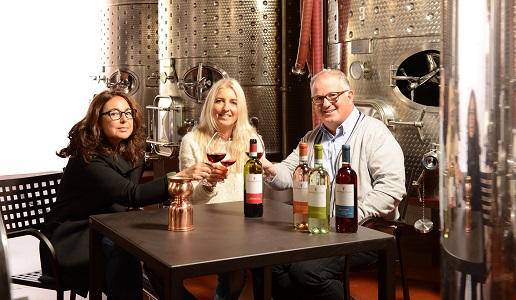 The Garda producer reveals her love for Corvina and her ability to transform youthful exuberance into elegant finesse over the years.
It was 2002 when Giovanna Tantini first decided to try to put her face to it and bottle Bardolino Doc, a Veronese red wine made from indigenous grapes in the Lake Garda area. Her winery, which now has about 13 hectares, is located in Castelnuovo del Garda, in the Bardolino La Rocca subzone, just inland from the lake. He has always believed in the wines of the lake and its appellations, not forgetting to take the occasional satisfaction here and there by experimenting with native grapes.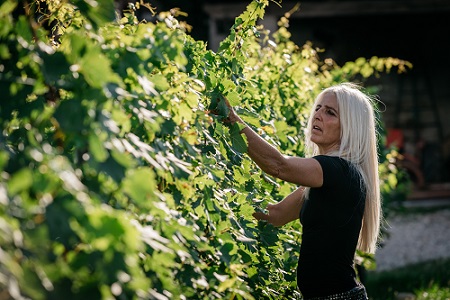 This producer is one of those people who does not go unnoticed. If you have crossed paths with her at least once in your life at one of the many wine events, you will remember her for her platinum blond hair, athletic physique, and spontaneous smile. It must be said that in 20 years Giovanna has changed very little, yet time passes for her as well. She is certainly one of those people who wears her years well. An enviable quality and one that, as it happens, this producer shares with her Bardolino to which time seems to make no bones about, indeed to do only good!
With her, in the course of a vertical from 2013 to 2020, I talked about how it is obtained and what is meant by a Great Bardolino. Without a doubt it must be a wine that speaks of terroir, consistent over time but also respectful of the vintage, a wine capable of evolving giving emotions. A wine that is easy to drink but not trivial and that walks side by side with the history of its producer.
If we wanted to summarize the ingredients then, those would be:
The vineyard, with its native varieties and an almost total prevalence of Corvina. Vineyard that stands on soil of morainic origin and rich in limestone rocks. Vineyard that enjoys the proximity of a large glacial lake.
The team, a group of professionals who are also able to continue to amaze and question themselves. In Giovanna's case a group of professionals "unfamiliar" with Veronese grapes all from outside the region.
Finally the goal, it is only in this way that one goes forward and obstacles are overcome and left behind.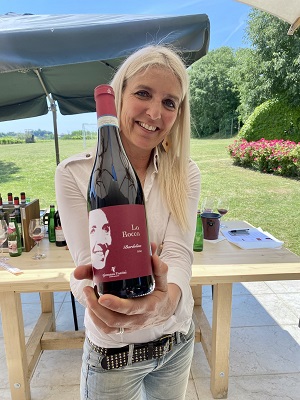 Giovanna's goal was to produce a great Bardolino. So in twenty years another thing that has not changed has been the desire to produce wines that can mature slowly. Changing beautifully by transforming their youthful exuberance into elegant finesse. A step forward, and help, from the appellation comes with the recent recognition of the three historic Bardolino subzones. Three circumscribed areas distinguished by soil and climate characteristics and geography, where the yield per hectare is reduced to 100 q/hectare (as opposed to 120 for DOC). On the label, the subzone wording prevails over the appellation, identifying the different personality of the wine. Giovanna Tantini falls within the La Rocca subzone, and from the 2020 vintage it officially produces both Bardolino Doc and La Rocca Bardolino Doc.
Corvina's centrality and versatility.
Corvina up to a maximum of 95 percent and a minimum of 35 percent, the specification states. The remainder must be Rondinella; other grapes may also compete. Corvina and Rondinella are the protagonists, both used in the production of both Bardolino and Chiaretto di Bardolino.
The wines that Giovanna Tantini produces today are in fact declarations of love for Corvina, the native red Veronese grape par excellence; a delicate grape, capable of yielding elegant wines with an unsurprising ability to mature over time. More or less sparse clusters, with pruinose berries and a charge of anthocyanins that turn to ruby red and orange. Ideal for producing light pink wines, as well as elegant and vibrant red wines. In winemaking these grapes give off spicy notes, hints reminiscent of the crispness of red and yellow fruits, as well as taut savory sensations. As the wines mature, the spiciness becomes more intense but sharp, and the fruity sensations are often reminiscent of more or less sweet citrus fruits. The fate of maturation goes toward balsamic notes, more or less mentholated and fresh to remind also of licorice.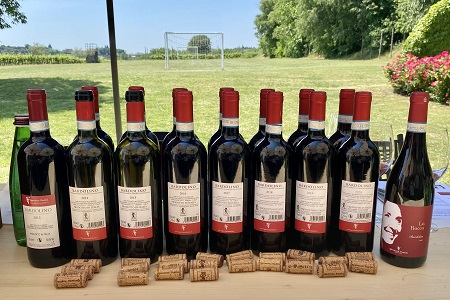 Giovanna Tantini's Bardolino wines have seen over the years an increase in the percentage of Corvina and an increase in the period of rest in the cellar, both in the tank and in the bottle. So we find ourselves drinking a 2013 still in splendid shape, a 2014 that tells of a difficult but successful vintage, 2015 and 2016 that flow along effortlessly, 2017, again the result of a difficult vintage, intense and expressive in a surprising way. 2018 very young and spicy, 2019 in a timid phase and 2020 with sweet and creamy sensations, already very elegant.
All these things we kind of knew already, Giovanna has accustomed us over the years to this philosophy of hers. What is surprising instead is La Rocca 2020. This year's big surprise. Burgundy bottle, label that reads La Rocca and portrays Giovanna's face. For 20 percent this wine rests in wood and is complex, mouthwatering and inviting. I enjoyed it in the presence of the producer, reconfirmed it blind in the Consortium in battery with the others. It must be said that in recent years in general the products of the appellation have undergone a positive momentum towards cleanliness, frankness and pleasantness in drinking. Chapeau!
Bardolino 2020
90 /100 - € 12.00
Corvina 95%, Rondinella 5%. Acciaio. Rubino trasparente. Al naso è dolce con note di miele, arriva poi una componente affumicata. Domina una nota intrigante di pepe nero. In bocca pulito e elegante. Dal finale secco e lungo.


La Rocca Bardolino 2020
95/100 - € 15,00
Corvina 95%, Rondinella 5%. Matura per il 20% in botti di legno. Rubino con qualche riflesso granato. Naso con note di incenso, vaniglia e tostatura. Albicocca leggermente appassita, poi china, bergamotto, tamarindo. Molto lungo, teso, intenso. Dalla sapidità persistente.
Related Products