Frescobaldi for Gorgona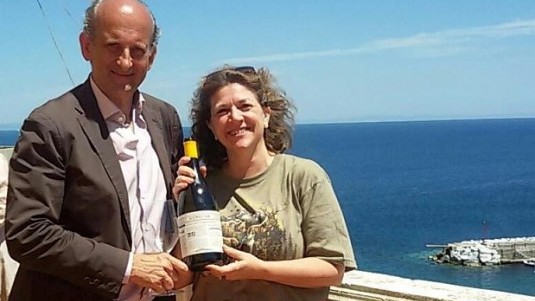 Reaching Gorgona is not easy because the island hosts a prison. In order to go to there, one must have special permission or be a 'historic' resident with family ties there. And while the small village there is practically abandoned, some former residents still visit during the summer to enjoy this uncontaminated paradise, even if there is in theory a ban on swimming.
For those fortunately enough to visit it is an unforgettable experience. I went thanks to the 'Frescobaldi for Social Progress' initiative which involves the Tuscan wine giant collaborating with the prison to produce wine from the island's vineyards.
Gorgona is somewhat different from other prisons in that it is an 'agricultural' penitentiary where inmates, generally those who have almost completed their sentences, are involved in farming and livestock activities. The program is voluntary with inmates having to apply with the only requisite that they have some artisanal skills. The small group, less than 100, thus learns or improves skills to help them better reintegrate into society.
The driving force behind this initiative has been the director of prisons for Livorno and Gorgona, Santina Savoca, who sought out a partner to help with the production and sales of wine made from the vines of Vermentino and Ansonica that have existed in the island for decades. The partner had to have the ways and means and above all desire to work with the inmates. Frescobaldi was chosen and the first vintage the collaboration produced was 2012. The terms of the accord sees Frescobaldi lease the vineyards which are then worked by inmates who are hired on a rotation basis and work under the supervision of the estate's agronomists and enologists. The chief enologist is Nicolò D'Afflitto who works with Federico Falossi, who is responsible for the project along with enologist Nicola Lazzeri. The vineyards total just over a hectare and while they only produce 4,000 bottles a year, the wines have been tasted around the world, from New York to Hong Kong, from Germany to Poland as well as, naturally, a select number of locations in Italy.
The labels of these wines tell the whole story of the project and when you open a bottle, which is secured by sealing wax, you can almost hear the sound of the sea, see the light that brings out the colors of the vineyard, smell the aromas of the Mediterranean brush that covers the island and sense the salt that permeates the air. While some may think this is just another well-made Tuscan white, the glass holds much more. There is the passion of those who seek to make their peace with society, the determination of a prisons director who want to offer them a second chance, the foresight of an entrepreneur who knows the benefits of such collaboration both from a human as well as social point view and, why not, even an economic one.
Related Products