Clavesana, guardians of a land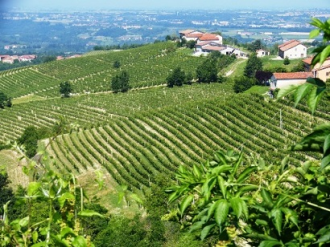 The Clavesana wine cooperative has almost 500 hectares of vineyards spread out over ten townships between Monregalese and Albese which are worked by 350 small winegrowers. They produce over three million bottles of wine a year from Dolcetto, Barbera and Nebbiolo grapes most of which is consumed locally although in 2013 exports rose to 15% of annual production. The production of Dolcetto, the historic grape of southern Langhe, is equal to 12% of global output. However, Clavesana, which has officially been in production since 1959, is much more than just these albeit significant numbers. It is also a land where life is simple with its farm-based traditions, a complex and suffered history and an economy that supports the identity of a whole territory. A place where experience and a rural culture have been handed down and preserved generation after generation.
Cantina Clavesana's choice to maintain a deep rapport with the rural identity of the Langhe is totally intentional. And thanks also to the cooperative Director Anna Bracco and President Giovanni Bracco (a common surname), the cooperative has been able to manage a broad and truly heterogeneous community of people organized in a project that focuses on conserving and adding value to the land. They produce an impressive line of wines with 90% of their value coming from Dolcetto and Dogliani DOCG wine. This is a strongly expressive and often underrated wine with a potential that has not been properly exploited and which has seen limited distribution outside the region. At the same time, it is a product that has been untouched by fads and trends and continues to wines that are better known for their pleasing fruit component than, also due to little verification, the potential of their structure, ability to age and complexity. Dolcetto Dogliani and its cousins Barolo, Barbera and Nebbiolo, are wines for daily consumption and in every tasting express the common characteristics of being correct, fragrant, without defects, pleasing to drink even if simple and straight forward. The wines are also offered at a very reasonable price. This is all part of an honesty that at Clavesana is backed up by facts and not slogans with a production that is organic and eco-friendly carried out with common sense, day by day, by a people who respect their land.
Dolcetto is a wine that perhaps needs a little more time to be worked, time which is still measured by a ''Piedmont day', the amount of land that can be plowed by two ox in one day. The goal of Clavesana and its Dolcetto wine is to maintain this ancient image, make it a winning approach today and bring it into the future. This is why Dolcetto is such an important symbol for Clavesana, with 90% of the grapes produced by the cooperative destined to export a land's pride in every bottle, a struggle to defend a simplicity seen as an asset that should not be lost but enjoyed at the table every day.
Related Products
Product
Producer
Date of publication
Author
Read
Dogliani 2013
Dogliani
Clavesana
12/11/14
Rosanna Ferraro
A fresh, young wine tasted three months after it was bottled. It has a nice, ruby-red color and distinct aromas of raspberry and red fruits. The mouthfeel, due to so little time in the bottle, is...
Leggi tutto
Il Clou 2012
Dogliani
Clavesana
12/11/14
Rosanna Ferraro
A normal year that was not too cold although it fell to -11C°C in February, fortunately without harming the vines. The color is a nice, intense ruby-red and the aroma has fruit in syrup and black...
Leggi tutto
Lan 2011
Langhe Nebbiolo
Clavesana
12/11/15
Rosanna Ferraro
This vintage stood out more for its aroma than mouthfeel. The color in an intense ruby-red leaning towards garnet. The aromas recall cherries preserved under spirits, violet and an interesting whiff...
Leggi tutto
Olo 2010
Barolo
Clavesana
12/11/14
Rosanna Ferraro
A wine that aged 50% in large barrels and 50% in barriques with long fermentation that left a little too much wood in the aroma. The bouquet has persistent scent of ripe, red fruit and, above all, an...
Leggi tutto