Caterina Dei, wine and music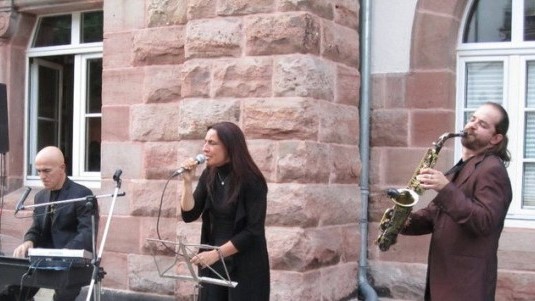 Caterina Dei is the soul of Cantine Dei, a Tuscan winery at the feet of Montepulciano. It is a musical soul which fits in well with this landscape of vineyards as far as the eye can see. The winery is a suggestive structure complete with an antitheater that seems tailor-made to host musical performances during a mild, spring evening with an audience listening as they enjoy a glass of Nobile di Montepulciano. Caterina was born in the Montepulciano countryside and grew up breathing the aromas of its grapes and vineyards. But then she followed her passion for music and went to Siena to take her degree. She she returned home in the 1990s and, without even really planning to, took over her family's business and did so in a way that satisfied her two passions: wine and music.
Together with enologist Paolo Caciorgna, Caterina manages 55 hectares of vineyards in four different zones that produced her estate's wines. The areas of Martiena and La Piaggia have a sandstone subsoil, the soil in the La Ciarliana vineyard is rich in chalk and clay, while the Bossona vineyard – 13 hectares with vines that are between 16 and 27 years of age with a density of around 4,000 root stocks per hectare – produces a wine named after the vineyard, a cru Nobile that benefits from a chalky-sandstone subsoil filled with shells and fossils.
The shell is symbolized by the winding spiral staircase that leads down into the winery's cellar and underscores the fossils that are Bossona's strongpoint. The winery itself, with its mix of wood, glass and, above all, travertine marble – built with the passion by Caterina's father – is a seductive and suggestive place, and in a way serves as a stage to hear Caterina's voice and taste her wines.
According to Caterina, wine and music share an immediate and universal language> the language of the senses.
Although Nobile and thus Sangiovese is the focal point of the estate's production, they also cultivate Malvasia, Grechetto and Trebbiano for their white wine Martiena, and Cabernet Sauvignon, Syrah and Petit Verdot which, along with Sangiovese, compose the blend for Sancta Catharina. All the wines can easily be paired with a song performed by Caterina, all of which are available on Caterina Dei's website. I would personally pair Bossona with Summertime, while for the others I will need to taste the wines and listen to her other songs more in depth.
Related Products
Product
Producer
Date of publication
Author
Read
Rosso di Montepulciano 2015
Rosso di Montepulciano
Dei
01/31/17
Livia Belardelli
A blend of 90% Sangiovese, 5% Canaiolo and 5% Merlot that ages briefly in Slavonian oak barrels and then in the bottle. The wine has a ruby color and an aroma of fresh and crispy fruit, blackberry...
Leggi tutto
Nobile di Montepulciano 2013
Nobile di Montepulciano
Dei
01/31/17
Livia Belardelli
A blend of 90% Sangiovese and 10% Canaiolo Nero that ages for 24 months in Slavonian oak barrels and six months in the bottle. The color is a bright ruby and the bouquet has aromatic sensations of...
Leggi tutto
Bossona 2010
Nobile di Montepulciano Riserva
Dei
01/31/17
Livia Belardelli
Made with only Sangiovese, this wine ages for 26 months in tonneau barrels and 12 months in the bottle. It has a dark, ruby color and a wrapping and complex aroma with balsamic and spicy notes...
Leggi tutto
Bossona 1999
Nobile di Montepulciano Riserva
Dei
01/31/17
Livia Belardelli
Made with only Sangiovese grapes, the wine has a full, garnet-red color and an aroma with balsamic sensations and notes of medicinal herbs, rhubarb, carob and blond tobacco. The mouthfeel is fresh...
Leggi tutto
Santa Catharina 2007
Toscana
Dei
01/31/17
Livia Belardelli
A blend of Cabernet Sauvignon, Syrah, Petit Verdot and Sangiovese that ages for 12 months in barriques and then another 12 months in the bottle. The wine has a ruby color that is slightly garnet on...
Leggi tutto