Arvisionadu, a rare varietal worth knowing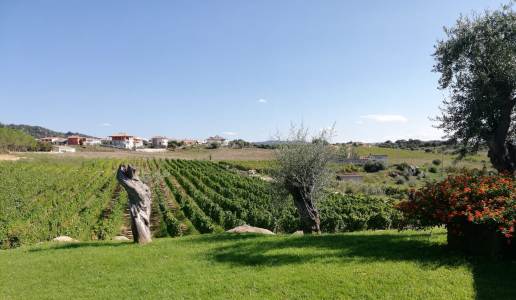 A very rare native varietal that produces convincing results, Arvisionadu, and a small estate converting to organic methods, Cantina Adriano Dessena: Sardinia never ceases to amaze.
Adriano Dessena comes from a family of successful hoteliers who after turning 30 decided to make a life-change and dedicate himself heart and soul to winemaking. He has two hectares of 12-year-old vineyards that produce 10,000 bottles a year in a land of rare beauty, Benetutti, more precisely in the zone of Sa'e Dona Rosulia. Goceano is for the most part a hilly and mountainous area and one of the highest in Sardinia, after the Gennargentu and Limbara ranges, while the Tirso River runs in the valley below.
The vineyards sit at an altitude of some 400m above sea level and the soil is composed of granite sand with small amounts of clay and of quartz. The grapes cultivated are first of all Arvisionadu, a rare, native varietal, and Cannonau. The estate is converting to organic methods, employs spontaneous fermentation and the first results have surprising character and stylistic precision.
Adriano welcomed me with his latest "experiment", a no-dosage traditional method Arvisionadu and it instantly erased any skepticism I may have had about Sardinian bubbly. Unfortunately, he made only 70 bottles.
Faùla 2016
Made from Arvisionadu grapes and matured in stainless steel for 18 months. The wine has a golden-yellow color and an iridescent bouquet with scents of apricot, aromatic herbs and dried fruit. The mouthfeel has a solid, austere yet mobile and lively structure with a deep and flavorful finish. A white with antique charm.
93/100
22 euros
Faùla 2014
This was one of the first versions and demonstrates Arvisionadu's propensity to age. Matured in stainless steel, the wine has a golden-yellow color and a complex nose with notes of Mediterranean herbs up front but also scents of white pepper and Renetta apple. The mouthfeel is bold yet fresh and dynamic with great integrity. A wine with a great Mediterranean heart.
94/100
22 euros
Balentìa 2016
Made from Cannonau grapes and matured in stainless steel vats for 14 months. A clear ruby color and delicate aromas of spice and blond tobacco. The granite soil gives this wine great finesse with elegant tannins and a vibrant dynamism. The finish is juicy and very pleasing.
91/100
21 euros
Related Products
Product
Producer
Date of publication
Author
Read
Faùla 2016

Cantina Dessena
09/26/18
Dario Cappelloni
Made from Arvisionadu grapes and matured in stainless steel for 18 months. The wine has a golden-yellow color and an iridescent bouquet with scents of apricot, aromatic herbs and dried fruit. The...
Leggi tutto
Faùla 2014

Cantina Dessena
09/26/18
Dario Cappelloni
This was one of the first versions and demonstrates Arvisionadu's propensity to age. Matured in stainless steel, the wine has a golden-yellow color and a complex nose with notes of...
Leggi tutto
Balentìa 2016

Cantina Dessena
09/26/18
Dario Cappelloni
Made from Cannonau grapes and matured in stainless steel vats for 14 months. A clear ruby color and delicate aromas of spice and blond tobacco. The granite soil gives this wine great finesse with...
Leggi tutto
Cantina Dessena

09/26/18
Redazione