An interview with Simona Natale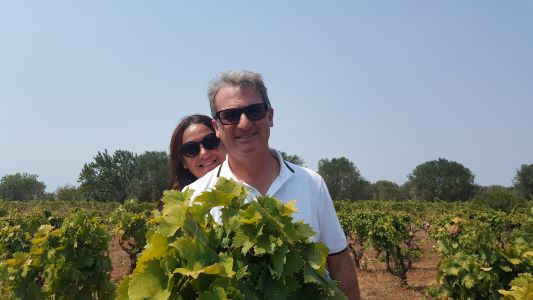 Es, a Primitivo that grabbed the attention of many in Manduria when it came out, was created by Gianfranco Fino and Simona Natale.
Simona Natale defines herself as hardheaded, strong-willed and passionate. She is the companion in life and in the vineyard of Gianfranco Fino, the creator of Es, one of the best Primitivo di Manduria that in just a short time has risen in popularity, winning the praise of wine guides and focusing the spotlight on a territory and varietal that before were relatively unknown. Simona is a lawyer and a territorial marketing expert in the agricultural and food sector. They married in 2002 and in 2004 founded their estate that today has 22 hectares of land and produces 25,000 bottles a year with a new winery being built at their farm in Reni in Manduria.
DoctorWine: When and how did you get involved in the world of wine.
Simona Natale: I have always liked wine and at university, in Bologna, I drank more than I studied. Wine is culture, a creator of emotions and inspirations. Gianfranco is an eclectic person who I met in 2000 in a sailing class. I learned only later that he was an enologist who collaborated with Gino Veronelli. Gino encouraged us to embark on our business adventure, telling us to follow our dreams. I can still remember when Gianfranco told me about his desire and I told him: "Go for it, I've got your back". I got involved in it little by little and my first harvest was in 2006, when I dressed in an improbable way and the workers looked me somewhat concerned.
DW: If one does not fight for something, have they already lost?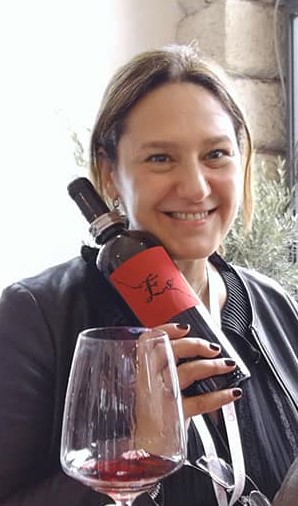 SN: Nothing happens without sacrifice. When you believe in something you are already involved. There were some scary moments but I'm a fighter and I never even considered giving up. To get started, we mortgaged our home. Neither of us had any land so we didn't have many grapes and we bought our first fermenting vat with our own savings. The path we chose stimulated me, gave me strength. I prefer to be the one who fights to protect my husband and my team from anything negative. Over time I have toned down my personality and I have learned to let certain things go. Before I was very direct and never backed down. In the beginning, Es rocked the local winemaking world, even those who did not love wine.
DW: How would you describe your relationship with Gianfranco?
SN: We're a bit like Abbott and Costello. We always question everything, we're different yet complementary, where one finishes the other begins. We have often found ourselves at a crossroad and made decisions that may have appeared crazy. I would like to think that it was Gino who guided us from above. Unfortunately, he died before being able to taste our wine.
DW: Puglia is going through a very favorable period. Primitivo di Manduria was unknown abroad but today would you say it is a recognized varietal and the representative of a territory?
SN: Yes and no. In my first travels, when I mentioned Manduria no one seemed to know where it was. Salento, on the other hand, was always better known be for its tourism and for its wine and food. The situation has now improved greatly. The area's greatest fault is too much individualism and small wineries have to compete against the big cooperatives, even if they are two sides of the same coin.
DW: Why did you withdraw from the official appellation?
SN: Grapes need to be cared for with maniacal attention. We did not agree with its regulations concerning yield per hectare and the size of the appellation. My dream is to see Primitivo di Manduria produced more the way Brunello di Montalcino or Barolo are. I would like to see lower yields because those of 9,000kg from head-trained vines are too high. And I would like to see the percentage of Primitivo grapes to reach 100% compared to the current 85% permitted, with the remaining 15% non-aromatic red grapes. The creation of a DOCG classification for naturally sweet Primitivo was an important step, I hope there will be a DOCG also for dry, 100% Primitivo.
DW: What can you tell me about the new winery?
SN: The new winery is just a few kilometers from the sea and looks like an old farm house. It is surrounded by vineyards and has an aging cellar dug out seen meters below ground. There is also a welcoming and tasting area. Here we have saved objects that have symbolic importance for us, gifts from friends and wine lovers over the years: a corkscrew, a newborn's shoe and two wedding rings from a great love that no longer exists. Our new home is being built right next door and we will move in as soon as it's ready. I can't wait. The red tape to get all the building permissions was long and complicated. Our next-door neighbor is journalist-winemaker Bruno Vespa.
Es Red 2015 Salento Primitivo IGT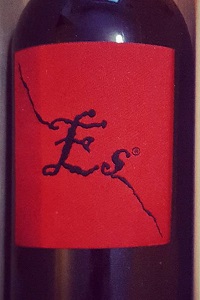 98/100 - 100 euro
Made from 100% Primitivo grapes from very old vines, matured for nine months in barriques and aged in the bottle for three and a half years. The wine has a deep, ruby-red color and a very intense and complex bouquet of ripe, red fruit, jam, spice and woody notes. The mouthfeel has an exquisite elegance and is wrapping and persistent with very fine tannins and a finish that is surprisingly fresh and very long. A fascinating wine that leaves a lasting impression.
Related Products