Welcome Bertani Cru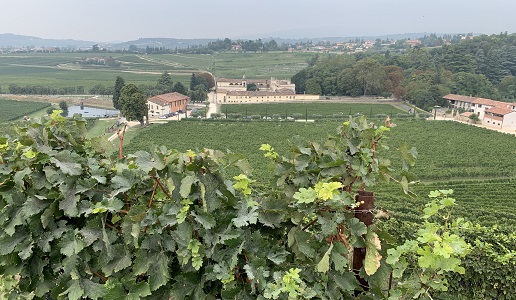 With a project begun in 2012, Bertani has identified two vineyard cru with very different characteristics at the Tenute Novare estate that have produced two Valpolicella.
Since an estate like this needs no introduction, what I have the pleasure to tell you about today is the "Bertani Cru, Valpolicella according to Bertani" project. Under the supervision of people like Emilio Pedron, CEO at Bertani Domains, and Andrea Lonardi, director of operations, the project began in 2012 and got up to full speed over the following two years. Today it has become a reality with two wines from two different cru: Valpolicella Classico, Le Miniere, and Valpolicella Classico Superiore, Ognisanti. Both vineyards are situated in the town of Negrar, at the Tenuta Novare estate, on soft hills forming a natural amphitheater under which manganese oxide and iron were mined. These vineyards are very close together and together produce 8-9,000kg/ha of grapes which make some 13,000 bottles a year and rising.
Bertani Cru is an individual zoning project in the area of Valpolicella aimed at pinpointing the different soil and climate characteristics of each vineyard. It is a very important project that seeks to establish a territorial identity for the wine Valpolicella as well as codifying the behavior of the dominating varietal in the blend, Corvina. This to offer an "identity card" for each vineyard from which nothing more will be asked than what it can effectively offer.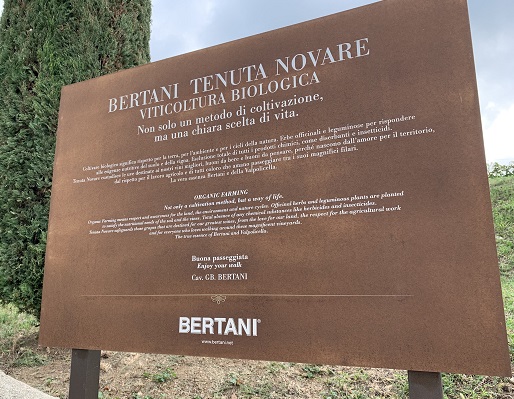 The question arises as why there was such an investment in time, money and energy for a wine that is not the more famous of the appellation and the answer is simple. Valpolicella is without a doubt the finished product that is most influenced by the soil and the vineyard. As for Amarone, on the other hand, it is important to remember that it is as artisanal as it is technical, with man's intervention on the harvested grapes (drying them) playing a central and determining role in creating a "wine of tomorrow" and where the practices in the winery are such that can distort what came from the vineyard. All this also explains why it is possible to obtain (at least in theory) from this extraordinary appellation, Valpolicella, and from the same grapes from the same vineyard, six different wines.
Now that we have explained why here we will look at Valpolicella rather than Amarone, it is time to see how the project went. The following are my impressions after having visited the vineyards and tasted the grapes (which we try to do often) and the wines.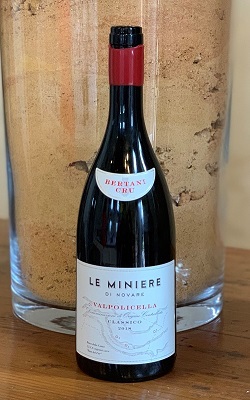 Valpolicella Classico Le Miniere di Novare 2018
91/100 - € 22,00
A blend of 70% Corvina, 20% Corvinone and 10% Rondinella that matures in cement vats. A pale, ruby color, typical of Corvina, and aromas of cherry, wild strawberry, fresh berries and a hint of pepper. The mouthfeel is flavorful, easy to drink every day and full of character. An authentic risky wine, in other words, one you can drink a bottle of without realizing it.
This was not by chance, Lonardi told me, because the soil of the Le Miniere vineyards is rich in iron and this type of soil more than often produces Valpolicella that have a fresh character and are easy to drink, and tend to oxidize over time. I also found Le Miniere to be very educational and would "exploit" it to explain to young tasters the color, aroma and flavor that Corvina and Valpolicella have. I must point out, however, that good things don't come cheap and the price in this case is three times that of a Valpolicella Classico Bertani, but it's worth it.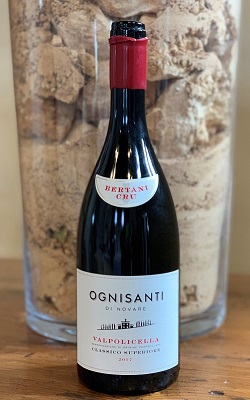 Valpolicella Classico Superiore Ognisanti di Novare 2017
93/100 - € 22
A blend of 80% Corvina and 20% Rondinella that matures for 18 in barriques. An intense, ruby-garnet color and an aroma with a slightly darker personality. The notes of red and dark fruit are completed by balsamic one and those of spice and there are some hints of yellow fruit, even citrus. (If I have learned anything it is that if you can sense yellow fruit in a red wine, nine times out of ten it is a good thing). The mouthfeel is defined by a distinct sapidity and is complex with a significant persistence. The product of a soil with a high chalk content, which Lonardi said was very similar to that in Champagne, this is a wine that still has to express its full potential and is destined to have a long life. Fine and elegant it will evolve with grace over time.
After tasting the grapes and learning the composition of the soil, it was immediately possible to comprehend these wines. If it could only always be like this. But there is no need to despair because more and more producers are investing in these types of projects and I'm sure they can't wait to tell us about them.
Related Products