Vesuvius seen from Cantine Olivella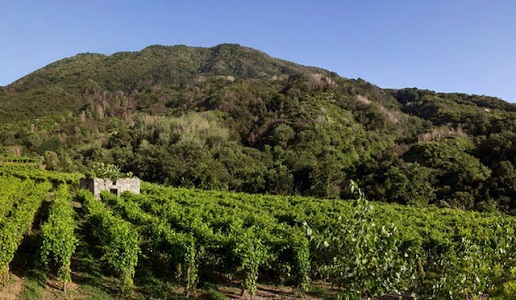 Cantina Olivella is a small estate on the slopes of Mt. Vesuvius committed to cultivating local varietals.
The small Cantine Olivella wine estate is situated inside the natural reserve of the Vesuvius National Park where they are focused on recovering and enhancing the value of varietals that risked extinction and have thus defended both typicity and history. For over 15 years, Cantina Olivella – the brainchild of Ciro Giordano (the current president of the Consorzio Tutela Vini Vesuvio), Domenico Cirello and Andrea Cozzolino – has been cultivating on the slopes of Monte Somma the varietals Caprettone, Piedirosso, Aglianico and Catalanesca. The latter was only recently employed in making wine, despite centuries of local tradition, for which regulations governing the IGP Catalanesca del Monte Somma appellation were adopted in 2011.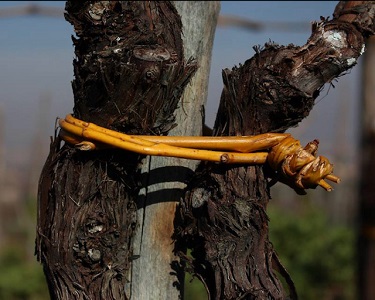 The volcanic soil with its fascinating diversity offers the right habitat for vines that are centuries old and have never been grafted and are spread out between altitudes of 300 and 650m above sea level for a total of 12 hectares of vineyards. The use of green manure and tying the vines with weeping willow branches along with organic farming methods are some of the distinguishing characteristics of Cantine Olivella. Nature, history and age-old traditions, paired with the right amount of innovation are at the foundation of Cantina Olivella's modus operandi, resulting in the production of wines that represent and tell the story of one of the best-known places in the world.
The wines entice the senses into a trip back in time thanks to their distinct typicity and they are also the keepers of winemaking history in the region of Campania. A new and efficient winery will soon enter into operation and it was entirely created inside an old farm house, inside of which is a close to 100-year-old press.
Lacryma Christi del Vesuvio Bianco Dop Lacrimabianco 2018
88/100 - € 11,00
A blend of 80% Caprettone and 20% Catalanesca from ungrafted vines made in stainless steel. A straw-yellow color and aroma of white melon, sage and marjoram followed by notes of humus and white flowers. The mouthfeel is balanced, bracing and salty. A well-made wine with an excellent quality/price ratio.
30.000 bottles produced
Vesuvio Rosso Dop Vesuvio 2017
90/100 - € 25,00
Made from Piedirosso grapes and matured in clay amphorae for over nine months. The wine has intense and extremely clear aromas of Mediterranean shrubs, violet, blood orange and raspberry, while the mouthfeel is composed, taut saline and very pleasing with a significant persistence.
2.200 bottles produced
Catalanesca del Monte Somma Igt Summa 2017
90/100 - € 22,00
Catalanesca grapes from a vineyard that sits at an altitude of 650m above sea level. Fermentation takes place 20% in oak barriques and 80% in stainless steel. The wine has a golden, straw-yellow color and a precise aroma of yellow peach, plum, elder and flint, followed by woody hits and those of medlar. The fresh mouthfeel is full and brackish with a distinct and refreshing note from the acidity and a long finish.
7.000 bottles produced
Related Products
Product
Producer
Date of publication
Author
Read
Lacrimabianco 2018
Lacryma Christi del Vesuvio
Cantine Olivella
11/19/19
Antonella Amodio
A blend of 80% Caprettone and 20% Catalanesca from ungrafted vines made in stainless steel. A straw-yellow color and aroma of white melon, sage and marjoram followed by notes of humus and white...
Leggi tutto
Vesuvio 2017
Vesuvio
Cantine Olivella
11/19/19
Antonella Amodio
Made from Piedirosso grapes and matured in clay amphorae for over nine months. The wine has intense and extremely clear aromas of Mediterranean shrubs, violet, blood orange and raspberry, while the...
Leggi tutto
Summa 2017

Cantine Olivella
11/19/19
Antonella Amodio
Catalanesca grapes from a vineyard that sits at an altitude of 650m above sea level. Fermentation takes place 20% in oak barriques and 80% in stainless steel. The wine has a golden, straw-yellow...
Leggi tutto
Cantine Olivella

11/19/19
Redazione