Two new arrivals from the Monte Zovo Cottini family
The Corvina Rosato Phasianus and Pinot Grigio delle Venezie Wohlgemuth were born in the name of biodiversity and in the memory of the land.
The two wines are called Phasianus Corvina Rosato IGT (named after the pheasants found in the vineyards and surrounding forests) and Wohlgemuth Pinot Grigio delle Venezie DOC (the ancient name of the Caprino fortress). Both are organic and have become members of the Ispirazioni Naturali (Natural Inspirations) collection of creations by Diego Cottini that also includes the better-known Calinverno, the Sauvignon Oltremonte and the Pinot Noir Crocevento. All the wines are made with grapes from the vineyards of Caprino Veronese which also hosts the winery.
The whole Cottini family – father Diego, mother Annalberta and sons Michele and Mattia – is involved in running the Monte Zovo, an estate with a low environmental impact. The winery and the wine cellar are both completely underground and this not only to allow for a more efficient temperature control but also in respect of the surrounding landscape and the land's biodiversity. Since 2018, all of the estate 140 hectares of vineyards have been certified organic and as a biodiversity friend.
Caprino Veronese is a strategic location for Monte Zovo that allows them manage and quickly access all the vineyards they own. The family, in fact, also produces Valpolicella and, in the area near Lake Garda, Chiaretto, Bardolino and Lugana.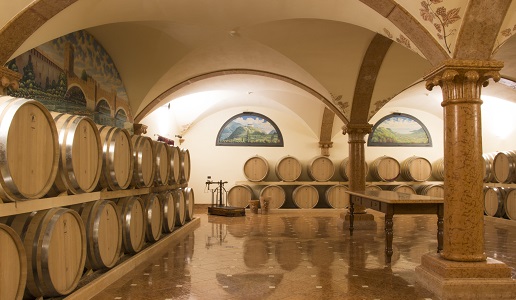 Caprino Veronese è per Monte Zovo una posizione strategica che permette di gestire e raggiungere brevemente tutti i vigneti di proprietà; la famiglia infatti produce Valpolicella e, in zona lago di Garda, i vini Chiaretto, Bardolino e Lugana.
The wines in the Ispirazioni Naturali line are all made with grapes from the Caprino Veronese vineyards that surround the winery, which are situated at altitudes between 300m to 900m for those in Spiazzi, a district of Caprino on Monte Baldo. The soils at the lower altitudes are morainic and gravelly (due to their vicinity to the northern part of Lake Garda as well as the Adige River bed) while higher up they have more marly chalk and clay.
The rolling morainic hills are home to the vineyards of Corvina, Corvinone and Pinot Grigio varietals that compose the two new wines. The vines are both trellis and Guyot-trained and are home to a wide variety of insects. In order to maintain their population, special nests have been created at head of each row of grapes to ensure they take up residence.
Biodiversity and eco-sustainability are the two personal quests that Diego Cottini has set for himself and that has resulted in these two new wines, a white and a rosé. Here they are:
Pinot Grigio delle Venezie Wohlgemuth 2019
88/100 - € 14,50 (in cantina e e-commerce)
Made with Pinot Grigio grapes from Caprino Veronese vineyards that macerate in a press for 12 hours. The wine is then made in part in stainless steel and in part in barriques where they mature for three to six months on the lees. A straw color with intense and luminous green reflections and a very intense aroma of white peach, white melon and white flowers with some jolts of citrus peel, grapefruit and taut, vaguely chalky notes. The interesting mouthfeel has bitter sensations of citrus peel, hints of almond and a savory finish. An intense drop, a tad warm and alcoholic but with an excellent persistence.
Bottles produced: 10,000.
Corvina Rosato Phasianus 2019
87/100 - € 15,00 (in cantina e e-commerce)
A blend of late-harvest Corvina and Corvinone grapes from Caprino Veronese vineyards that undergo cold maceration in the press for around 24 hours and then matures on the lees for between three and six months. The wine has a lovely, salmon-pink color that has hint of sunset and the bouquet is of dried flowers, dried strawberry and a bit of peach. The mouthfeel has flavors of strawberry and cherry, here both fresh and crispy, and a very savory finish with a medium softness while the persistence and tension are both good, almost balsamic, with a flavorful aftertaste.
Bottles produced: 10,000. Organic.
Related Products