Two fantastic versions of Nobile by Boscarelli: Il Nocio and Costa Grande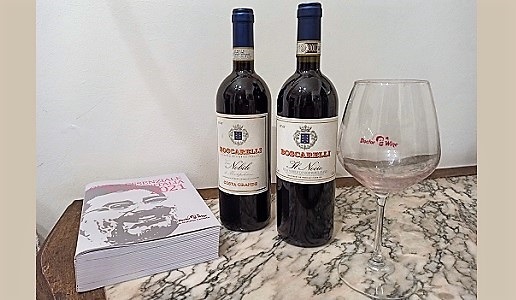 The 2016 vintage of Vino Nobile di Montepulciano Il Nocio, the winery's champion, and the new born Costa Grande enhances the differences between the two wines while maintaining a touching connection to the territory.
This article is available in Italian only.
Lo scorso anno il lockdown non ci permise di assaggiare alcuni vini di questa importante e storica azienda di Montepulciano in vista della pubblicazione della Guida Essenziale ai Vini d'Italia 2021. Boscarelli è un riferimento del territorio e del Vino Nobile, una delle maggiori interpreti per qualità e per costanza qualitativa dei suoi prodotti, inoltre produttrice di un vino icona della denominazione: Il Nocio. Nella Guida trovate l'eccellente riserva Sotto la casa 2016 e l'affidabile Vino Nobile 2017; per finire la panoramica dei Nobili che vengono creati da Luca e Niccolò De Ferrari, con la consulenza esterna ultradecennale di Maurizio Castelli, mancavano altri due prodotti eccellenti.
Il primo è Il Nocio 2016, il cavallo di battaglia della cantina da più di 30 anni, e l'altro è l'ultimo nato, Costa Grande 2016, da un terreno rosso esposto a nord ovest, con una selezione massale delle viti più vecchie dell'azienda e con una fittezza di circa 7000 piante.
Prima di vedere le schede di degustazione sappiate che l'annata 2016 dà una grande prova di sé, esaltando le differenze tra i due vini ma mantenendo una continuità stilistica e attinenza al territorio veramente commovente. Il Costa Grande mi ricorda nella sua eleganza estrema coniugata al carattere deciso, la marchesa Paola De Ferrari Corradi, madre di Luca e Niccolò, che dal 1983 guida l'azienda fondata dal padre Egidio nel 1961.
Vino Nobile di Montepulciano Il Nocio 2016
95/100 - € 80
Da uve sangiovese, matura in botti da 5 e 10 ettolitri da 18 ai 24mesi. Rubino ben tenuto e profondo. Olfatto articolato tra note floreali, frutto rosso di ciliegia e un elegante fumé. Accenni di sottobosco e liquirizia. Trama gustativa serrata, progressione ampia con classici tannini croccanti e giovanili ma ben tamponati dall'acidità che ci dona un finale giovanile ma molto persistente.
Vino Nobile di Montepulciano Costa Grande 2016
97/100 - € 60
Da uve sangiovese, matura 12 mesi in tonneau e 12 mesi in botti da 25 hl. Rubino classico brillante. Olfatto deciso sul frutto rosso con un tocco di arancia elegante e una leggera spezia. Bocca fitta, elegante, molto rilassata nel tannino e ben sostenuta da una salinità scura accattivante. Ottima la progressione saporita e intensa con un finale di notevole eleganza, austero e di grande persistenza.
Related Products