The wave of change at Amastuola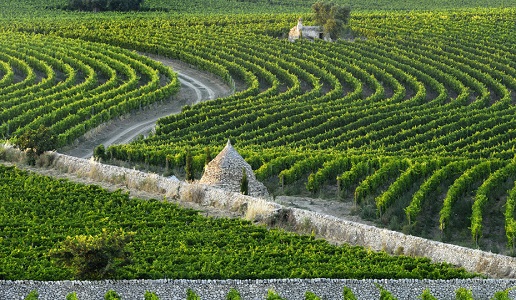 The Masseria Amastuola estate, in the province of Taranto, is home to a wonderful vineyard-garden, a wine hotel, ta op-class restaurant and excellent wines.
Amastuola, a wine estate with one of Europe's loveliest vineyard-gardens, is set in the rolling hills of Crispiani, at an altitude if 210m above sea level and within a registered archeological site. It has received important international recognitions for having opened new frontiers to enhance the value of the territory and bringing back areas for tourism use that were no long productive.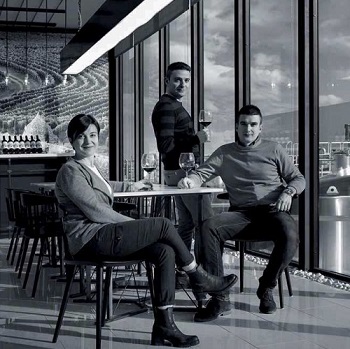 Here, functionality and esthetics, architecture and the landscape have come together in a project created by Fernando Caruncho, the Spanish landscape architect and philosopher known for his geometric elegance and quest for light and meditation in his projects in Europe, Japan and New Zealand. The vineyards rows are designed in accentuated and parallel waves that extend and oscillate for three kilometers. The vineyard and the 24 groves of 1,500, century-old olive trees symbolize the continuous movement and transformation of the individual and the world and its musicality goes to the heart and not the mind in order to rediscover the genius loci. When all the levels are in correspondence and in balance with each other it is possible to discover the authenticity and beauty of the surrounding space.
The property was acquired in 2002 by Giuseppe Montanaro, the owner of the Kikau Group, while restructuring and planting took place over a four-year period. He now runs it with the help of his children Illaria, Donato and Filippo and his son-in-law Giuseppe Sportelli. The 100 hectares of vines constitute the largest, single organic vineyard in Italy and hosts 14 varieties of grapes, for the most part the red varietals Primitivo, Merlot and Syrah, with a lesser number of the white varieties Sauvignon, Chardonnay, Fiano and Malvasia Bianca di Candida.
The 12 wines produced are a combination of tradition and innovation. Rò, short for Rosaria, is their latest creation and is named in memory of Giuseppe's late wife. It is a Traditional Method, vintage sparkling made from Chardonnay that sits for 24 months on the lees. The wine is fresh, flavorful and persistent and 1,000 bottles have been but are not yet on the market.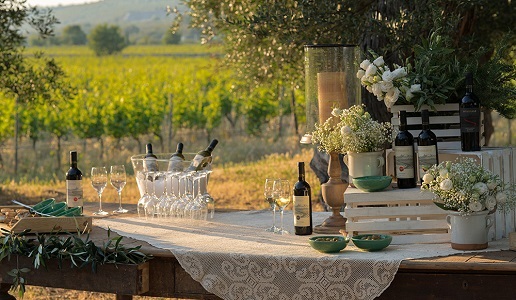 Next to the magnificent garden is a 15th century masseria farmhouse that hosts an 18-room wine hotel, the restaurant "Le Arcate" (The Arches), a bookshop and an aging cellar. "We discovered Caruncho reading Mirrors of Paradise, a book on his first 15 years of projects," said Amastuola sales director Giuseppe Sportelli, adding "The wave of change is the metaphor adopted by the Montanaro family. We were immediately on the same wavelength as Fernando, an artist who can combine human and natural aspects in a way to remind us of our place in the scheme of things. We shared the concept of a landscape in tune with the rhythmic flow of nature's phases rather than dimensions. Time with its seasons changes colors and forms the way man does when he prunes a tree, rebuilds a stone wall or road. Fernando does not use ornamental plants, he prefers vines, olive trees and wheat".
At Amastuola they practice precision agriculture and work with various Italian universities to study and monitor cutting edge production techniques. An agro-meteorological station, together with a self-regulating irrigation system and a Scholander pressure room, offer data useful for running phytosanitary stations and allow emergency irrigation when necessary. Supervising in the winery and the field are outside consultants like Roberto Zironi, a professor at the University of Udine, and agronomist Giovanni Bigot. The house enologist is Teodosio D'Appolito.
Let's now look at their wines, from the simple rosé (which has an excellent quality/price ratio) and leading up to their more complex wines.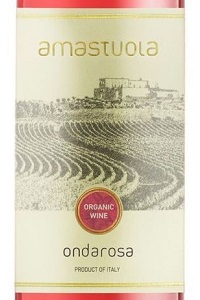 Ondarosa 2009
88/100 – € 6,00
100% Aglianico grapes. Criomaceration for 24 hours, stainless steel. Intense cherry color. Wide, fruity notes of cherry and blackberries, floral hints of roses and aromatic herbs. Fresh, savory and balanced.
10,000 bottels produced.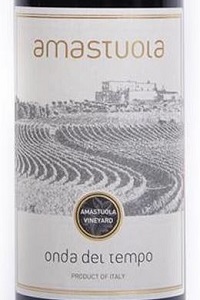 Onda del tempo 2016
91/100 - € 12
Equal blend of Primitivo, Aglianico, Merlot and Cabernet Sauvignon grapes. Matures 16 months in French durmast barrels. Dark and intense ruby red color. Intense and enveloping aromas of red fruits, bitter chocolate and spices. Elegant taste, thick and smooth tannins. Long and persistent finish.
5,000 bottles produced.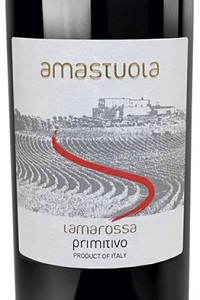 Lamarossa 2015
93/100 - € 15,00
100% Primitivo grapes. Ferments in Allier durmast barrels and 1 year in big barrels and cement vats. Pale ruby red color. Aromas of wildberries, spices and eucalyptus. Rich taste, savory, intense and tense with balanced tannins. Long and persistent finish.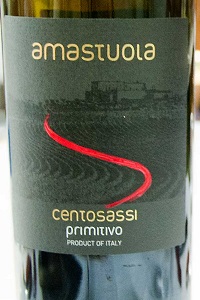 Centosassi 2015
96/100 - € 26,00
100% Primitivo grapes. Matures 30 months in barriques. Very dark ruby red color. Complex aromas of red fruits, plums and mulberry with sweet notes of carob, leather and tobacco. Powerful taste yet balanced by a nice acidity that brings freshness. Very long finish and extremely pleasant.
Related Products