The rigorousness of Claudio Morelli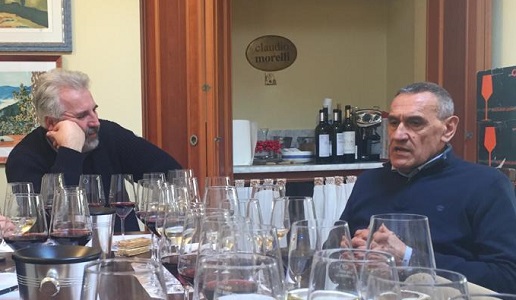 A serious and private person, Claudio Morelli makes each of his wines from a single varietal and, when possible, a single vineyard.
Claudio Morelli's estate has its tasting room and headquarters in the Marche town Fano (my birthplace) where the Metauro River flows into the Adriatic Sea. The winery, on the other hand, is in Mondavio, a town with a lovely Renaissance castle, and some of the vineyards overlook the nearby sea, while others are further away and extend upriver almost to the Apennine Mountains.
Thus the vineyards have very different terroirs that must be taken into consideration in order to properly evaluate each individual one. This is what Claudio Morelli does, a serious, private and rigorous person who is not interested in partying or hanging out. Claudio has very clear ideas about winemaking: each wine is made from a single varietal, with blending almost considered the work of the devil. He tries as much as possible to make a wine from a single vineyard or cru or those that have similar terroir, except for his stock Bianchello white.
All the wines undergo reduction fermentation and are thus protected from oxygen. He also uses cryomaceration to bring out all the aromas possible from the Bianchello grape, which is short on aromas. Classic methods are used to make the red wines.
There are 22 hectares of vineyards that host Bianchello, Sangiovese, Montepulciano, Cabernet and Vernaccia Rosso grapes. A total of 110,000 bottlesare produced a year and bulk wine sales are practically nonexistent. There are also 400 olive trees used for a limited production of quality extra-virgin olive oil.
I have tasted the full line of production and I must say that the most surprising of Claudio's wines was a red, a Montepulciano that was really good.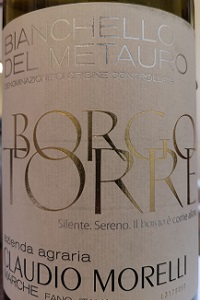 Bianchello del Metauro Superiore Borgo Torre 2018
85/100 - € 12
Made with grapes from a single vineyard in Fratterosa, 35km from the sea and at an altitude of 250m, where there are pronounced diurnal temperature variations in the summer. The wine undergoes cryomaceration and reduction fermentation. The color is a bright, straw-yellow and the small aroma has notes of white fruit, fresh flowers and Mediterranean shrubs. The mouthfeel has a nice salinity and is consistent with the aroma and there is a nice balance rapport between its body and freshness.
Bottles produced: 12,000.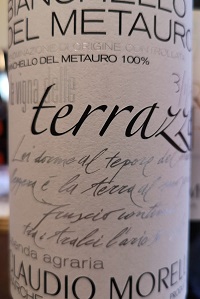 Bianchello del Metauro La Vigna delle Terrazze 2018
88/100 - €10
The grapes come from a terraced vineyard very close to the sea, a major influence, which sits at an altitude of 100. It is a very windy area and the soil is composed of tuff stone and sand. The wine undergoes reduction fermentation and cryomaceration. A bright, straw-yellow color and a very assorted and intriguing aroma of white fruit, grass and exotic hints. The mouthfeel has a distinct sweetness, aided by the salinity and freshness, with notes consistent with the aroma and a pleasing persistence.
Bottles produced: 15,000.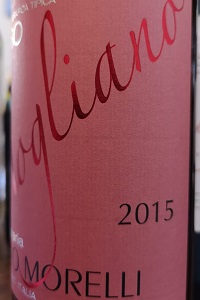 Marche Rosso Mogliano 2015
91/100 - € 19
Made from only Montepulciano grapes from vineyards by the sea and only in the best years. The grapes macerate on the skins for some 20 days and the wine matures in used French barriques to then age in the bottle for around eight months. A dark, red-ruby color with orange hues and aromas of ripe red fruit, black cherry and violet, along with clear notes of dark spice. The mouthfeel is very elegant, as are the tannins, with sensations similar to the aroma, an excellent drinkability and persistence. Really good.
Bottles produced: 3,000.
Related Products
Product
Producer
Date of publication
Author
Read
Borgo Torre 2018
Bianchello del Metauro Superiore
Claudio Morelli
02/25/20
Vignadelmar
Made with grapes from a single vineyard in Fratterosa, 35km from the sea and at an altitude of 250m, where there are pronounced diurnal temperature variations in the summer. The wine undergoes...
Leggi tutto
La Vigna delle Terrazze 2018
Bianchello del Metauro
Claudio Morelli
02/25/20
Vignadelmar
The grapes come from a terraced vineyard very close to the sea, a major influence, which sits at an altitude of 100. It is a very windy area and the soil is composed of tuff stone and sand. The wine...
Leggi tutto
Mogliano 2015
_
Claudio Morelli
02/25/20
Vignadelmar
Made from only Montepulciano grapes from vineyards by the sea and only in the best years. The grapes macerate on the skins for some 20 days and the wine matures in used French barriques to then age...
Leggi tutto
Claudio Morelli

09/25/18
Redazione