Tasca d'Almerita and the Tascante contradas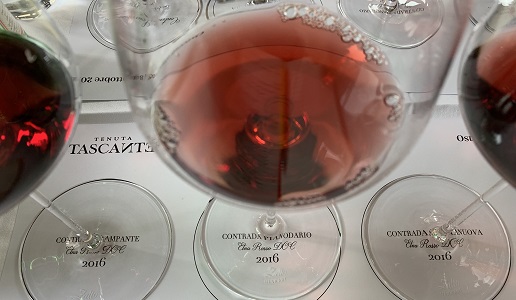 After over ten years of studies and experiments on Etna, Tasca d'Almerita has come out with vintage 2016 wines from its contradas that made separately.
In 2001, Tasca d'Almerita embarked on a scientific study to discover the different winemaking areas and prospects in Sicily. It did this conscientiously, examining and experimenting, with the aim of understanding the diversity and factors that made each estate area unique.
This endeavor led them to Etna in 2007. After some ten years of studies and experiments, the Tascante estate project has started to become a reality and last year they presented, for the first time, wines from their contradas, vineyard eareas, which were made separately.
Tascante's vineyards are on the volcano, between the towns of Castiglione di Sicilia and Randazzo. What makes Etna special is that not only is it an active volcano, one of the most active in the world, but it is also a volcanic complex, a group of different volcanos that continue to produce lava, sometimes through flows and at times eruptions.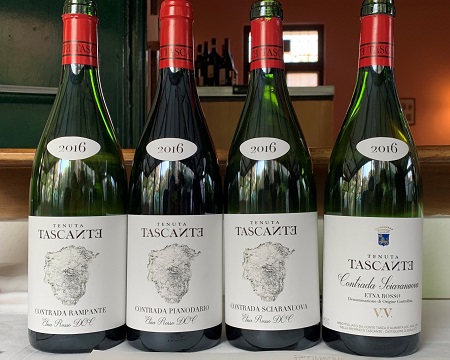 The vineyards were positioned to determine the advantages and disadvantages of being situated at a Mediterranean altitude equal to that of the Dolomites in the Alps (700-800m above sea level). The sharp diurnal temperature difference was a positive factor along with significant rainfall that contributed to allowing the grapes to properly develop their characteristics.
Native varietals are cultivated on Etna: Nero Mascalese, Nerello Cappuccio and Carricante. The vines are trained on trellises, for the most part head-trained, and have a northern exposure, after experiments with southern exposures saw in the vines being subjected to violent hailstorms.
This is there reality of where the contradas are situated, one that is both extreme and exciting at the same time. In short, they are on strips of land that are differentiated and identified by the age and the nature of the lava flow that formed them. We know for certain that the different soils (determined by age, location and composition) offer different traits to the same varietal and thus produce different results in the wine. This is why the studies and tests that have been carried out by the estate in recent years have been so important in determining the identity and value of the area.
For the production of Etna DOC (all 100% Nerello Mascalese), Tascante has three contradas plus one and the wines they produce were presented for the first time with vintage 2016.This was a year rich in freshness and acidity thanks to the grapes ripening properly.
Contrada Rampante is situated at 740m above sea level and the vines were planted in 2000; Contrada Pianodario saw its last lava flow in 1981 but the volcanic soil is between 15,000 and 4,000 years old; and Contrada Sciaranuova sits at an altitude of 730m above sea level and aside for its terraced vineyards, upheld by stone walls, is distinguished by the presence of a seven hectares of chestnut trees. This latter area is also home to the oldest vineyard that produced Etna Contrada Sciaranuova VV (Old Vines) 2016, which was awarded 97 points in our Essential Guide to Italian Wine 2020.
All three wines share great personality which to define as "volcanic" would be trite and simplistic. They are, in short, unique. The unpredictable weather kept winemakers constantly on edge but the results are simply an emotional experience.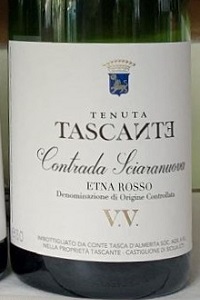 Etna Contrada Sciaranuova VV 2016
97/100 - € 85,00
100% Nerello Mascalese grapes from the oldest vines of Contrada Sciaranuova (VV stands for Old Vines see label). Matures 12 months in 25 hl barrels. Ruby red color with garnet hues. Very elegant and austere aromas that foresee a very long evolution. Aromas of lava, iron and flowers. Eucalyptus and fruits in the mouth. Very elegant and long. A champion of pleasantness.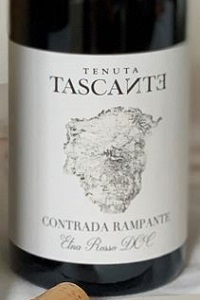 Etna Contrada Rampante 2016
91/100 - € 30,00
Made from only Nerello Mascalese grapes and matured for 12 months in 25hl oak barrels. The wine has a ruby color with some antique pink reflections. The aroma of wild fruits and berries is mixed with notes of dark spice with some brackish and smoky hints. The mouthfeel is dominated by yellow fruit and tannins that evident but not aggressive with an overall sensation of freshness thanks to the acidity. An excellent drop.
Around 4,500 bottles produced.
Etna Contrada Pianodario 2016
94/100 - € 35,00
Made from only Nerello Mascalese grapes and matured for 12 months in 25hl oak barrels. A ruby color with a light orange edge and a bouquet of flint, caramel and wild red berries. The soft and creamy mouthfeel has creamy and fresh fruit flavors and an excellent balance between its persistence and drinkability.
Around 4,500 bottle produced.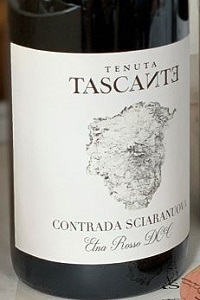 Etna Contrada Sciaranuova 2016
94/100 - € 35,00
Made from only Nerello Mascalese grapes and matured for 12 months in 12hl oak barrels and 300l casks. A ruby color and bouquet with alternating aromas of black pepper and sweeter spice notes, from the barrels being toasted, embellished by floral scents. The mouthfeel is fresh, elegant and balanced with a persistent presence of wood and tannins that are somewhat more exuberant than normal.
Around 4,500 bottles produced.
Related Products