Serapias has arrived, Pantelleria Passito by Mandrarossa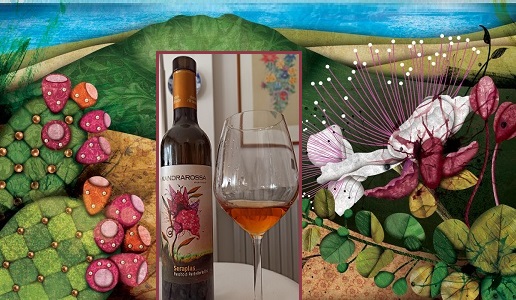 This new label is part of the Storie Ritrovate line, which exalts indigenous grapes and territories of origin.
This article is available in Italian only.
Mandrarossa è il brand di prestigio delle Cantine Settesoli, il colosso di Menfi che da più di 60 anni rappresenta il cuore produttivo della zona, con una comunità di 2000 viticoltori che, sotto la spinta propulsiva di una dirigenza che è sempre stata illuminata, ha visto crescere la redditività per proprio lavoro anno dopo anno, migliorando la qualità delle uve e dei relativi vini.
Con un progetto partito nel 2014, mirato a esaltare il territorio di Menfi e le sue uve autoctone, nascono i vini di Storie Ritrovate, un modo per esaltare alcuni terreni calcarei identificati come particolarmente vocali alla produzione di nero d'Avola e di grillo, le due uve portabandiera della sicilianità. Sono nati così due Vini di Contrada: il Grillo Bartolino Soprano e il Nero d'Avola Terre di Sommacco, presentati nel 2019. Per sottolineare la particolarità di questi vini, è stata incaricata l'artista Nancy Rossit di interpretare le storie del territorio attraverso le etichette.
Il progetto ha visto la sua prosecuzione sull'Etna, con la presentazione ad aprile 2020 di altri due vini figli delle uve del luogo: il Sentiero delle Gerle Etna Rosso da nerello mascalese e il Sentiero delle Gerle Etna Bianco da carricante.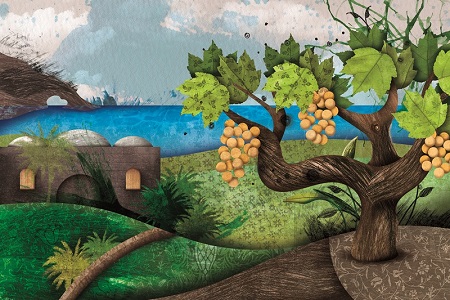 Nell'autunno 2020 la linea Storie Ritrovate si è arricchita di una nuova etichetta: il Passito di Pantelleria Serapias, prodotte a partire da piccoli appezzamenti sull'isola per un totale di due ettari di vigneto, tradotte in circa 6.000 bottiglie. Anche in questo caso, a monitorare produzione lo staff degli agronomi e degli enologi aziendali guidati da Mimmo De Gregorio con la consulenza di Alberto Antonini.
Per l'etichetta di questo Passito, la Rossit si è ispirata a un tipo di orchidea endemica di Pantelleria: la Serapias Cossyrensis, in modo da legare indissolubilmente il territorio al vino.
Passito di Pantelleria Serapias 2019 Mandrarossa
91/100 - € 24 la bottiglia da 50 cl
Da uve zibibbo (moscato di Alessandria) 100% coltivate ad alberello pantesco, provenienti dalle contrade Bukkuram, Monastero e Piana di Ghirlanda. Appassimento tipico di circa 20 giorni, quindi l'uva passa viene aggiunta al mosto in fermentazione proveniente dalle uve fresche. Vinificazione e affinamento in acciaio. Giallo dorato di bella consistenza. Profumi intensi con tipiche note di uva passa e decisi riferimenti agrumati sia come scorzette d'arancia che come fiore di zagara. Il sorso è pieno e rotondo, la dolcezza in bocca non è esagerata, emergono note quasi vulcaniche di pietra focaia. Buona la persistenza.

Sicilia Bertolino Soprano 2018
91/100 - € 16
Da uve grillo. Affina in tulipe di cemento per 13-15 mesi e matura in botti grandi per 11 mesi. Giallo paglia con riflessi dorati. Naso delicato di fiori essiccati con sfumature verdi di erbe officinali e cenni fruttati di pesca. Buona struttura gustativa, con giusta acidità e ritorni fruttati. Finale salino e persistente.
Sicilia Nero d'Avola Terre del Sommacco 2017
92/100 - € 20
Da uve nero d'Avola. Affina per 8 mesi in tulipe di cemento e matura 19 mesi in botti grandi, poi minimo 8 mesi in bottiglia. Rubino intenso con riflessi purpurei. Naso di frutto scuro, more e susine viola, cenni di amarena e sfumature boschive. Al gusto è strutturato senza asperità, buona trama tannica e sorso armonico con ritorni di frutto. Ottima persistenza.
Etna Rosso Sentiero delle Gerle 2016
89/100 - € 14
Da uve nerello mascalese. Matura in botti e acciaio. Rosso granato. Naso frutta rossa matura, amarena, note terrose. Sorso fresco, dinamico, torna la frutta matura. Sapido. Buona lunghezza.
Related Products
Product
Producer
Date of publication
Author
Read
Serapias 2019
Pantelleria
Mandrarossa - Settesoli
01/21/21
Stefania Vinciguerra

Bertolino Soprano 2018
Sicilia
Mandrarossa - Settesoli
01/21/21
Stefania Vinciguerra

Nero d'Avola Terre del Sommacco 2017
Sicilia
Mandrarossa - Settesoli
01/21/21
Stefania Vinciguerra

Rosso Sentiero delle Gerle 2016
Sicilia
Mandrarossa - Settesoli
01/21/21
Stefania Vinciguerra
100% Nerello Mascalese grapes. Matures in barrels and stainless steel. Garnet red color. Aromas of ripe red fruits, black cherries and notes of soil. Fresh and dynamic taste, again ripe fruits....
Leggi tutto
Mandrarossa - Settesoli

05/23/16
Redazione
Cantine Settesoli is one of the most important wine cooperatives in southern Italy and Mandrarossa is its most prestigious brands. President Vito Varvaro believes in teamwork and for him the...
Leggi tutto