Podere Salicutti and their two select Brunello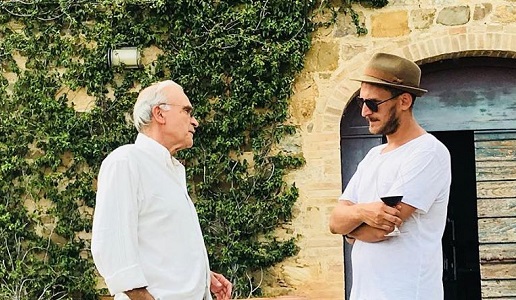 Francesco Leanza, who created this well-known Montalcino estate, has ended his collaboration with the estate's new owners and it is now totally in the hands of the Eichbauer family.
We return to this Montalcino estate after having reviewed their Brunello 2012. The winery began as a dream for Sicilian chemist Francesco Leanza who, in 1990, bought the farm that at the time had olive groves, not many vines and two farmhouses. His dream came true with the production of a Brunello that was very characteristic and much like Francesco himself: reserved and austere, a wine one learns to appreciate over the years.
Francesco was important for winemaking in Montalcino because his was the first organic estate in the area and this back when it was not a fad and becoming organic was a life choice before being a productive one. Over the years, the style of the wine was refined and evolved with a less aggressive use of wood compared to those of the end of the last century (I remember a fantastic 1997 that was an exception for that vintage). They now use small and larger barrels, up to 30 hectoliters, and this was the result of a long study, the conclusions of which I agree with entirely. This because you need to have different sizes of barrels to deal with different harvests and maintain a consistent estate style.
Several years ago, the estate was acquired by the Eichbauer family who until recently benefitted from collaborating with Francesco, a relationship that has now unfortunately come to an end. Such a change in ownership occurs often with estates that have no new generations ready to take over and are sold to foreign families or financial enterprises. I hope that the Eichbauer family will continue the estate's tradition that was very dynamic. For now, we can still enjoy the wines that Francesco made, with the 2015 vintage a very good one. The estate is situated in the southeastern part of Montalcino, just before the zone of San Polo that his becoming very prestigious.
Here we look at two Brunello 2015, Teatro and Sorgente, two wines that are very different from each other and which precisely reflect the evolution and Francesco's vision of Brunello. The first is an old approach to a modern style in which the tannins and the wine's boldness are key to its propensity to age. The second is the product of a more relaxed and balanced approach that was typical of Francesco's later vision of Brunello. It is interesting that the two vineyards had in nuce these different traits, almost as if the estate's evolution was pre-determined and the fact that, in the end, Francesco was nothing more than a go-between for the territory.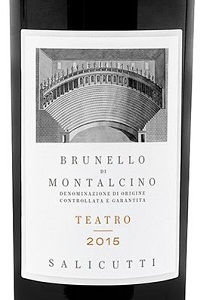 Brunello di Montalcino Teatro 2015
94/100 - € 80
Made from Sangiovese grapes and matured for three years in small and larger barrels up to 30hl. A compact, ruby color and a bouquet with scents of dark underbrush, leaves and mushrooms along with the typical ones of sour cherry. The mouthfeel is tight with biting yet the integrated tannins give that punch to the drop ensuring it is not relaxed. This vintage needs to age some more to allow everything to come together in line with the estate's tradition. The excellent finish is bold and juicy.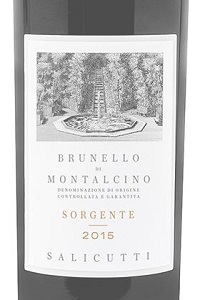 Brunello di Montalcino Sorgente 2015
95/100 - € 80
Made from Sangiovese and matured for 36 months in barrels of various sizes. A bright and slightly garnet ruby color and an aroma of red fruit, cherry, marasca cherry and blackberry with an intriguing saline progression and an elegant and balanced finish.
Related Products
Product
Producer
Date of publication
Author
Read
Teatro 2015
Brunello di Montalcino
Podere Salicutti
06/26/20
Riccardo Viscardi
Made from Sangiovese grapes and matured for three years in small and larger barrels up to 30hl. A compact, ruby color and a bouquet with scents of dark underbrush, leaves and mushrooms along with the...
Leggi tutto
Sorgente 2015
Brunello di Montalcino
Podere Salicutti
06/26/20
Riccardo Viscardi
Made from Sangiovese and matured for 36 months in barrels of various sizes. A bright and slightly garnet ruby color and an aroma of red fruit, cherry, marasca cherry and blackberry with an intriguing...
Leggi tutto
Podere Salicutti

10/09/17
Redazione