Monteti, from Capalbio with passion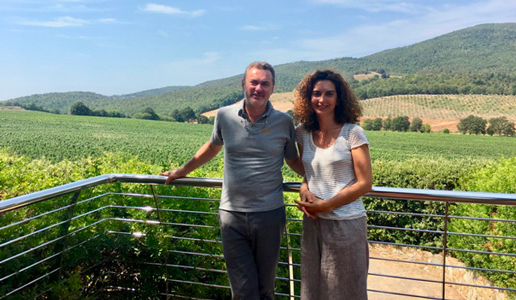 The estate of Eva Baratta and Javier Pedrazzini has made a decisive contribution to drawing the limelight to the area of Capalbio on the Tuscan Maremma coast.
Tenuta Monteti was founded in 1998 on a barren and rocky land, on the outskirts of the town of Capalbio, set between the sea of the Costa d'Argento and Monteti, the high hill that overlooks and protects the area from climatic extremes and strong Mediterranean winds. The estate is named after the hill and it is depicted on their labels along with another key estate image: the huge boulders dug up while planting the vines that are now set up as ornaments in the vineyards.
There are a total of 28 hectares in all, subdivided into four sectors planted with five different, red-grape varietals: Cabernet Sauvignon, Merlot, Cabernet Franc, Petit Verdot and Alicante Bouschet. The cultivation of the vineyards is entrusted to agronomist Roberto Rossi and treatment of the soil and plants is kept to a minimum with a monitoring system for both. They have also applied to be certified for sustainable wine production according to the VIVA protocol.
Owners Eva Baratta and her husband Javier Pedrazzi have done all this with commitment, passion and attention to the environment. They have also had architect Sergio Bracco design a winery that best exalts its relationship with the land and while equipped with modern and cutting-edge technology and machinery inside, it blends into the landscape on the outside.
Another important choice they was to focus on quality, producing only three wines in order to better channel their energies, efforts and resources, putting together a team of qualified experts led by the estate's enologist Christian Coco with Carlo Ferrini acting as outside consultant.
All the care possible is taken at every stage, from hand-picking the grapes to refrigeration of the bunches and selecting the grapes on a sorting table. Each parcel is fermented and matured separately, the latter in mostly new barriques made of different types of wood and toasted differently to exalt the wines' potential before they are united and balanced during the blending process.
Their showcase wine is Monteti, an elegant and austere blend of Petit Verdot, which represents its 'masculine' element, the strong and indomitable personality of a Maremma male; and Cabernet Sauvignon and Franc which give it its 'female' personality making its structure more elegant and fine thanks to being exposed to the north. Then there is Caburnio, the name deriving from a misspelling of Pliny the Elder's vitis Caburnica, which is a blend of the varietals present in the vineyards that has a nice roundness enriched by an edgy and intriguing personality.
The latest novelty at the estate is TM Rosé which is now in its second edition and is a rosé that recalls those of Provence, in regard to color, delicateness and capacity to please, but enriched by the undeniable personality of Tuscan wines.
Related Products