Lawyer Pettinella and the best Tauma ever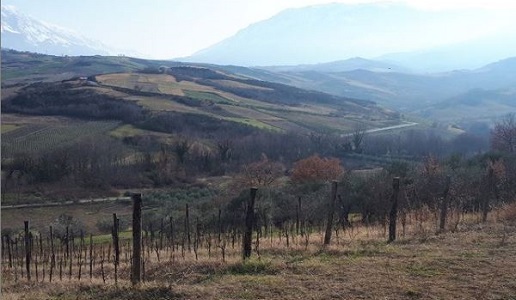 An "artisan" vintner, Giuliano Pettinella from his home town of Macerata went to produce wine in Abruzzo, producing an excellent rosé (which is not a Cerasuolo d'Abruzzo but a table wine).
This article is available in Italian only.
Nonostante una produzione quantitativamente confidenziale e un numero di vendemmie all'attivo ancora esiguo (la prima annata in bottiglia fu la 2012), l'avvocato maceratese con vigne in Abruzzo Giuliano Pettinella è molto noto tra gli appassionati di vini artigianali.
Marchigiano che più non si potrebbe nell'indole mite e silenziosa, Pettinella è diventato una piccola celebrità con il suo rosato Tauma, proveniente da due piccole vigne situate rispettivamente a Silvi Marina, sulla costa in provincia di Teramo, e Tocco da Casauria, nella campagna pescarese.
A partire da quest'anno la gamma si è ampliata ad un Montepulciano d'Abruzzo austero e un po' troppo svelto nello sviluppo gustativo (aspetto singolare, visto che a volte questo fantastico vino pecca, al contrario, di agilità): un vino che per il momento non riesce a sottrarre la ribalta al Tauma, che quest'anno se ne esce con la versione forse migliore di sempre.
Vino Rosato Tauma L.GFSGB 2019 Pettinella
92/100 - € 23
Annata 2019 (ma trattandosi di un vino da tavola non può essere dichiarato in etichetta, ndr). Da uve montepulciano. Maturazione in botti di legno esauste. Imbottigliamento senza filtrazione né chiarifica. Cerasuolo appena velato e molto sfumato con riflessi arancio. Dopo un impatto un po' rustico alterna note di polvere di arancio e canfora. Il palato è in corrispondenza, di medio corpo, asciutto e reattivo quasi quanto un vino bianco, il finale molto vivo, sapido e agrumato, con canfora, un tocco di frutta secca e un altro di lieviti. Un rosato veramente eccellente soprattutto grazie alle grandi doti di franchezza.
Montepulciano d'Abruzzo 2019 Pettinella
88/100 - € 35
Da uve montepulciano. Maturazione in botti di legno esauste. Porpora-rubino coprente. Animale, china, sottobosco, su un fondo di amarene. L'attacco è austero, il tannino fresco, il peso di tutto rispetto senza eccessi, il palato è segnato da note di china e un tocco animale. Il finale è caratteriale e profondo, corrispondente, lo sviluppo insolitamente svelto. Potrebbe migliorare parecchio con una prolungata sosta in vetro.
Related Products