Franco Pacenti Canalicchio, a family tradition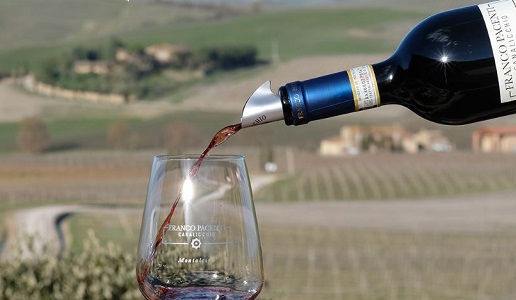 With its third generation at the helm, this family historic estate has brought out an impressive Brunello di Montalcino: Rosildo.
As we have often pointed out, the selection parameters we use for our Essential Guide to Italian Wine are very drastic which means we cannot include all the wineries of a certain area that we would like to. An example is Montalcino where the quality level achieved in this appellation is very high and many of its wines would deserve to be cited in the guide. We have thus decided to create a kind of "appendix" to the guide on our site to single out other estates that are worth taking into consideration.
Today we look at Franco Pacenti Canalicchio, an historic estate on the northern side of the appellation, at the feet of the hill that Montalcino sits on top of. The area Canalicchio is situated in an important subzone and is an authentic cru.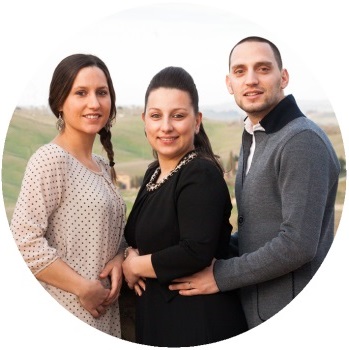 The original estate played an important role in the history of Brunello given that the then head of the Pacenti family, Rosildo, was one of the founding members of the producers' consortium in 1968. The Franco Pacenti Canalicchio estate as we know it today was created in 1988 by Franco Pacenti, who has now placed it in the hands of his children Lisa, Serena and Lorenzo. They have a dozen or so hectares of Sangiovese vineyards, almost all of which are registered Brunello and situated around the farm house. The wine is made in the classical way using 20-30hl barrels.
Their novelty this year is Rosildo, a Brunello 2015 dedicated to their grandfather. This is a wine we hope will mark an important step for the evolution of the estate. Only 1,000 were produced of this fine wine.
The estate is well organized to receive guests and up to 12 people or so can reserve to enjoy a homemade, traditional meal cooked using ingredients grown on the farm or from neighboring ones. Groups of up to 50 people can visit for a tasting. At present these activities are suspended due to the Covid-19 emergency but will resume as soon as possible with all the necessary health precautions.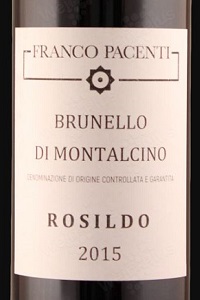 Brunello di Montalcino Rosildo 2015
93/100 - € 110
Made from Sangiovese grapes and matured for over 24 months in a 10hlk barrel. The wine has a ruby color than leans towards garnet with a classic aroma that has notes of chocolate-covered cherries on a spice background and sensations of autumnal underbrush that recall tobacco leaves. The mouthfeel is relaxed and elegant thanks to nice, progressive and juicy tannins upheld by a freshness provided by the cru the grapes are from. The finish is very composed and flavorful.
Rosso di Montalcino 2017
90/100 - € 18
Made from Sangiovese and matured for over 12 months in 20hl barrels. A classic but not extreme ruby color with aromas of marasca and sour cherries on a background of medicinal herbs. The juicy and pleasing mouthfeel remains lively thanks to the youthful tannins that accompany the flavor through the consistent and persistent finish.
Related Products
Product
Producer
Date of publication
Author
Read
Rosildo 2015
Brunello di Montalcino
Franco Pacenti Canalicchio
05/15/20
Riccardo Viscardi
Made from Sangiovese grapes and matured for over 24 months in a 10hlk barrel. The wine has a ruby color than leans towards garnet with a classic aroma that has notes of chocolate-covered cherries on...
Leggi tutto
Rosso di Montalcino 2017
Rosso di Montalcino
Franco Pacenti Canalicchio
05/15/20
Riccardo Viscardi
Made from Sangiovese and matured for over 12 months in 20hl barrels. A classic but not extreme ruby color with aromas of marasca and sour cherries on a background of medicinal herbs. The juicy and...
Leggi tutto
Franco Pacenti Canalicchio

05/15/20
Redazione