Ever hear of Garofanata?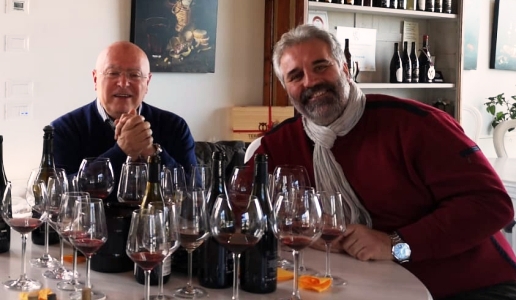 A white wine grape native to the Marche region that had all but disappeared before Zeno Avenati brought it back at his Terracruda estate.
Zeno Avenati is one of those people I took an immediate liking to. He is a man with transparent, blue eyes, a determined look and few and measured words, with ideas as clear as the questions he asks. He prefers Indians to cowboys and is a leader, a chief, which is why I immediately nicknamed him Sitting Bull.
Met him last summer during a meeting with other Bianchello del Metauro DOC wines who powwowed on the state of the appellation and its future. He, his wife and their children Luca and Maria Vittoria constitute a single team that is determined, volitive and deadest on enhancing the value of the estate as well as the area they seek to represent.
The Fano hinterland, in the Marche region, has a long history of farming and winegrowing. The vineyards are predominately cultivated with Bianchello along with Sangiovese, Aleatico, Incrocio Bruni and Garofanata. I visited the Terracruda estate and the avenati family last December to get to know them better. It was a very cold weekend with a very clear sky that allowed a view from the Fratte Rosa hills to towards Monte Nerone and Monte Catria. The Terracruda estate's production is not enormous even if they have some 20 hectares of vineyards, all dedicated to native, organically cultivated varietals. Over 20 wines are made, perhaps too many, with each varietals proposed in different versions, done so by using different woods or no wood at all.
Among the many bottles we opened, there was a white wine that amazed me, made from a white varietal I knew nothing of: Garofanata. This is not one of their showcase wines, which is, of course, Bianchello del Metauro, but acuriosity made with a grape that risked becoming extinct. This did not happen thanks to the efforts made by the estate together with the Marche foods services agency ASSAM which not only saved it but allowed it to be registered on the list of the region's authorized varietals. It is now cultivated in a one-hectare vineyard at the Terracruda estate and a little at another estate near Macerata.
What this means is that Garofanata only exists in two estates in the whole Marche region and is cultivated in a very limited area. The vineyards were planted ten years ago and between 2011 and 2015 the wine was made using wood barriques. Then enologist Giancarlo Soverchia and the estate owners decided to make it using stainless steel. So far they have bottled four vintages: 2011, 2013, 2015 and 2017. I tasted the last two and I liked the one from that torrid 2017 a lot.
And it was exactly how this grape responded to such a hot year that convinced me to write this article. In that summer, Garofanata was picked during the second decade of September, 20 days after Bianchello and after all the red wine grapes, be they Sangiovese or Aleatico (which in 2015 was harvested during the first ten days of October). Aside from bunches that were overripe, typical for hot years, it would appear that Garofanata resists well to the heat producing wines with very interesting, if not amazing, flavor-aromas and alcoholic content. Naturally, much remains to be done, understood, tested and studied but the hope is that cultivation will increase and spread. Based on what I tasted, I hope this will be the case and I suggested to Sitting Bull that he invest more time and energy into this wine.
The estate has a lovely tasting room with an entire side looking out over the vineyards and an old farm house with its four, well-furnished rooms offering holiday accommodation.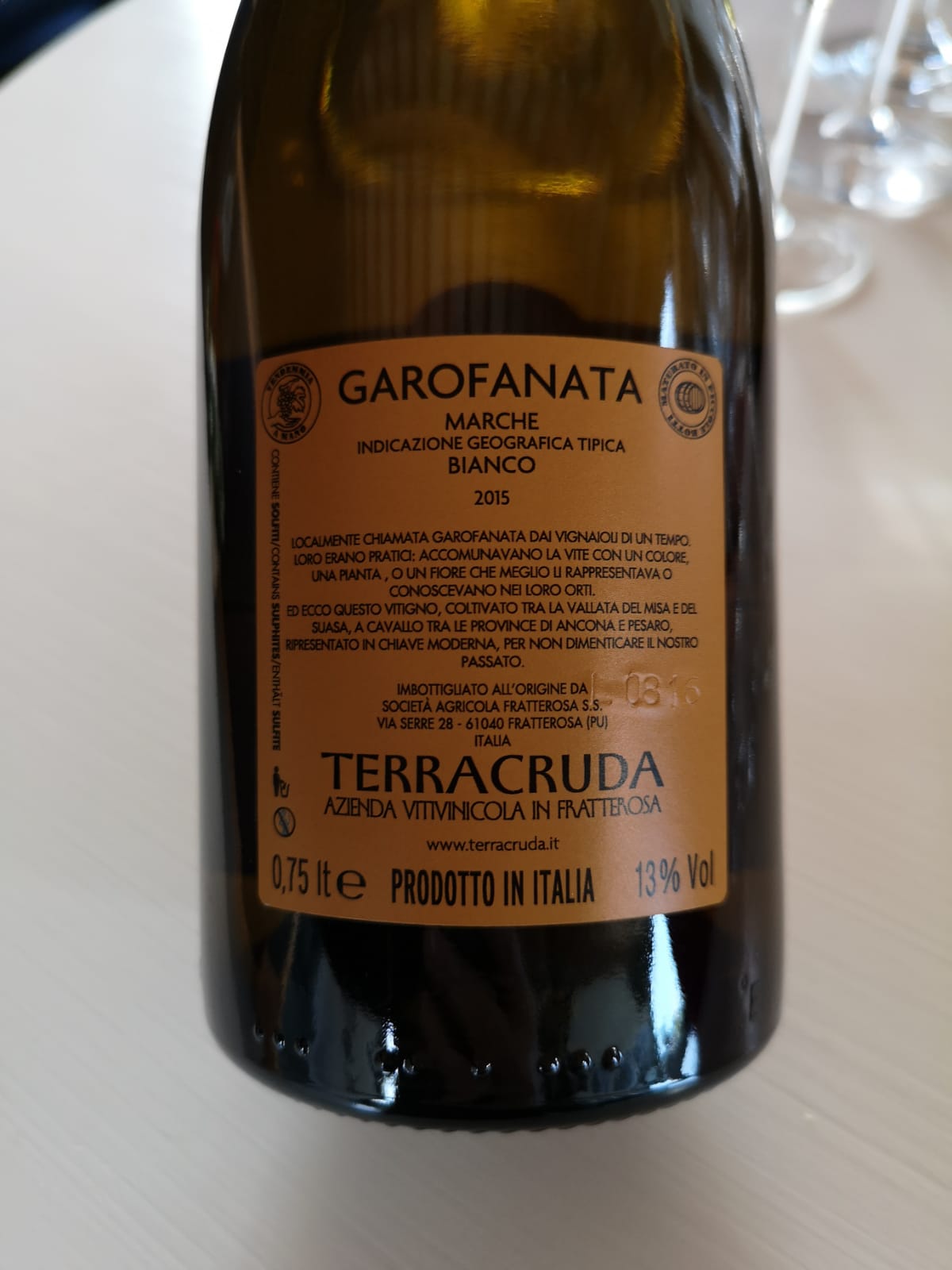 Garofanata Igt Marche Bianco 2015
84/100 - € 12
Made from only Garofanata grapes from a harvest that yielded 5.5mt per hectare. The fine wine lees were separated from the rest and fermented for 12 months in French-oak barrels before being reunited with the rest of the wine that fermented in stainless steel. No malolactic fermentation. The color is a rather intense, straw-yellow and the lovely bouquet has notes of ripe white fruit although they are not that varied. The dynamic mouthfeel has with a nice freshness and is consistent and complex and also has notes of spice.
2,800 bottles produced.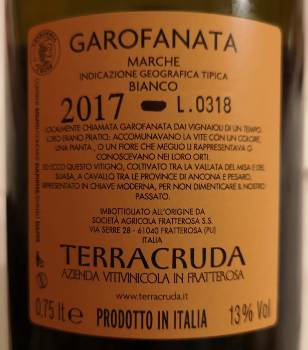 Garofanata Igt Marche Bianco 2017
91/100 - € 13
Made from only Garofanata grapes from a harvest that yielded 4.5mt per hectare. Fermented on the fine lees only in stainless steel without malolactic fermentation. The color is a rather intense, straw-yellow with bright reflections. Although the product of a torrid year, the aroma is very interesting and varied with scents ranging from ripe white fruit to white flowers and somewhat provocative notes of spice. The mouthfeel is consistent and complex, fresh and relatively pleasing with an alcoholic content of only 13% which I liked a lot.
2,000 bottles produced.
Related Products
Product
Producer
Date of publication
Author
Read
Garofanata 2017

Terracruda
03/19/19
Vignadelmar
Made from only Garofanata grapes from a harvest that yielded 4.5mt per hectare. Fermented on the fine lees only in stainless steel without malolactic fermentation. The color is a rather intense,...
Leggi tutto
Garofanata 2015

Terracruda
03/19/19
Vignadelmar
Made from only Garofanata grapes from a harvest that yielded 5.5mt per hectare. The fine wine lees were separated from the rest and fermented for 12 months in French-oak barrels before being reunited...
Leggi tutto
Terracruda

03/18/19
Redazione