Èthos: a "resistant" blend from Forchir
Resistant varietals are by now a reality, as demonstrated by the tasting of Èthos from the Forchir estate, but for Italian bureaucracy they remain hybrids and thus cannot be used to make DOC wines.
With great satisfaction on the results achieved, the owner of the Forchir estate Gianfranco Bianchini, together with his daughter Giulia, presented his wine Èthos to a large group of journalists, both Italian and non. It is a blend of five varietals grown on vines resistant to downy and powdery mildew, the result of cross-breeding Tocai Friulano and Sauvignon with resistant vines by researchers at the University of Udine and its Istituto di Genomica Applicata (IGA). It took almost 15 years, also with the support of Vivai Cooperativi di Rauscedo, to produce this wine that was made with grapes from seven hectares of vineyards that for all of 2018 were treated only twice with chemicals, compared to 14-16 for traditional grapes.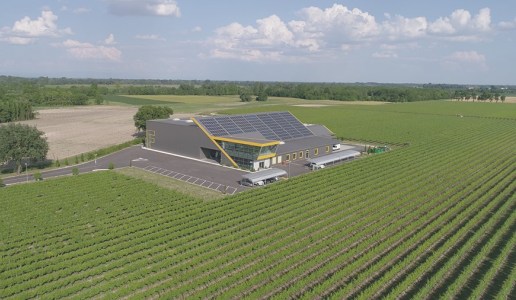 Although nothing more that the result of cross-breeding vitis vinifera varieties, Italy's slow moving ministerial bureaucracy has registered the grapes as hybrids. This means that their planting must be authorized by each region and they cannot be used for producing DOC and PDO classified wines. It would appear that they will be allowed for IGP classification even if there is even some resistance to this. The opposite is true in Germany where grapes obtained using this method are considered to be harmless and from the start have been used for DOC wines.
In 2018, Vivai Cooperativi di Rauscedo sold 1.2 million resistant vine cuttings, according to its director Eugenio Sartori. There were five white grape varieties, two made from Tocai Friulano: Fleurtai and Soreli; and three from Sauvignon: Sauvignon Kretos, Sauvignon Nepis and Sauvignon Rytos. There are also five red varieties: Merlot Khorus, Merlot Kanthus, Cabernet Eidos, Cabernet Volos and Julius, the latter made from the German Regent variety.
The white varieties have in common the fact that they ripen quite quickly, sometimes even three weeks.
Èthos 2018 is an elegant wine with delicate but evident aromas, a correct salinity and freshness and with an alcohol content of only 12%. It will be presented to the public at the next Vinitaly and at the estate sells for 7 euros retail.
There is a lot of interest in how consumers will respond to this wine novelty. For sure, Èthos has no pesticides or artificial ingredients in it and this thanks to the IGA team in Udine headed by Professors Michele Morgante and Raffaele Testolin with the collaboration of top researchers like Gabriele Di Gaspero.
The Forchir estate, situated in Camino al Tagliamento and founded in 1904, was acquired in the mid-1990s by Gianfranco Forchir who gradually expanded it to its current size of 245 hectares, for the most part owned but with some land leased. The spectacular winery is totally self-sufficient energy-wise thanks to solar panels and heat exchangers. Annual production is in the neighborhood of two million bottles.
Èthos 2018
89/100 - 7 €
A blend of Fleurtai, Soreli, Sauvignon Kretos, Sauvignon Nepis and Sauvignon Rytos, all resistant varietals with the first two made from Tocai Friulano and the other three from Sauvignon. The wine matures on the lees in stainless steel for some three months with no sulfites added. It has a straw-yellow color and is an elegant wine with delicate but evident aromas, the right salinity and freshness and an alcohol content of only 12%.
Related Products