Donnafugata on Etna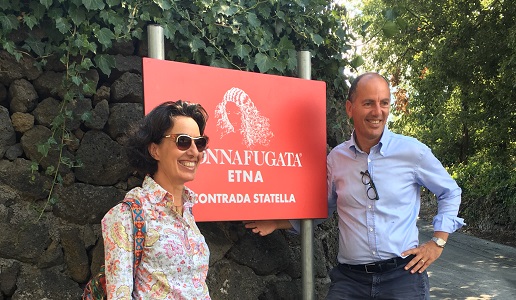 The historic Marsala producer has enriched its presence on Sicily with an extraordinarily fascinating estate on Etna.
Needless today, the allure of Etna not only attracts those "from the continent" but also Sicilians themselves, as evidenced by the growing number of Sicilian winemakers who sooner or later acquire land on the volcano.
Donnafugata came to Etna in September 2016 with the acquisition of 18 hectares of vineyards (five of which head-trained) and 18 hectares of land to be cultivated on the northern slop of the volcano. They are in six different districts: in the town of Randazzo, at an altitude of around 750m above sea level, in the districts of Montelaguardia, Statella, Camporè and Calderara; and in the town of Castiglione di Sicilia in the districts of Marchesa and Verzella, at an altitude of 732m.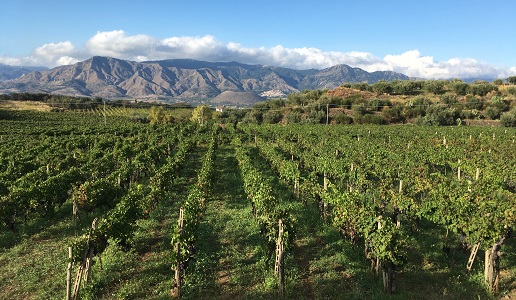 To tell the truth, the allure of Etna had already struck patriarch Giacomo Rallo who, in the 1970s, considered buying land there but the family's interests were in Marsala and that is where he founded his enterprise – with his wife Gabriella – in 1983, and from there they went on to expand to Pantelleria and western Sicily. The rest is history. However, his sons Antonio and José never forgot their father's passion and they set out to "explore" the various zones on the volcano. They did this with the help of Ernesto Del Campo, a former mayor of Randazzo, and Palermo agronomist Sandro Giuffrida, who had been working on Etna since 2004. Together they formed a professional team, later joined by agronomist Francesco Ferreri, to embark on this new adventure.
The debut of Etna DOC wines from Donnafugata came in 2018 but they have many projects on the fire, mostly focused on the cru or, better yet, the different districts or contradas to underscore the differences between the soils that vary depending on the composition of the sciare, the accumulation of lava from various eruptions over the centuries. A wine already available is Fragore, from Contrada Montelaguardia where the lava flows date back to 1614-1624, and coming out soon will be Contrada Marchesa, which we tasted from the barrel and proved to have a distinct personality.
The winery is in the Etna Park, in the Statella contrada in Randazzo, and it is housed in a 1971 warehouse brandished in the classic estate style, based on lively colors also found on the Donnafugata labels by Stefano Vitale, which illustrate each wine with an unforgettable style.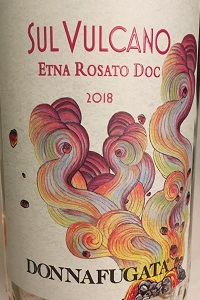 Etna Rosato Sul Vulcano 2018
90/100 - € 19,50
Made in stainless steel from Nerello Mascalese, first harvest (40%) from the best vineyards. An intense, pink face powder color with citrus aromas of wild strawberry and plums. The mouthfeel is very fresh and crispy, with a smoky saline note, "volcanic", and a hint of wild fennel. Very pleasing and flavorful, vertical and full of character.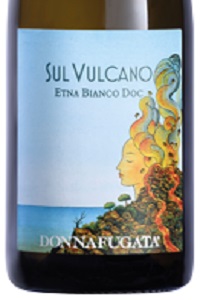 Etna Bianco Sul Vulcano 2017
91/100 - € 22
A blend of 80% Carricante and the rest Grecanico, Catarrato, Minnella and Ansonica from old vines that matures on the lees for eight months, 60% in cement vats and 40% in wood. The wine has a golden-straw color with aromas of lemon balm, smoky notes and tropical hints. The mouthfeel is vertical with a high aciditty yet creamy and balanced.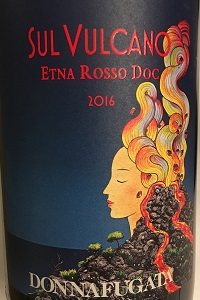 Etna Rosso Sul Vulcano 2016
90/100 - € 19,50
Nero Mascalese matured for 14 months, 40% in open vats and 60% in barriques. A clear ruby color and a bouquet of small red fruit accompanied by notes of anise and a hint of spice. The fresh mouthfeel has a light structure, fine tannins and an almost soft sensation.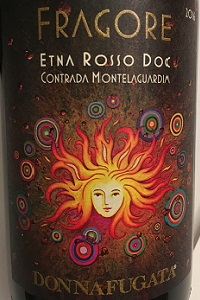 Etna Rosso Contrada Montelaguardia Fragore 2016
93/100 - € 55
Nero Mascalese matured for 14 months in barriques. A bolder ruby color and an intense aroma with floral scents of violet, cinnamon spice, currant and hints of graphite and black powder. The mouthfeel has body with contained yet bold tannins and a nice acidity. A well-defined wine with an excellent persistence.
Related Products