Conte Leopardi Dittajuti, the Rosso Conero of the sea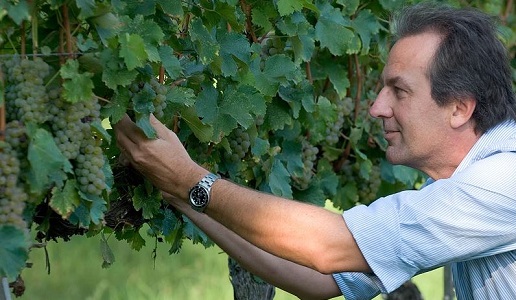 An impressive estate that focuses above all on cultivating Montepulciano for their top Rosso Conero.
Although many wine lovers tend to associate Rosso Conero with the area of Montacuto, the appellation extends south of Mount Conero to arrive at the beaches of Numana. This is home to the Conte Leopardi Dittajuti estate, owned by the old noble family of the same name. The current owners, Piervittorio and Lidia Leopardi, cultivate some 45 hectares of vineyards the grapes from which are transformed at their modern winery under the supervision of Riccardo Cotarella.
The climate here is influenced, in particular, by the nearby Adriatic Sea and the grapes are from three farms: Svarchi, in Numana; Coppo, in Sirolo; and San Rocchetto, in the district of the same name in Castelfidardo. Even if it is little known among wine lovers outside the region, due to its limited presence in the social media, this estate is one of the absolute best producers of Rosso Conero.
The red, in particular, unites the characteristics of the Montepulciano varietal with the notes of aromatic herbs typical to this subzone. The vintage of Conero Riserva Pigmento on the market this year, 2016, is particularly convincing and is simply one of the absolute best reds in the region.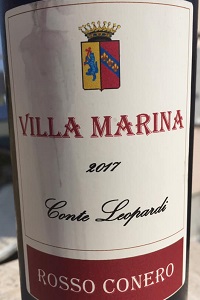 Rosso Conero Villa Marina 2017
86/100 - € 14
Made from Montepulciano grapes, matured for eight months in stainless steel and then for another 12 months in used barriques. An opaque ruby color and a fragrant aroma of marasca cherry with a touch of cacao and nuances of cardamom. The mouthfeel is a tad sweet, pleasing with sweet tannins and a finish that is not that long. A Rosso Conero distinguished by its drinkability.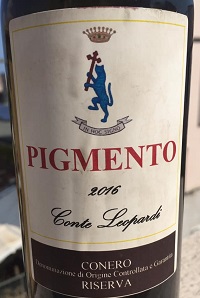 Conero Pigmento Riserva 2016
93/100 - € 26
Made from Montepulciano grapes and matured for 20 months in new barriques. A bold ruby color with garnet reflections with a clean bouquet of marasca cherry, nutmeg, a touch of marjoram typical for Conero, and a hint of dark chocolate. The tannins are austere and the mouthfeel flavorful with significant structure and closes on notes of aromatic herbs and marasca cherry. This is more rigorous of the great Conero Riserva and from an excellent year. Not to be missed.
Related Products
Product
Producer
Date of publication
Author
Read
Villa Marina 2017
Rosso Conero
Conte Leopardi Dittajuti
11/05/19
Francesco Annibali
Made from Montepulciano grapes, matured for eight months in stainless steel and then for another 12 months in used barriques. An opaque ruby color and a fragrant aroma of marasca cherry with a touch...
Leggi tutto
Pigmento Riserva 2016
Conero
Conte Leopardi Dittajuti
11/05/19
Francesco Annibali
Made from Montepulciano grapes and matured for 20 months in new barriques. A bold ruby color with garnet reflections with a clean bouquet of marasca cherry, nutmeg, a touch of marjoram typical for...
Leggi tutto
Conte Leopardi Dittajuti

11/05/19
Redazione