Barca Velha Casa Ferreirinha from Portugal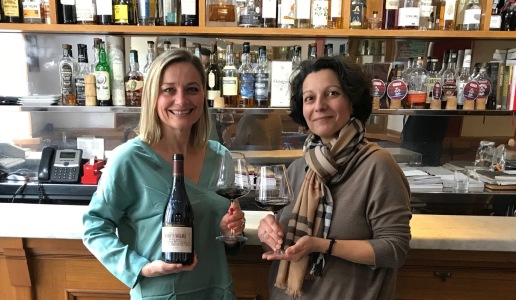 This Portuguese red is made only in exceptional years and has an incredible propensity to age. Unfortunately, not everyone can afford it.
I tasted the Portuguese wine Barca Velha 2008 Casa Ferreirinha with my friend Carla Trimani who, along with her siblings, is the heir to the historic Rome wine shop Enoteca Trimani.
This wine, produced only in extraordinary years, is a blend of Touriga Franca, Touriga Nacional, Tinta Roiz and Tinta Cao grapes and is one of the world's greatest wines, praised by leading experts and it is an undisputed symbol of Portuguese wine excellence.
The grapes for Barca Velha are cultivated on mountainside, terraced vineyards (home to 82 varieties) in the Douro region, in the zone known as the Upper Douro Valley. This area – a UNESCO World Heritage site – is home to the Quinta da Leda winery of the Casa Ferreirinha estate with its 160 hectares of vineyards – from which they also produce Port – which have marl clay, granite (with some sand) and alluvial soils.
This is a magical land, recognized as one of Portugal's best winegrowing areas and the homeland of Port wine, some of the most particular and complex in the world. It is also known for being one of the country's first winemaking areas to be certified for its quality, back in 1756.
Casa Ferreirinha was founded in 1952 and named after the family's matriarch: Dona Antonia Adelaide Ferreirinha who has the merit of striving for quality as the only path towards success and being the first to produce a red dry wine using the same grapes used for making fortified and other dessert wines. This was done thanks to a team of enologists headed by technical director Fernando Nicolau De Almeida, who created Barca Velha.
Out of Casa Ferreirinha's 62 harvests, only 19 produced Barca Velha. The grapes from the other vintages were used for the estate's second wine, Riserva Especial Ferreirinha.
What makes Barca Velha unique is the secret of its "recipe", which is currently kept by the estate's enologist Luis Sottomayor. There are two factors in this recipe that cannot be duplicated: experience and competence. The grapes are soft-pressed after they have been removed from the stems and then they macerate cold and ferment in stainless steel vats before maturing for 16 months in new, French-oak barriques. The wine is bottled after a careful examination of each barrel and multiple tasting by the enologist to determine the perfect blend to become a Barca Velha. The wine then ages long in the bottle.
The latest vintage on sale is 2009, of which 18.150 bottles were made. Here we look at the 2008, well-aware that this is a wine few can afford.
Barca Velha 2008
98/100 - € 550
A blend of Touriga Franca, Touriga Nacional, Tinta Roiz and Tinta Cao grapes that has a deep, ruby-red color. The broad and complex bouquet has scents of prune, blueberry, blood orange, incense, resin, black pepper, cloves and sweet tobacco. These are then followed by nuances of artichoke and ginger. The mouthfeel is saline, fresh and vertical with young, compact and polished tannins that are still evolving, underscored by the great acidity that ensures elegance and harmony. An austere, excellently made wine that will win you over with the first sip.
Related Products