Arrivederci Nanni Copè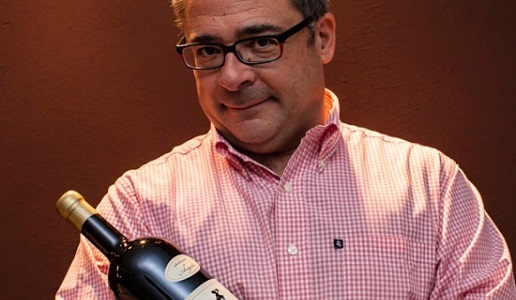 In a move that surprised everyone, Giovanni Ascione (AKA Nanni Copè) announced that he was giving up winemaking, to our infinite dismay.
The news that Giovanni Ascione, AKA Nanni Copè, was stopping production took us all by surprise and left us speechless. We were accustomed to Giovanni's revelations but always those regarding his wines that every year were capable of astounding us. Now he has decided to stop making them, ending an important and 12-year-long period of his life. During this time, he demonstrated how there do not exist closed and saturated markets, how the social media is not necessary for success and that good results are achieved when a producer is closely involved in the production of his wine. He also showed that the Campania region can produce elegant reds and that Pallagrello Nero, blended with some Aglianico and Casavecchia, or a blend of Fiano and Asprino can easily find a place on the wine lists of cities like New York, San Francisco, Rio, Melbourne, Tokyo, Hong Kong, London, Paris, Oslo and many others, as well as in Italy.
We will still have the possibility of tasting the new vintages, like the white Polveri della Scarrupata 2018. As for the red Sabbia di Sopra Bosco, several versions will be coming out on the market like the Collezione Privata line of memorable wines. But we will deal with these in the next edition of our Essential Guide to Italian Wine. For now, here we look at the Sabbia del Bosco di Sopra "Dedicato a Angela" 2008 which comes in a magnum bottle. Angela is Giovanni's daughter and this extraordinary wine could only be dedicated by a father to his daughter. For us this is an arriverderci, a see you later, to Nanni Copè because we'd like to think that is how it will be.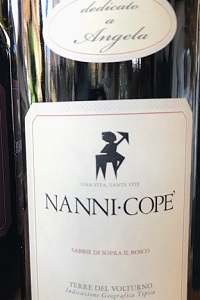 Sabbie di Sopra il Bosco Dedicato a Angela 2008 Nanni Copè
95/100 - € 100 (Magnum bottle)
A blend of 92% Pallagrello Nero, 5% Aglianico and 3% Casavecchia matured in barrels for 12 months and then aged long in the bottle. An intact and luminous red-garnet color and a bouquet with light nuances of spice followed by those of sweet tobacco and damp earth that usher in notes of violet and balsamic hints. The freshness of the mouthfeel models the tapered and elegant body while the finish is long and persistent.
Related Products