Amid the Tedeschi family's vineyards in Valpolicella
Two days in Valpolicella Classica to understand the aromas of the wine from this suggestive appellation.
It almost felt like fall in Verona this May, cool and drizzly despite the approach of summer, but this offered an excellent occasion for tasting decidedly more winter-like wines.
This brief visit with the Tedeschi siblings began at the Bottega del Vino. One of the first things you realize is that more than an estate they are a family. The three siblings, each with different responsibilities, put on a spread that was spontaneous, thought out and warm. The dinner had a winter theme, between the Valpolicella and Amarone, with a mushroom risotto and venison. And it included a visit to the Bottega del Vino cellar, a magical place filled his historic and impossible-to-find wines, vintages of great wines, and a long tasting table.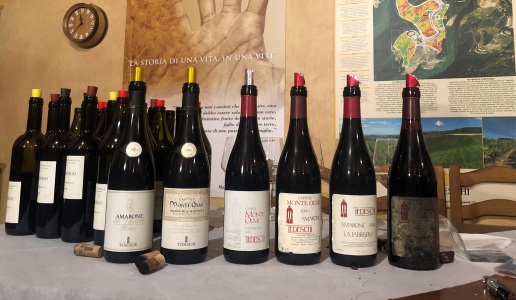 The next day were at their historic winery in Pedemonte in Valpolicella Classica and, in the afternoon, visited the Materingo estate which the family acquired later. We spent the morning playing with blends to create our own, personal version of what we thought an Amarone should be. This was done with the consultancy of Maurizio Ugliano, a professor of enology at the University of Verona, who for years has been analyzing Tedeschi wines to study their aromas. His studies have allowed for the compilation of an aromatic map of the parcels in Amarone Maternigo, Fabriseria and Monte Olmi. The first is mentholated and fresh, the second floral and the third spicy.
"Corvina ad Corvinone," explained Professor Ugliano, "are rich in terpenes and stand out for the balsamic and mentholated sensations that come out, above all, with aging. Monte Olmi grapes are rich in mentholated and balsamic notes deriving from piperitone, an aromatic substance often found in Bordeaux wines". According to the studies carried out by the professor and the Tedeschi family, the aromas of Valpolicella grapes are a mix of fruity, floral, spicy and balsamic notes that, with raisinating, are joined by sensations of tobacco, cinnamon and sweet spice.
Like many other producers today, the Tedeschi family is committed to sustainability because environmental sustainability is no longer just an ethical question but a precise and blatant need. Sustainability is one of the key trends in marketing today that must be applied to every stage in production, and not just select ones, in order to create value, reduce environmental value and bolster biodiversity. Thanks to its commitment to sustainability, the estate received Equalitas certification. This is given to those who have an integrated approach to sustainability based on three pillars: Economic, the ability to generate income and employment; Environmental, maintaining quality and reproduction of natural resources; and Social, in the sense of guaranteeing conditions for human wellbeing.
Here are some of the wines we tasted: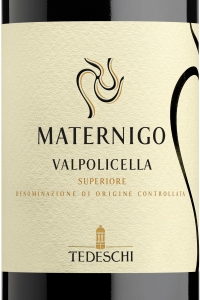 Maternigo Valpolicella Doc Superiore 2016
91/100 - € 22
A blend of Corvina, Corvinone and Rondinella matured in wood for 14 months. A ruby color and intriguing aroma with scents of brine and coffee, fruit preserved in alcohol and spice. The mouthfeel is soft and saline, elegant and long with fruity notes and those of toasting.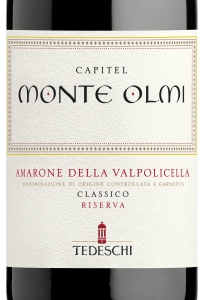 Capitel Monte Olmi Amarone della Valpolicella Docg Classico 2013
95/100 - € 60
A blend of Corvina, Corvinone, Rondinella, Oseleta, Negrara, Dindarella, Croatina and Forselina matured in wood for three years. A full, ruby color and a mixed, floral and spicy aroma with scents of currant, black cherry and raspberry, juniper, incense and leather. The full ad elegant mouthfeel has the right sweetness yet fresh, with elegant tannins and a long aftertaste with notes of fruit and spice.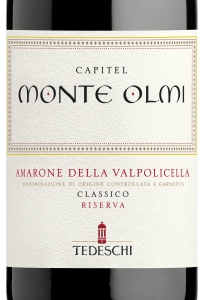 Capitel Monte Olmi Amarone della Valpolicella 1990
94/100 - Fuori commercio
A blend of Corvina, Corvinone, Rondinella and other varietals ad matured in wood. The wine has a garnet-red color and a wrapping aroma of toasted sensations and spice, coffee, turmeric, samphire and blood orange. The mouthfeel is fresh and long, saline and spicy.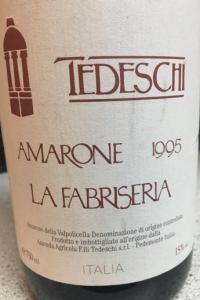 La Fabriseria Amarone della Valpolicella 1995
93/100 - Fuori commercio
A blend of Corvina, Corvinone, Rondinella and Oseleta matured in wood. A red-garnet color and aroma with balsamic sensations and those of weeds, incense and underbrush, coffee and tobacco. The mouthfeel is full and flavorful.
Related Products
Product
Producer
Date of publication
Author
Read
Maternigo 2016
Valpolicella
Tedeschi
06/25/19
Livia Belardelli
A blend of Corvina, Corvinone and Rondinella matured in wood for 14 months. A ruby color and intriguing aroma with scents of brine and coffee, fruit preserved in alcohol and spice. The mouthfeel is...
Leggi tutto
Capitel Monte Olmi Riserva 2013
Amarone della Valpolicella Classico Riserva
Tedeschi
06/25/19
Livia Belardelli
A blend of Corvina, Corvinone, Rondinella, Oseleta, Negrara, Dindarella, Croatina and Forselina matured in wood for three years. A full, ruby color and a mixed, floral and spicy aroma with scents of...
Leggi tutto
Capitel Monte Olmi Riserva 1990
Amarone della Valpolicella Classico Riserva
Tedeschi
06/25/19
Livia Belardelli
A blend of Corvina, Corvinone, Rondinella and other varietals ad matured in wood. The wine has a garnet-red color and a wrapping aroma of toasted sensations and spice, coffee, turmeric, samphire and...
Leggi tutto
La Fabriseria 1995
Amarone della Valpolicella
Tedeschi
06/25/19
Livia Belardelli
A blend of Corvina, Corvinone, Rondinella and Oseleta matured in wood. A red-garnet color and aroma with balsamic sensations and those of weeds, incense and underbrush, coffee and tobacco. The...
Leggi tutto
Tedeschi

06/01/11
Redazione
The Tedeschi family has owned vineyards in Valpolicella since 1630 and have been making wine for Corvina, Rondinella and Molinara grapes. Today they organically cultivate their vineyards and some...
Leggi tutto