Spellbound by Amalia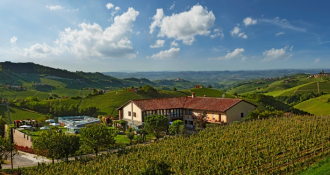 Cascina Amelia is a relatively young estate which was founded in 2003 when the Boffa family – mother father and son Paolo – acquired an early 20th century farmhouse in the area of Sant'Anna in the hills of Montforte d'Alba. Soon after buying it they built a working winery to produce typical wines of the area and transformed the farm house into guest facility embellished by works of art.
They started off with three hectares of vineyards, planted with Dolcetto and Barbera, but within a few years started buying other vineyards and now have a total of eight hectares of vineyards. The original one was Vignetto Sant'Anna to which they added one in the area of Montagliarotto followed by Vigneto Fantini di Bussia and Le Coste, which is in the cru Le Coste di Monforte d'Alba, and Vigneto Salicetti, which borders with Vigneto Fantini and produces Rossese Bianco grapes. Their wines are made using the Nebbiolo, Dolcetto and Barbera grapes as well as the rare Rossese Bianco.
Related Products