Profound and refined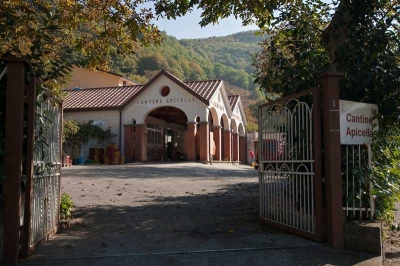 Giuseppe Apicella is a pioneer of territorial wines and biodiversity. When many winegrowers were replacing their old vines with the so-called international or French varieties, he would go around Italy to have people taste wines that enclosed unique aromas and flavors, those that recalled a small strip of land on the Amalfi coast.
The Apicella family's winery has existed in the small town of Tramonti since the second half of the 19th century. They traditionally sold bulk wine up until Giuseppe took over in 1997 and began to bottle his own wine.
The estate has a total of seven hectares of vineyards situated on the beautiful Monti Lattari hills. Its small, terraced parcels look like gardens and, while close to the sea, are surrounded by a thick forest of chestnut trees that are over 100 years old. Together they represent a prime example extreme winegrowing that could arguably be defined as heroic.
All the vines are ungrafted and the local varieties cultivated are Biancazita, Baincatenera, Pepella, Ripoli, Tintore, Sciascinoso and Piedirosso.
Related Products