Italian style: Lacryma Christi del Vesuvio Cantine Matrone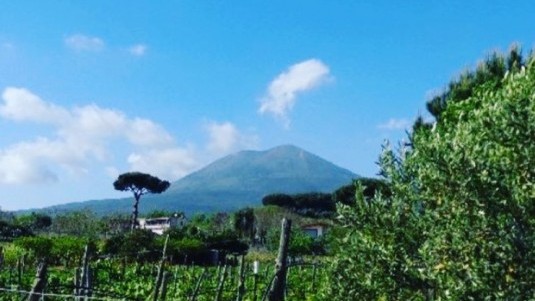 Lacryma Christi is undoubtedly the wine that best represents Vesuvius and the region of Campania in the world. It is a particular and unmistakable wine, like Territorio de' Matroni from Cantine Matrone. 
A restaurant in Tokyo said that it knew the region of Campania thanks to Lacryma Christi which thanks to its unmistakable aromas and visceral flavor had totally won them over. This is common to many who taste this wine. The intense and unusually captivating aroma of ash, which alternates with notes of fruit, and the fresh, salty and gratifying mouthfeel make it totally unique. And it is the uniqueness of the "Italian style"– something also found in other sectors like fashion, design, art and food – that makes Italy great.
And Lacryma Christi from Cantine Matrone has made its own contribution to this.
Cousins Andrea and Francesco Matrone revived their grandfather's old winery in 2014 and acquired 2.5 hectares of vineyards on the lower slopes of Mt Vesuvius with ungrafted vines of Caprettone, Piedirosso, Sciascinoso and other rare local varietals like Boscotrecase and Trecase.
Andrea, an enologist, immediately converted the vineyards to the Simonit&Sirch Method of vine training to foster continuity in the flow of plant lymph and extend the life of the vines themselves, which also helped to improve productivity in regard to quality. And while not certified organic, they use only copper, sulfur and clay to protect the grapes from mold and fungi and use only legume-based green manure as fertilizer. The vineyard yield is kept low to exalt the pleasing saltiness of the wines which comes from the presence of potassium in the volcanic soil.
The winery currently produces 10,000 bottles a year divided equally between Lacryma Christi Rosso and Lacryma Christi Bianco.
Cantine Matrone 
Owner : Andrea and Francesco Matrone
Via Tenente Luigi Rossi, 16
80042 Boscotrecase (NA)
Tel. +39 339 2841451
info@cantinematrone.it
www.cantinematrone.it
Facebook : Cantine-Matrone
Year of foundation:  2014
Total bottles produced : 10.000
Hectares of vineyards : 2,5
Related Products