Gian Annibale 2018, homage of Castello del Terriccio to its founder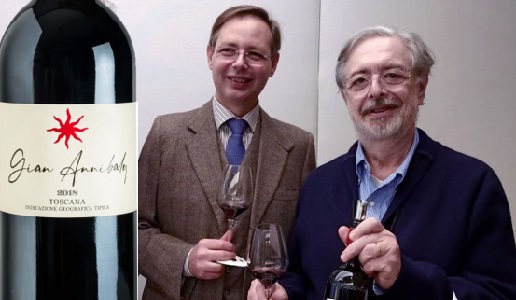 Gian Annibale Rossi of Medelana left us a few years ago, and at the helm of the winery now is his nephew Vittorio Piozzo of Rosignano, who wanted to dedicate to his uncle a new wine to be produced only in exceptional vintages.
Castello del Terriccio is undoubtedly one of Tuscany's iconic wineries, as is its iconic Lupicaia wine. Well, last September 9, as a preview of the official preview scheduled for the 13th in Milan, we had the chance to taste the new wine that Vittorio Piozzo di Rosignano strongly wanted to dedicate to his uncle and which bears his name, Gian Annibale, a wine that sees the opposite blend to Lupicaia: 60% Petit Verdot and 40% Cabernet Sauvignon.
Petit Verdot has been studied for several years at Castello del Terriccio, "a 'hard' varietal, to be waited for," says winemaker Carlo Ferrini, who just this year celebrates 30 years at Terriccio. But satisfaction with the results achieved has been such that for years now this grape has replaced Merlot in the Lupicaia blend. With the 2018 vintage, the big step: to create a wine that would feature it. The grapes come from a vineyard of about 2 hectares, isolated, located inland from the estate near the woods that stretch across the property. The hilly soils are constantly ventilated, with limestone soils, rich in skeleton, but also clay and iron elements. "Petit Verdot is a variety that my uncle loved," Vittorio Piozzo of Rosignano tells us, "hence the idea of producing a wine dedicated to him.
Vinification of the two grapes that make up the blend is separate. After maceration for about 25 days in truncated cone tanks, with daily pumping over, manual cap punching down, délestage and constant control of the fermentation temperature, racking and subsequent soft pressing of the pomace concludes the cycle. The wine then matures in French oak barriques and tonneaux for 24 months, then one year in bottle.
97/100 - € 290
60% Petit Verdot and 40% Cabernet Sauvignon. Matures about 2 years in barrique and tonneau. Full, bright ruby. Broad aromas, where small fruits - red currant, blueberry - chase each other with spicy notes - black pepper, turmeric - and hints of flowers and graphite. Good structure on the palate, with warmth balanced by acidity, dense and pawing tannin but absolutely not rustic, just very, very young. The taste elegance speaks to us of a wine of great class.
Bottle produced 3,678 numbered, plus 500 magnums, 100 jeroboams and 6 mathusalem.
Related Products